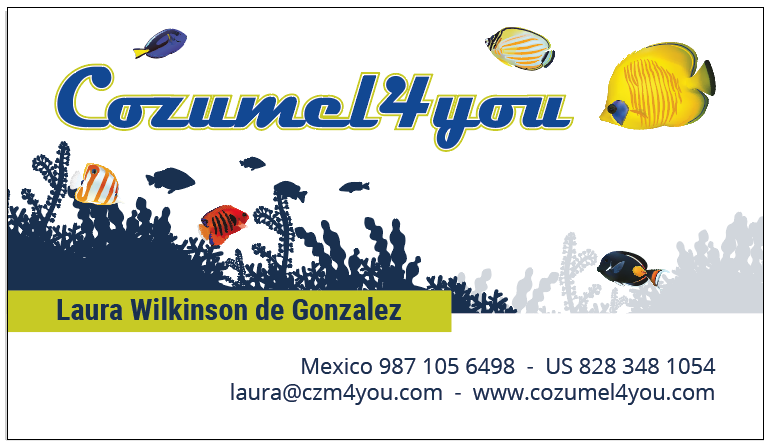 What we can do to help your Cozumel business.
Cozumel 4 You is a comprehensive marketing and promotions company helping small business in Cozumel to bond and grow together. We're dedicated to promoting small locally owned businesses rather than the large conglomerate corporations. As our customer, you are united with other local area merchants, pooling your marketing efforts and creating a stronger promotional campaign.
Using four very distinct platforms: The Cozumel 4 You Website, The Cozumel 4 You NEWS, The Cozumel 4 You Facebook Group and our Cozumel 4 You Social Marketing, you'll be able to reach your target market easily.
The Cozumel 4 You Website
Cozumel 4 You.com has one of the highest rankings in Cozumel, and we're always posting and tweaking the Search Engine Optimization make sure we stay on top. As a contract advertiser, you have your very own webpage within our top ranked site. This is a great way not only for new customers to find you, but search engines as well.
The Cozumel 4 You NEWS
The Cozumel 4 You weekly bi-lingual News reaches nearly 16,000 Cozumel based or Cozumel-friendly readers weekly! We are Cozumel island's weekly island news in English and Spanish.  Every Thursday readers world-wide receive the Cozumel 4 You NEWS directly to their email inbox or on their smartphone.  Best of all, since it's an entirely internet based platform – it's trackable.  That means there's no more guesswork with your precious advertising budget.
Cozumel 4 You Social Marketing
Together with the Cozumel 4 You marketing group we can design a strategy that really works for your business.  Our unparalleled web stats can tell you exactly where our readers – your customers – interests lie, and we're certified in all the basic platforms – Facebook, Trip Advisor, Pinterest, Instagram, Google+ and more!
Specifics:
Issue Artwork & Text Due Thursday. . . . . . . . . . . Monday
Please send all changes no later than Monday prior.
Sizes: 215 H x 230 W pixels Ads must adhere to the size specifications.
Send Advertising Materials to: Laura@czm4you.com.
Cozumel 4 You Social Marketing
We can professionally manage your Facebook, Twitter, Trip Advisor, Instagram, Google+ & Pinterest postings. Monday – Friday we can create custom posts that will convey your message directly to your customers.
Cozumel 4 You Marketing Group Full Service Package
Includes all of the above – a page within the Cozumel 4 You website, a weekly ad in the Cozumel 4 You NEWS, and 2 Social Marketing Venues.