Humane Society Cozumel Fundraiser
Humane Society Kissing Booth a Success
Valentines Day Fundraiser a Big Wow
Happy Valentines Week from all the four legged balls of love and fur at the Humane Society of Cozumel Island.  Thanks to our super hero volunteers   we had a day of love and kisses for everyone who wanted to share this Valentine's Day with a their dog, a local mutt or just show a little love and affection for the HSCI.  Volunteers set up a kissing booth in front of the Rock'n Java Restaurant on Melgar from 11 am  to 3 pm on Valentines Day, February 14th.
The event was a resounding success with $259 USD and $1,920 MXN donated.  A special thanks to Craig C. who donated an additional $500 USD while enjoying lunch.
These funds are critical to keep the spay neuter campaign going!!
To get involved please call the Humane Society of Cozumel Island at 987 112 3376 or email us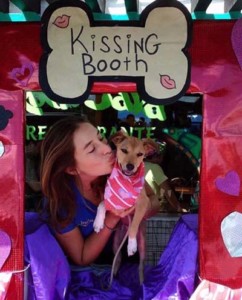 at pets@humanecozumel.org   This is a wonderful way to get involved in our local community and meet all the amazing people who lend us a paw!
Un éxito el stand de besos de la Sociedad Humanitaria
Un enorme "guag" a la recaudación del Día de San Valentín. . .
Feliz semana de San Valentín les desean todas las bolitas de amor y pelaje de cuatro patas de la Sociedad Humanitaria de la Isla de Cozumel. Gracias a nuestros súper héroes y voluntarios pasamos y día de amor y besos para todo aquel que quisiera compartir este día de San Valentín con su perro, con un perro callejero o sólo compartiendo algo de amor y afecto con la Sociedad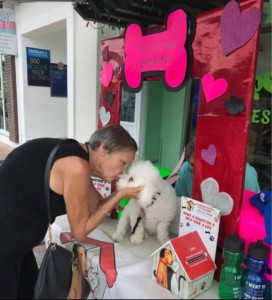 Humanitaria de la Isla de Cozumel. El día de San Valentín Los voluntarios colocaron el stand de besos frente al  Rock'n Java Restaurant  sobre la Avenida Melgar de 11 am a 3 pm.
El evento tuvo un éxito rotundo recaudando $ 259 dólares estadounidenses y $1,920 pesos. Un agradecimiento especial a Craig C. quien donó $500 dólares estadounidenses mientras disfrutaba su comida.
¡Esos fondos son esenciales para mantener la continuidad de la campaña de esterilización!
Para participar, por favor comuníquense a la Sociedad Humanitaria de la Isla de Cozumel al teléfono 987 112 3376 o escribanos al correo electrónico pets@humanecozumel.org . Esta es una excelente manera de participar en la comunidad, ¡y conocer a gente increíble que nos echan una pata!
An ex-Connecticut Yankee who has called Cozumel home for over 18 years, Laura ran away to the Caribbean years ago, bumped around the islands teaching SCUBA diving, lost some time in Jamaica, and finally stopped in Cozumel for a 2 week vacation that hasn't ended yet. With a degree in Journalism from a fancy private college she convinced her parents to pay for, Laura writes, edits, and creates the weeklyCozumel 4 You news,social media, and promotional articles about the island, as well as moderates the Cozumel 4 You Facebook group, which currently has over 25,000 members. Her long suffering husband, Fabian, has long since resigned himself to having zero private life, as he's been involved in her various schemes and plots since his arrival. Proud parents to a variety of rescue dogs and cats, Laura continues to be the bane of her traditional Mexican mother-in-law's existence, as she muses her way through life in the Mexican Caribbean.
______________________________
Una ex yanqui de Connecticut quien llama hogar a Cozumel desde hace más de 15 años. Laura escapó al Caribe hace años, desplazándose de una isla a otra dando clases de BUCEO. Se dedicó a perder el tiempo en Jamaica y finalmente se detuvo en Cozumel para pasar unas vacaciones de 2 semanas que aún no terminan. Convenciendo a sus padres que pagaran una elegante universidad privada, obtuvo su título en Periodismo y Laura crea semanalmente Cozumel 4You, medios sociales y artículos promocionales sobre la Isla y también es moderadora en el grupo Cozumel 4 You en Facebook que actualmente cuenta con 25,000 miembros. Fabián, s umuy tolerante marido, desde hace mucho tiempo se resignó a no tener vida privada, pues se ha visto implicado en los diversos proyectos y planes que urde Laura. Son orgullosos padres de diversos perros y gatos rescatados. Mientras contempla su paso a través de la vida en el Caribe mexicano,Laura continúa siendo la pesadilla en la existencia de su muy tradicional suegra mexicana.
Latest posts by Laura Wilkinson (see all)