Humane Society of Cozumel Island
Last Weeekend's HSCI's Massive Spay/Neuter Campaign
May 12- 13 over 200 animals were fixed….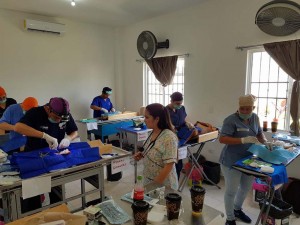 Editors Note:  For the next several weeks, we're going to highlight Cozumel businesses that are really part of the island community.  Now that high season is over, it's time to support Cozumel, by shopping local, assisting charities, hosting beach cleanups, working together or even offering discounts or local promotions.  If you'd like to nominate a business please reach out to laura@czm4you.com
Last weekend, on Saturday and Sunday, the Humane Society of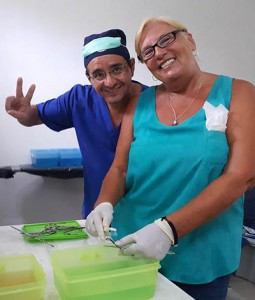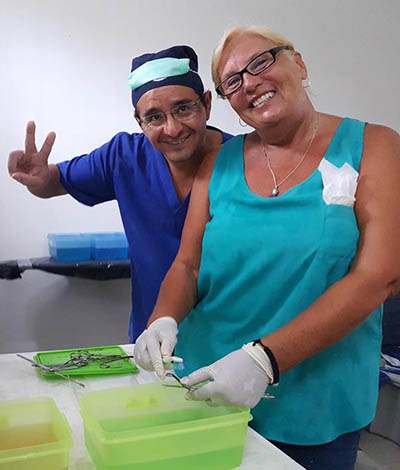 Cozumel Island hosted another massive spay and neuter campaign.  Invited veterinarians from Cancun, Merida, Playa del Carmen and Puerto Morelos assisted along with many hard working volunteers, and our resident vets and hard-working staff.
All in all it was a total success – over 200 animals were neutered. Thanks to everyone – especially the people who brought their pets in for a no-cost procedure.  Successful events like these are the work of a village – it takes a lot of hands to pull this off.   We need supplies, lodging for our volunteer vets, food and drinks for hungry volunteers, transporters, cleaning services and more.
Local restaurants  – Margaritaville and Papa Hogs –  generously supplied a hearty lunch for hungry volunteers, and other island restaurants donated snacks, coffee water and good cheer.
We're always looking for more people to get involved – not only with these great campaigns but as kennel sponsors, monthly donors, puppy washers, fundraiser organizers and more.  If you'd like to make a donation to the Humane Society of Cozumel Island just go to their web site  www.humanecozumel.org
Campaña de esterilización masiva de la Sociedad Humanitaria la semana pasada
Los días 12 y 13 de mayo se esterilizaron más de 200 animales. . .
Nota de la Editora: durante las siguientes semanas vamos a resaltar los negocios en la Isla que verdaderamente forman parte de la comunidad de la misma. Ahora que ha concluido la temporada alta, es momento de brindar apoyo a Cozumel comprando en las tiendas locales, apoyando a los grupos de beneficencia, organizando limpiezas de playas, trabajando conjuntamente o incluso ofreciendo descuentos o promociones locales. En caso que desee nominar a algún negocio, por favor póngase en contacto con laura@czm4you.com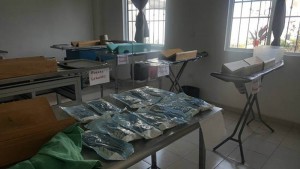 Los días sábado y domingo de la semana pasada, la Sociedad Humanitaria de la Isla de Cozumel organizó otra campaña masiva de esterilización. Diversos veterinarios invitados procedentes de Cancún, Mérida, Playa del Carmen y Puerto Morelos apoyados por muchos voluntarios que trabajaron arduamente a la par de nuestros veterinarios residentes y personal.
En general fue un gran éxito, esterilizando a más de 200 animales. Muchas gracias a todos, en especial a las personas que trajeron a sus mascotas para recibir un procedimiento gratuito. Eventos exitosos como estos requieren del trabajo de una comunidad; se necesita de muchas manos para sacar esto adelante. Requerimos de suministros, hospedaje para nuestros veterinarios voluntarios, alimentos y bebidas para voluntarios hambrientos, transportadores, servicios de limpieza y más.
Restaurantes locales como Margaritaville y Poppa Hogs amablemente suministraron una abundante comida para los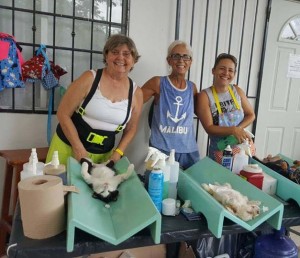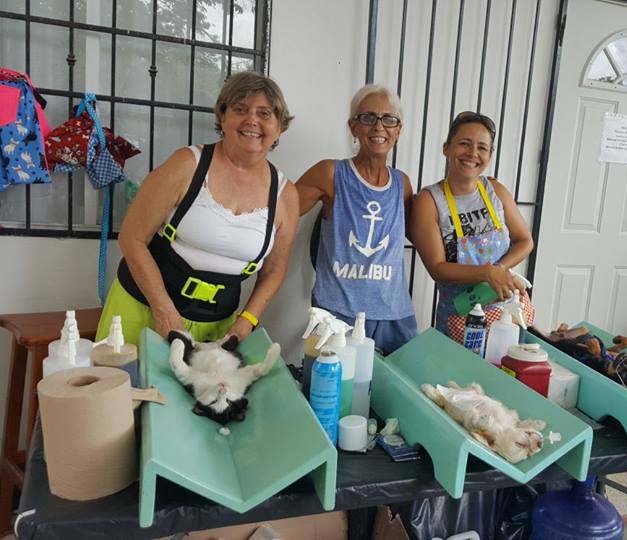 voluntarios hambrientos y otros restaurantes donaron refrigerios, agua para café y mucho entusiasmo.
Siempre estamos buscando que más gente se una, no solo en estas grandiosas campañas sino también como patrocinadores de jaulas, donadores mensuales, lavadores de perros, organizadores de recaudación de fondos y más. Si desea hacer alguna donación a la Sociedad Humanitaria de la Isla de Cozumel, visite su sitio web: www.humanecozumel.org.
An ex-Connecticut Yankee who has called Cozumel home for over 18 years, Laura ran away to the Caribbean years ago, bumped around the islands teaching SCUBA diving, lost some time in Jamaica, and finally stopped in Cozumel for a 2 week vacation that hasn't ended yet. With a degree in Journalism from a fancy private college she convinced her parents to pay for, Laura writes, edits, and creates the weeklyCozumel 4 You news,social media, and promotional articles about the island, as well as moderates the Cozumel 4 You Facebook group, which currently has over 25,000 members. Her long suffering husband, Fabian, has long since resigned himself to having zero private life, as he's been involved in her various schemes and plots since his arrival. Proud parents to a variety of rescue dogs and cats, Laura continues to be the bane of her traditional Mexican mother-in-law's existence, as she muses her way through life in the Mexican Caribbean.
______________________________
Una ex yanqui de Connecticut quien llama hogar a Cozumel desde hace más de 15 años. Laura escapó al Caribe hace años, desplazándose de una isla a otra dando clases de BUCEO. Se dedicó a perder el tiempo en Jamaica y finalmente se detuvo en Cozumel para pasar unas vacaciones de 2 semanas que aún no terminan. Convenciendo a sus padres que pagaran una elegante universidad privada, obtuvo su título en Periodismo y Laura crea semanalmente Cozumel 4You, medios sociales y artículos promocionales sobre la Isla y también es moderadora en el grupo Cozumel 4 You en Facebook que actualmente cuenta con 25,000 miembros. Fabián, s umuy tolerante marido, desde hace mucho tiempo se resignó a no tener vida privada, pues se ha visto implicado en los diversos proyectos y planes que urde Laura. Son orgullosos padres de diversos perros y gatos rescatados. Mientras contempla su paso a través de la vida en el Caribe mexicano,Laura continúa siendo la pesadilla en la existencia de su muy tradicional suegra mexicana.
Latest posts by Laura Wilkinson (see all)