Fly Cozumel Photo Contest
5th Annual Fly Cozumel Photo Contest:  Mik n Drik Go Head to Head
The flight has been flown, both photographers have had their rush of adrenaline, plus a round of incredible shots, and now it's your turn to vote for the best picture!
Nadine Biezmienova and Oleksandr Biezmienov partners and co-owners of Mik 'n Drik Photography took to the skies over Cozumel and next week will  present their two best images.
Next week the shots will be uploaded to the Fly Cozumel website, where voting will commence on Midnight February 5th and will continue on to February 11th at midnight.
 To participate, visit the Fly Cozumel website and click on the main banner about the contest at the top of their homepage or simply click on on the following link to vote for the best Cozumel 2020 Fly Cozumel Photo Contest when they're uploaded.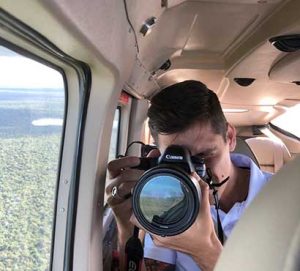 On Monday, February 12th, we will announce the lucky winner via our social media channels and the always friendly, consistently useful and awesome Cozumel 4 You community.
Now get ready to vote!
5º concurso anual de fotografía Fly Cozumel: Mik n Drik Go Head to Head
El vuelo se efectuó. Ambos fotógrafos recibieron su golpe de adrenalina, además de increíbles tomas, ¡y ahora es su turno de emitir el voto de la mejor fotografía!
Nadine Biezmienova y Oleksandr Biezminov, pareja y copropietarios de Mik 'n Drik Photography, se elevaron por los cielos de Cozumel y la próxima semana presentarán sus dos mejores imágenes.
La próxima semana se subirán las fotografías al sitio web de Fly Cozumel, y la votación se realizará a partir del 5 de febrero hasta el 11 de febrero a la medianoche.
Para participar, visite el sitio web de  Fly Cozumel  y haga clic en el "banner" principal sobre el concurso, en la parte superior de la página de inicio, o simplemente haga clic en el siguiente enlace para emitir su voto a la mejor fotografía participante de Cozumel en el concurso Fly Cozumel 2020 cuando ya se encuentren cargadas en dicha página.
El lunes 12 de febrero a través de nuestras redes sociales y la siempre amigable, constantemente útil e increíble página de la Cozumel 4 You community. se dará a conocer al ganador.
¡Prepárense para votar!
An ex-Connecticut Yankee who has called Cozumel home for over 18 years, Laura ran away to the Caribbean years ago, bumped around the islands teaching SCUBA diving, lost some time in Jamaica, and finally stopped in Cozumel for a 2 week vacation that hasn't ended yet. With a degree in Journalism from a fancy private college she convinced her parents to pay for, Laura writes, edits, and creates the weeklyCozumel 4 You news,social media, and promotional articles about the island, as well as moderates the Cozumel 4 You Facebook group, which currently has over 25,000 members. Her long suffering husband, Fabian, has long since resigned himself to having zero private life, as he's been involved in her various schemes and plots since his arrival. Proud parents to a variety of rescue dogs and cats, Laura continues to be the bane of her traditional Mexican mother-in-law's existence, as she muses her way through life in the Mexican Caribbean.
______________________________
Una ex yanqui de Connecticut quien llama hogar a Cozumel desde hace más de 15 años. Laura escapó al Caribe hace años, desplazándose de una isla a otra dando clases de BUCEO. Se dedicó a perder el tiempo en Jamaica y finalmente se detuvo en Cozumel para pasar unas vacaciones de 2 semanas que aún no terminan. Convenciendo a sus padres que pagaran una elegante universidad privada, obtuvo su título en Periodismo y Laura crea semanalmente Cozumel 4You, medios sociales y artículos promocionales sobre la Isla y también es moderadora en el grupo Cozumel 4 You en Facebook que actualmente cuenta con 25,000 miembros. Fabián, s umuy tolerante marido, desde hace mucho tiempo se resignó a no tener vida privada, pues se ha visto implicado en los diversos proyectos y planes que urde Laura. Son orgullosos padres de diversos perros y gatos rescatados. Mientras contempla su paso a través de la vida en el Caribe mexicano,Laura continúa siendo la pesadilla en la existencia de su muy tradicional suegra mexicana.
Latest posts by Laura Wilkinson (see all)