2018 Cozumel Turtle Season
2018 Turtle Season Update
Update by Biol. C. Ricardo Peralta M. ….
Editors Note:   Biol.C. Ricardo Peralta is back!!  After a few years of hiatus – Ricardo has promised to keep Cozumel 4 You readers abreast of all the happenings of the 2018 Turtle Season!
Did you know?
Sea turtles are extremely strong swimmers??
This is due to the adaptations they have suffered through their evolution. The paddle like limbs of these turtles enables them to swim at speeds measuring 1.5 to 2.3 kph (0.9 – 1.4 mph)
They tend to migrate kilometers to return to their nesting ground with one turtle, a leatherback having the record of swimming 12,744 miles from Indonesia to USA, taking her 647 days to cross the Pacific Ocean.
They are also excellent divers with some species diving at depths of 300 meter to sometimes more than 1000 meters in the case of leatherbacks. They can hold their breath submerged for around 35 – 45 minutes like the hawksbills or like the Green Sea turtles who can stay 5 hours, this is due to their slow metabolism, sometimes 9 minutes may elapse between their hearthbeats.
sources:
https://seaworld.org/en/animal-info/animal-infobooks/sea-turtles/adaptations
https://www.telegraph.co.uk/news/earth/earthnews/3322637/Leatherback-turtles-12744-mile-migration.html
Cozumel's "Centro de Conservacion y Educacion Ambiental", which is headed by Biol. Rafael  Chacon, and overseen by the FPMC (Foundation of Parks & Museums in Cozumel) has an  amazing eco-park on Av. 65   Biol. Cristina Mota is in charge of the Turtle Camp. If you wish to get info about the turtle activities, donate or purchase an official T-Shirt, Rafael, Cristina, Ricardo and the rest of the staff will  be there to serve you!!!To find out more about the program, or to get involved,  please contact Ricardo, at  charlesrichard527@hotmail.com  visit their Facebook page Centro de Conservacion y Educacion Ambiental
Actualización sobre la temporada de tortugas 2018
Actualización por parte del biólogo C. Ricardo Peralta M. …
Nota de la Editora: ¡El biólogo C. Ricardo Peralta está de regreso! Después de varios años de receso, Ricardo ha prometido mantener a los lectores de Cozumel 4 You al día de lo que ocurre en la temporada de tortugas 2018.
¿Sabían que?
¿Las tortugas marinas son nadadoras excelentes?
Ello se debe a las adaptaciones que han sufrido durante su evolución. Los miembros tipo aletas de estas tortugas les permite nadar a velocidades que van desde los 1.5 kph hasta los 2.3 kph (0.9-1.4mph).
Tienden a migrar a través de kilómetros hasta retornar a su base de anidación. Una tortuga laúd tiene el récord de haber nadado 12,744 millas desde Indonesia hasta los EUA en 647 días a través del Océano Pacífico.
También son excelentes buceadoras. Algunas especies han buceado a profundidades de hasta 300 metros y, en el caso de las tortugas laúd, en ocasiones hasta 1000 metros de profundidad. Pueden sostener su respiración de 35 a 45 minutos sumergidas, al igual que las tortugas carey o las verdes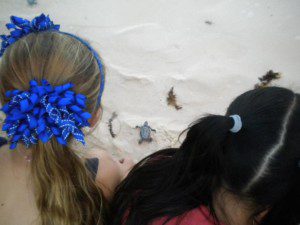 que pueden mantenerse hasta 5 horas sumergidas debido a su lento metabolismo; en ocasiones pueden transcurrir 9 minutos entre los latidos del corazón.
Fuentes:
https://seaworld.org/en/animal-info/animal-infobooks/sea-turtles/adaptations
https://www.telegraph.co.uk/news/earth/earthnews/3322637/Leatherback-turtles-12744-mile-migration.html
El Centro de conservación y Educación Ambiental de Cozumel, encabezado por el biólogo Rafael
Chacon y supervisado pro la Fundación de Parques y Museos de Cozumel, cuenta con un magnífico eco-parque en la Avenida 65. La bióloga Cristina Mota está a cargo del Campamento Tortuguero. Si desean información sobre las actividades con las tortugas, donar o comprar una camiseta oficial, Rafael, Cristina, Ricardo y el resto del equipo están ahí para servirle. Para averiguar más acerca del programa o de cómo participar, por favor pónganse en contacto con Ricardo a través de charlesrichard527@hotmail.com; visiten la página del Centro de Conservacion y Educacion Ambiental en facebook.
An ex-Connecticut Yankee who has called Cozumel home for over 18 years, Laura ran away to the Caribbean years ago, bumped around the islands teaching SCUBA diving, lost some time in Jamaica, and finally stopped in Cozumel for a 2 week vacation that hasn't ended yet. With a degree in Journalism from a fancy private college she convinced her parents to pay for, Laura writes, edits, and creates the weeklyCozumel 4 You news,social media, and promotional articles about the island, as well as moderates the Cozumel 4 You Facebook group, which currently has over 25,000 members. Her long suffering husband, Fabian, has long since resigned himself to having zero private life, as he's been involved in her various schemes and plots since his arrival. Proud parents to a variety of rescue dogs and cats, Laura continues to be the bane of her traditional Mexican mother-in-law's existence, as she muses her way through life in the Mexican Caribbean.
______________________________
Una ex yanqui de Connecticut quien llama hogar a Cozumel desde hace más de 15 años. Laura escapó al Caribe hace años, desplazándose de una isla a otra dando clases de BUCEO. Se dedicó a perder el tiempo en Jamaica y finalmente se detuvo en Cozumel para pasar unas vacaciones de 2 semanas que aún no terminan. Convenciendo a sus padres que pagaran una elegante universidad privada, obtuvo su título en Periodismo y Laura crea semanalmente Cozumel 4You, medios sociales y artículos promocionales sobre la Isla y también es moderadora en el grupo Cozumel 4 You en Facebook que actualmente cuenta con 25,000 miembros. Fabián, s umuy tolerante marido, desde hace mucho tiempo se resignó a no tener vida privada, pues se ha visto implicado en los diversos proyectos y planes que urde Laura. Son orgullosos padres de diversos perros y gatos rescatados. Mientras contempla su paso a través de la vida en el Caribe mexicano,Laura continúa siendo la pesadilla en la existencia de su muy tradicional suegra mexicana.
Latest posts by Laura Wilkinson (see all)