Cold Weather Boon: 2019 Hurricane Season Nears an End
The 2019 Hurricane Season officially comes to an end at the end of November. While Cozumel and the Yucatan Peninsula were spared any significant damage, it can generally be agreed that this Atlantic hurricane season had a destructive component, in fact, worldwide there were 5 hurricanes, 17 tropical depressions and 107 fatalities. Both Bermuda and Texas were affected.
Back in December of 2018 the first predictions cited a lower than normal hurricane season. On May 23, NOAA released their first prediction, calling for a near-normal season with 9–15 named systems, 4–8 hurricanes, and 2–4 major hurricanes.
While the season isn't over until the end of the month, local folklore states that when Cozumel starts getting "nortes" (cold winds that blow in from the north and can cause port closures) that the end of hurricane season is here.
So, while there are signs that the season is over, please remember that according to NOAA it's not over until the end of the month.
La bendición que trae el clima frío: se acerca el fin de la temporada de huracanes 2019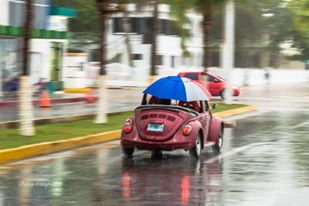 De manera oficial la temporada de huracanes 2019 llega a su fin a fines de Noviembre. Si bien Cozumel y la Península de Yucatán se vieron libres de cualquier daño importante, en un consenso general durante esta temporada de huracanes del Atlántico sí tuvo un factor de destrucción; de hecho, mundialmente hubo 5 huracanes, 17 depresiones tropicales y 107 fallecimientos. Tanto Bermuda como Texas se vieron afectados.
En diciembre del 2018 los primeros pronósticos citaban una temporada de huracanes mucho menor de lo normal. El 23 de mayo NOAA publicó el primer pronóstico indicando una temporada casi normal con la presencia de 9 a 15 sistemas con nombres, de 4 a 8 huracanes y 2 a 4 huracanes de muy intensos.
No obstante que aún no concluye la temporada sin hasta fines de mes, la tradición local indica que al momento que comienzan a llegar "nortes" a Cozumel (frentes fríos procedentes del norte y que pueden provocar el cierre del puerto), es cuando el fin de la temporada de huracanes ha llegado.
Así que, si bien hay indicaciones que la temporada ha terminado, recuerden que según NOAA la temporada de huracanes no concluye sino hasta finales del mes.
An ex-Connecticut Yankee who has called Cozumel home for over 18 years, Laura ran away to the Caribbean years ago, bumped around the islands teaching SCUBA diving, lost some time in Jamaica, and finally stopped in Cozumel for a 2 week vacation that hasn't ended yet. With a degree in Journalism from a fancy private college she convinced her parents to pay for, Laura writes, edits, and creates the weeklyCozumel 4 You news,social media, and promotional articles about the island, as well as moderates the Cozumel 4 You Facebook group, which currently has over 25,000 members. Her long suffering husband, Fabian, has long since resigned himself to having zero private life, as he's been involved in her various schemes and plots since his arrival. Proud parents to a variety of rescue dogs and cats, Laura continues to be the bane of her traditional Mexican mother-in-law's existence, as she muses her way through life in the Mexican Caribbean.
______________________________
Una ex yanqui de Connecticut quien llama hogar a Cozumel desde hace más de 15 años. Laura escapó al Caribe hace años, desplazándose de una isla a otra dando clases de BUCEO. Se dedicó a perder el tiempo en Jamaica y finalmente se detuvo en Cozumel para pasar unas vacaciones de 2 semanas que aún no terminan. Convenciendo a sus padres que pagaran una elegante universidad privada, obtuvo su título en Periodismo y Laura crea semanalmente Cozumel 4You, medios sociales y artículos promocionales sobre la Isla y también es moderadora en el grupo Cozumel 4 You en Facebook que actualmente cuenta con 25,000 miembros. Fabián, s umuy tolerante marido, desde hace mucho tiempo se resignó a no tener vida privada, pues se ha visto implicado en los diversos proyectos y planes que urde Laura. Son orgullosos padres de diversos perros y gatos rescatados. Mientras contempla su paso a través de la vida en el Caribe mexicano,Laura continúa siendo la pesadilla en la existencia de su muy tradicional suegra mexicana.
Latest posts by Laura Wilkinson (see all)