Cozumel Parrots
Cozumel's Parrot Squadrons:  Some Basic Facts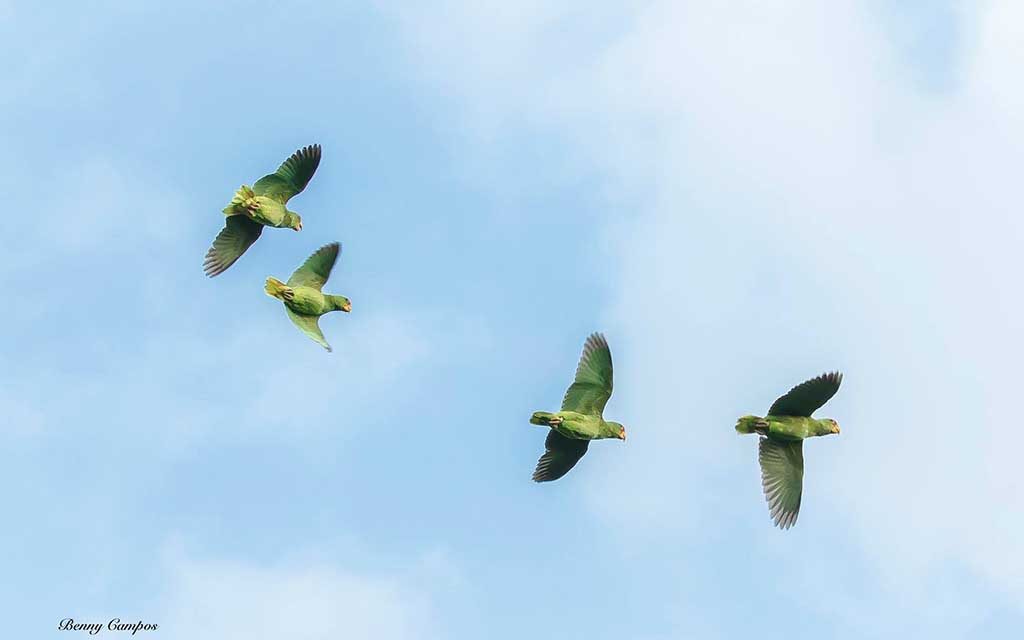 It's no coincidence that a flock of parrots is also called a pandemonium.  Generally speaking, the small flocks of parrots that can be found on Cozumel, are the Yucatan Amazon, also known as a Yellow-Lored Amazon.  They usually congregate in small flocks and will occasionally incorporate other Amazons  – such as White Fronted or Red Spectacled Amazons – into their flocks.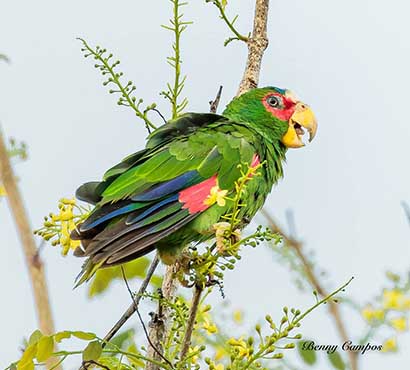 Native to Quintana Roo, the Yucatan and most of Campeche, they breed spring through summer (with their season ending June or July) and generally nest up to 4 eggs at a time.  Eggs incubate for about 26 days and young parrots leave the nest at about 60 days of age.  
Male Yucatan Amazons have a white forcrown, red face and a red flash in their wings.  Females do not have these features, and it is hypothesized that is is so they blend in better when nesting.
Interested in learning more about the birds in Cozumel?  Check out this great link, which is actually a mini-booklet of the various species of birds that inhabit the area.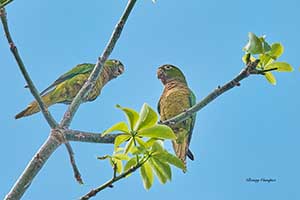 Also of note is this great link from Mexico Desconcido on 10 birds found in the area.
Escuadrones de loros de Cozumel. Algunos datos básicos
No es ninguna coincidencia que a una bandada de loros también se diga que son un escándalo. Por lo general, las pequeñas parvadas de loros que se encuentran en Cozumel son de la especie amazona yucateca y también se le conoce como loro yucateco. Con frecuencia se reúnen en pequeñas parvadas y a veces incorporan a otras amazonas como la amazona frente blanca o cotorrita y con la amazona de cabeza roja o chorao dentro de las suyas.
Originaria de Quintana Roo, de Yucatán y de la mayor parte de Campeche, se reproducen desde la primavera hasta el verano (siendo que la temporada finaliza en junio o julio) y por lo general colocan hasta 4 huevos a la vez. Los huevos incuban durante aproximadamente 26 días y los loros jóvenes dejan el nido alrededor de los 60 días de edad.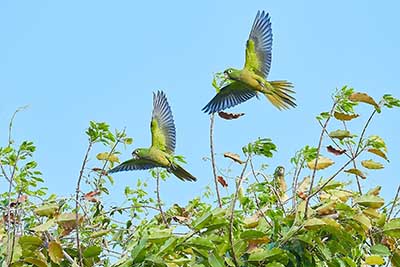 El frente de la cabeza de los loros machos de la especie amazona yucateca es color blanco, sus caras son color rojo y puntas color rojo en las alas. Las hembras carecen de estas características y se especula que ello sirve para que se integren más medio cuando están anidando.
¿Le interesa saber más acerca de las aves en Cozumel? Visite este excelente enlace que de hecho es un pequeño folleto de diversas especies que habitan la zona.
Cabe también destacar este gran enlace de Mexico Desconcido sobre 10 aves que se encuentran en la zona.
An ex-Connecticut Yankee who has called Cozumel home for over 18 years, Laura ran away to the Caribbean years ago, bumped around the islands teaching SCUBA diving, lost some time in Jamaica, and finally stopped in Cozumel for a 2 week vacation that hasn't ended yet. With a degree in Journalism from a fancy private college she convinced her parents to pay for, Laura writes, edits, and creates the weeklyCozumel 4 You news,social media, and promotional articles about the island, as well as moderates the Cozumel 4 You Facebook group, which currently has over 25,000 members. Her long suffering husband, Fabian, has long since resigned himself to having zero private life, as he's been involved in her various schemes and plots since his arrival. Proud parents to a variety of rescue dogs and cats, Laura continues to be the bane of her traditional Mexican mother-in-law's existence, as she muses her way through life in the Mexican Caribbean.
______________________________
Una ex yanqui de Connecticut quien llama hogar a Cozumel desde hace más de 15 años. Laura escapó al Caribe hace años, desplazándose de una isla a otra dando clases de BUCEO. Se dedicó a perder el tiempo en Jamaica y finalmente se detuvo en Cozumel para pasar unas vacaciones de 2 semanas que aún no terminan. Convenciendo a sus padres que pagaran una elegante universidad privada, obtuvo su título en Periodismo y Laura crea semanalmente Cozumel 4You, medios sociales y artículos promocionales sobre la Isla y también es moderadora en el grupo Cozumel 4 You en Facebook que actualmente cuenta con 25,000 miembros. Fabián, s umuy tolerante marido, desde hace mucho tiempo se resignó a no tener vida privada, pues se ha visto implicado en los diversos proyectos y planes que urde Laura. Son orgullosos padres de diversos perros y gatos rescatados. Mientras contempla su paso a través de la vida en el Caribe mexicano,Laura continúa siendo la pesadilla en la existencia de su muy tradicional suegra mexicana.
Latest posts by Laura Wilkinson (see all)