2019 Cozumel Carnaval King
Running for Carnaval King:  An Insight Into What It's Like
Emmanuel Shares His Motivation & Inspiration ….

Emmanuel Campos is a candidate for Carnaval King for 2019. Some of you probably already know him from his Zumba classes or have seen his smiling face at the Cozumel airport.  We asked him to share some of the reasons and motivations for taking such a enormous venture.  You can follow – and support – his campaign through his official Facebook page – https://www.facebook.com/Emmanuel-Campos-Candidato-a-Rey-Del-Carnaval-2019-1523219354489550/.
My name is Emmanuel Jesus Campos Coral, and was born 32 years ago in the Island of Cozumel. The reason of this letter is to present before you my desire and eagerness to be able to be candidate as king of the Cozumel Carnaval. It was not an easy decision; however, thanks to the support from the people I have worked with for so many years, I finally decided to accomplish one more goal in my life. I have enjoyed all my Carnavales from a very early age, because since nursery school my parents liked me to take part in this tradition. Over the years, I grew and became better in each Carnaval until I became choreographer of the best dance troupe and Carnaval queen, as well as of several Ladies' Show groups. Because of all this work and also of friends, family, students and fellow teachers, I feel more than ready to be candidate as king of the Carnaval. Something I have learned throughout all these years is to play a good role, making people enjoy themselves as well as the show me and other candidates present; that you vote for the best or your favorite show and, no matter which place I get, continue proving the reason I am there!
These are the words I used to address the Board of the Carnaval; they are the ones that decide which candidates will be accepted to participate in Cozumel's Carnaval. When decided to run as candidate, I dedicated myself 100% to prepare for the project, getting together with my work team. They are:
Representative: María del Carmen Gómez Torres
Designers: Miguel Ángel Chan Pérez (Lolísima) and Adrián Uc Cerda
Troupe Designer: Maria Isabel López Cerina (Doá Chave)
Makeup artist: Estética D'Lore
Music and video: Prducciones Maravilla Mariano Vázquez / Professional photography and video
Publicity: José Saúl
Choroehraphers: Ramiro Ancona
Props and set design: Melchor Gaspar  Mena Dominguez
Logistics: Merly Leticia Herrera Moreno, Daniel Catzin Cetina, Irvin Dzib Campos.
I had several meetings with these people, and we brainstormed to bring it about. We addressed issues such as music, themes, costumes, production, publicity, etc. Getting elected was a difficult task as I had to submit a résumé of all years I participated in the Carnaval, including photographs. From there, applicants are free to decide how to present their résumés. I submitted it in the form of a hardcover book. Registration is open at the end of November, for 12 weeks so anyone who wishes to be a candidate may have a chance to present the paperwork. Later when registrations close, résumés are reviewed by the Board and, should there be more than 3 applicants per category, we are later called for a casting. In my case, 7 had to do the casting. I have to say I was quite nervous as I was the first one to do the casting before the Board. I dressed up for the moment as a Carnaval character and performed for the Board. After waiting for over an hour, all applicants were called in and we were told the names of the three candidates. Among these, me.
I am deeply grateful for all the support given to me by these people who have known and worked with me for so many years. Now it is even better they are part of this dream. My family has been instrumental, because my parents' and dear ones' support encourages me to do things well and enjoy. Something that my parents say is that I should have fun and enjoy it, and that is exactly what I will do.
Thanks to all my students and their parents, and to my troupe ANTIFACES Y MÁSCARA DE LA LUNA because everything is coming out right. But most of all I must thank a student who has given me her friendship and unconditional support: Heather Wolf Bryan, whom I have known for 5 years through the Ladies' Show. Also, Julie Gómez's valuable advice, sharing her Carnaval experiences as she has been part of this tradition for many years. I can truly say I am thankful to all people who support my Zumba group, my Antifaces troupe, the pilot plan of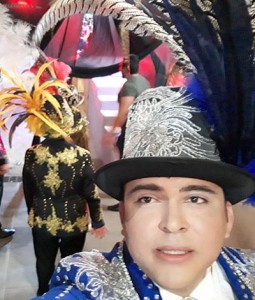 my dance academy, as well as all students which I had for many years when I began Zumba classes and instructor Ana Cruz who was my support at the time. And how could I forget Carolina Sosa, another teacher who gave me her support in the Carnaval environment, and ARLEQUINES DEL SOL troupe, my CBTIS No. 28 Hip hop students; and Héctor Mendoza, headmaster of the school who for over three years has provided his support by lending me the school's facilities for our rehersals. All of the above support from the people makes a candidate put his best effort on the election day show. The work of a candidate is quite exhausting as you need to go many places visiting people and sponsors getting financial support and thus having a better production.
The Carnaval dates are February 27 – March 6, 2019
For more information, and to get your party planning underway, check out the official Carnaval de Cozumel Facebook Page.
Una visión de cómo es postularse para rey de Carnaval
Emmanuel comparte su motivación e inspiración   . . .
Emmanuel Campos es candidato para rey del Carnaval 2019. Algunos de ustedes ya lo conocen de las clases de zumba o han visto su cara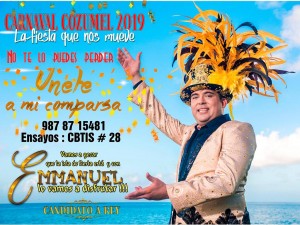 sonriente en el aeropuerto de Cozumel. Le pedimos que compartiera con nosotros algunas de las razones y motivaciones para emprender esta enorme aventura. Pueden seguirlo y apoyar su campaña a través de su página oficial en Facebook – https://www.facebook.com/Emmanuel-Campos-Candidato-a-Rey-Del-Carnaval-2019-1523219354489550/.
Mi nombre es Emmanuel Jesús Campos Coral  tengo 32 años de edad y soy originario de la isla de Cozumel, el motivo de esta carta es presentar ante ustedes mis ganas y deseos de llegar a poder ser candidato a rey de carnaval de Cozumel, la decisión no fue fácil más sin embargo gracias al apoyo de la gente con la cual eh trabajado a lo largo de los años por fin me decidí a lograr una meta más en la vida, mis carnavales los goce desde muy chiquito ya que mis papas les gustaba que yo participe en esta tradición, desde el kínder ya me habían involucrado en el carnaval siendo así unas de mis primeras apariciones y con forme  al tiempo ir creciendo y mejorando cada carnaval  hasta convirtirme en coreografo de las mejores comparsa y reinas del carnaval asi como de varios grupos en ladies show debido a todo este trabajo y también de amigo, familia, alumnos y compañeros maestro me siento mas que listo para llegar a ser candidato a rey de carnaval y lo que eh aprendido a los largo de estos años es saber dar un buen papel hacer  que la gente se divierta y disfrute del show mío y de todos los candidatos y que voten por el mejor show o su favorito, y quedando en el lugar que ocupe seguir demostrando el por qué estoy ahí!
Estas fueron las palabras con las que me presente ante el consejo del carnaval  quienes son los que toman la decisión de aceptar a los candidatos para los carnavales de Cozumel, cuando tome la decisión de postularme como candidato me dedique al 100% a la preparación de dicho proyecto ya que me reuní con mi equipo de trabajo quienes son:
Representante: María del Carmen Gómez Torres
Diseñadores; Miguel Ángel Chan Pérez (lolisima) y Adrián Uc Cerda
Diseñador comparsa: Maria Isabel Lopez Cetina (doña chave)
Maquillista: Estética D´Lore
Música y video: Producciones Maravilla Mariano Vázquez / Fotografía & video profesional
Publicidad: Jose Saul
Coreógrafos: Ramiro Ancona
Utilería y escenografía: Melchor Gaspar Mena Domínguez
Logística: Merly Leticia Herrera Moreno y Daniel Catzin Cetina, Irvin Dzib Campos.
Con estas personas tuve varias reuniones y lluvia de ideas para poder realizarlo, dentro de esos puntos hablamos de música, temáticas,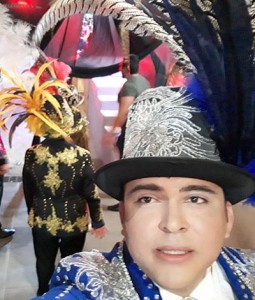 vestuario, producción, publicidad etc……… para que me pudieran elegir fue una tarea muy difícil  ya que tuve que presentar un Curriculum de mis años de trayectoria en carnaval y anexar fotos en dicha presentación ahí las personas aspirantes son libres en decidir cómo presentar su currículum yo lo presente en forma de un libro empastado, las inscripciones las abren a final  del mes de noviembre y las abren por 12 semanas para que toda la gente que quiera ser candidato lo lleve, posteriormente al cierre de las inscripciones los curriculum pasan a manos de consejo de carnaval quien después de revisarlo nos citan para hacer un casting en caso de que sean mas de 3 aspirantes en cada categoría, en mis caso fuimos 7 que audicionamos, debo decir que estaba muy nervioso además que fui el primero en pasar y presentarme ante ellos, para esa audición fui vestido carnavalero me presente y baile para el consejo y después de mas de una hora de espera nos hablaron a todos los aspirantes y ya mencionaron a los tres que quedaron como candidatos dentro de eso YO.
Estoy muy agradecido con todo el apoyo de estas personas que de verdad me conocen desde hace años y eh trabajado con ellos años atrás y ahora que sean parte de este sueño es aún mucho mejor, mi familia forma parte fundamental ya que el apoyo de mis papas y seres queridos me motiva en hacer las cosas bien y disfrutar, algo que me dicen mis papas que le mejer que puedo hacer es disfrutar y divertirme y eso mismo es lo que hare.
Gracias a todos mis alumnos y sus papas, y a mi comparsa ANTIFACES Y MASCARA DE LA LUNA es que todo esta saliendo bien, y sobre todo hay algo que tengo que agradecer  es a una alumna que siempre me ah brindado su amistad y apoyo incondicional y ella se llama Heather Wolf Bryan quien hace mas de 5 años que conozco por medio de ladys show al igual que a sus  muy valiosos consejos de Julie gomez quien me platica sus experiencias carnavaleras quien tiene muchos años saliendo en esta gran tradición, de verdad  puedo decir que estoy agradecido con todas las personas que me apoyan  a mi grupo de zumba, a mi comparsa antifaces, a mi academia de baile plan piloto, al igual que amis alumnas de hace años cuando comencé a dar clases de zumba quien en su momento mi apoyo fue la instructora Ana Cruz, y como olvidar a otra maestra que me apoyo en el ambiente carnavalero que fue Carolina Sosa  y a la comparsa ARLEQUINES DEL SO, tambien a mis alumnos de club de hip hop del cbtis núm. 28  al igual que al director de la misma escuela Héctor Mendoza quien durante mas de tres años me ha apoyado con las instalaciones de la escuela para llevar acabo mis ensayos.
Todo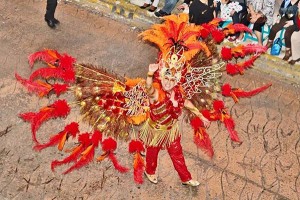 estos apoyos de la gente hace que uno como candidato le ponga todas la ganas para dar un buen show el día de las votaciones eso si, el trabajo de un candidato es muy cansado ya que tienes que estar llendo a muchos lados visitado a personas y patrocinadores para lograr los apoyos economicos y logran una mejor producción.
Las fechas del Carnaval son Febrero 27 a Marzo 6, 2019.
Para más información y para planear su celebración, eche un vistazo a la página del Carnaval de Cozumel en Facebook.
An ex-Connecticut Yankee who has called Cozumel home for over 18 years, Laura ran away to the Caribbean years ago, bumped around the islands teaching SCUBA diving, lost some time in Jamaica, and finally stopped in Cozumel for a 2 week vacation that hasn't ended yet. With a degree in Journalism from a fancy private college she convinced her parents to pay for, Laura writes, edits, and creates the weeklyCozumel 4 You news,social media, and promotional articles about the island, as well as moderates the Cozumel 4 You Facebook group, which currently has over 25,000 members. Her long suffering husband, Fabian, has long since resigned himself to having zero private life, as he's been involved in her various schemes and plots since his arrival. Proud parents to a variety of rescue dogs and cats, Laura continues to be the bane of her traditional Mexican mother-in-law's existence, as she muses her way through life in the Mexican Caribbean.
______________________________
Una ex yanqui de Connecticut quien llama hogar a Cozumel desde hace más de 15 años. Laura escapó al Caribe hace años, desplazándose de una isla a otra dando clases de BUCEO. Se dedicó a perder el tiempo en Jamaica y finalmente se detuvo en Cozumel para pasar unas vacaciones de 2 semanas que aún no terminan. Convenciendo a sus padres que pagaran una elegante universidad privada, obtuvo su título en Periodismo y Laura crea semanalmente Cozumel 4You, medios sociales y artículos promocionales sobre la Isla y también es moderadora en el grupo Cozumel 4 You en Facebook que actualmente cuenta con 25,000 miembros. Fabián, s umuy tolerante marido, desde hace mucho tiempo se resignó a no tener vida privada, pues se ha visto implicado en los diversos proyectos y planes que urde Laura. Son orgullosos padres de diversos perros y gatos rescatados. Mientras contempla su paso a través de la vida en el Caribe mexicano,Laura continúa siendo la pesadilla en la existencia de su muy tradicional suegra mexicana.
Latest posts by Laura Wilkinson (see all)