Costamed Hosptial to Host Blood Donation Drive: Here's How To Help
We are pleased to announce the upcoming blood donation drive! The blood drive will be held on site at Costamed Hospital, Cozumel Mexico in collaboration with the Ministry of Health of Quintana Roo.
There are many benefits to becoming a blood donor. Number 1: Sharing life! Number 2: Have priority access to SESA blood banks throughout the Quintana Roo State! Number 3: Boost our overall blood bank availability.
Save the date: Oct 19th, 2019. We plan to have a fast track service to donate! There will be gifts and prizes for donors. The hours for donation will be 7:am to 1pm.
And we are welcoming all for our 5 Km run to create awareness for the blood drive. This will be hosted on October 12, 2019. Starting point is the main Mexican flag on the Malecon of Cozumel. If your pet enjoys walking, or running please bring them along!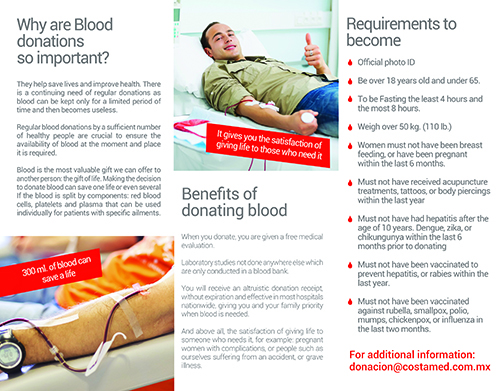 Please see attached posters for more information regarding the requisites, if you have any further questions regarding requisites, please email: donancion@costamed.com.mx
To register for donation, or the race, or both please go to this link:
Campaña de donación de sangre del Hospital Costamed. Aquí le decimos cómo ayudar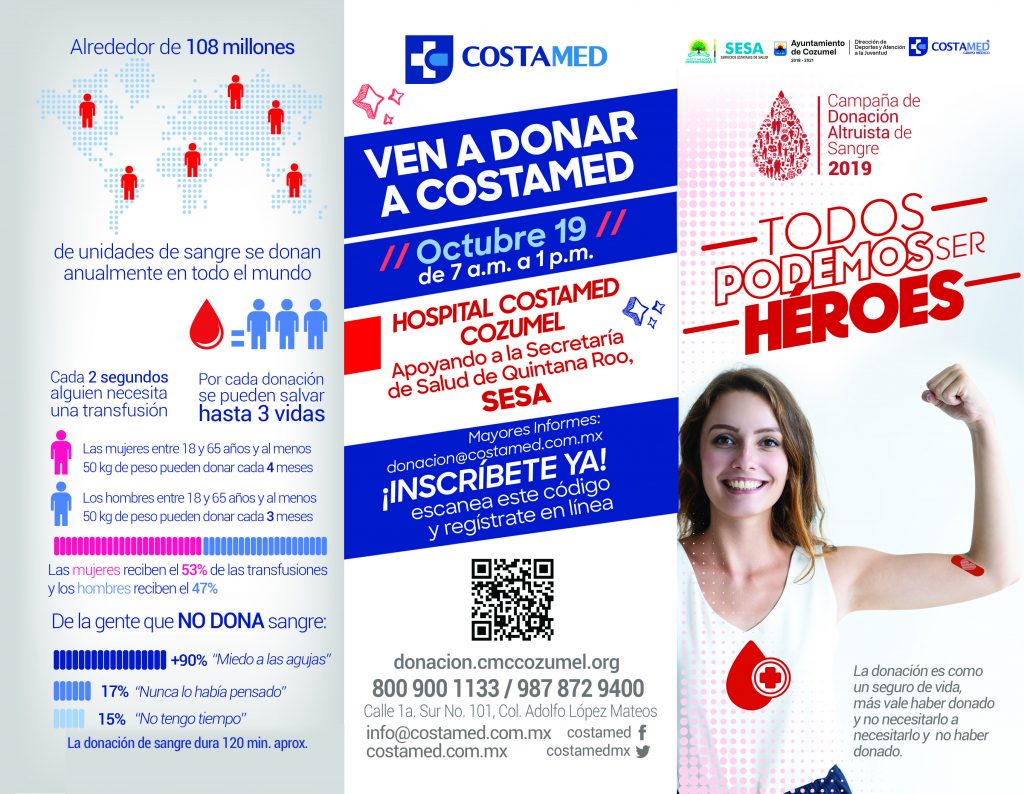 Nos complace anunciar la próxima campaña de donación de sangre. Esta se realizará en el Hospital Costamed, Cozumel, México, en colaboración con la Secretaría de Salud de Quintana Roo.
Son muchos los beneficios al ser donador. Número 1: ¡Se comparte vida! Número 2: Se tiene acceso preferencial a los bancos de sangre de SESA en Quintana Roo. Número 3: En general se impulsa la disponibilidad de bancos de sangre.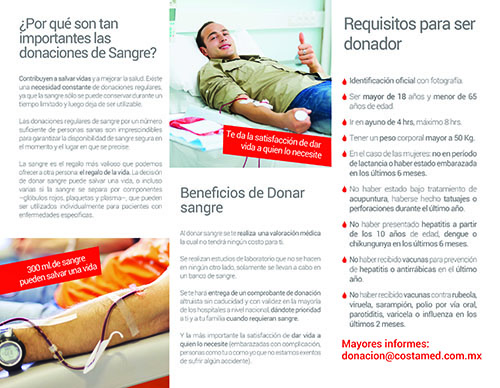 Apunte esta fecha: Octubre 19, 2019. Tenemos planeado contar con un servicio rápido para donar. Habrá regalos y premios para los donadores. El horario para la donación es 7 a.m. a 1 p.m.
Y damos la bienvenida a todo aquel que desee participar en la carrera de 5 Km de sensibilización para la campaña de donación de sangre. Esta tendrá lugar el 12 de octubre, 2019. El punto de inicio es donde se encuentra la bandera mexicana en el malecón. Si su mascota disfruta caminar o correr, ¡también tráigala!
Para registrarse en la campaña de donación o en la carrera, por favor visite este enlace Donacion.cmccozumel.org
An ex-Connecticut Yankee who has called Cozumel home for over 18 years, Laura ran away to the Caribbean years ago, bumped around the islands teaching SCUBA diving, lost some time in Jamaica, and finally stopped in Cozumel for a 2 week vacation that hasn't ended yet. With a degree in Journalism from a fancy private college she convinced her parents to pay for, Laura writes, edits, and creates the weeklyCozumel 4 You news,social media, and promotional articles about the island, as well as moderates the Cozumel 4 You Facebook group, which currently has over 25,000 members. Her long suffering husband, Fabian, has long since resigned himself to having zero private life, as he's been involved in her various schemes and plots since his arrival. Proud parents to a variety of rescue dogs and cats, Laura continues to be the bane of her traditional Mexican mother-in-law's existence, as she muses her way through life in the Mexican Caribbean.
______________________________
Una ex yanqui de Connecticut quien llama hogar a Cozumel desde hace más de 15 años. Laura escapó al Caribe hace años, desplazándose de una isla a otra dando clases de BUCEO. Se dedicó a perder el tiempo en Jamaica y finalmente se detuvo en Cozumel para pasar unas vacaciones de 2 semanas que aún no terminan. Convenciendo a sus padres que pagaran una elegante universidad privada, obtuvo su título en Periodismo y Laura crea semanalmente Cozumel 4You, medios sociales y artículos promocionales sobre la Isla y también es moderadora en el grupo Cozumel 4 You en Facebook que actualmente cuenta con 25,000 miembros. Fabián, s umuy tolerante marido, desde hace mucho tiempo se resignó a no tener vida privada, pues se ha visto implicado en los diversos proyectos y planes que urde Laura. Son orgullosos padres de diversos perros y gatos rescatados. Mientras contempla su paso a través de la vida en el Caribe mexicano,Laura continúa siendo la pesadilla en la existencia de su muy tradicional suegra mexicana.
Latest posts by Laura Wilkinson (see all)