Cozumel Carnaval 2020
Cozumel Carnaval 2020 Concerts & Event Schedule
Cozumel Carnaval 2020 is about ready to pop off!  The Pre-Events start on January 25th with the presentation of the candidates for the Royal Court and the Manuel Turizo concert – which will take place at the Moby Dick event hall starting at 10 pm.
You can find both the pre-events and the 2020 Cozumel Carnaval events schedule alongside this post.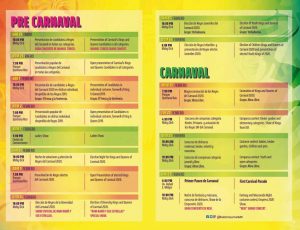 The 2020 Carnaval Parades, which will take place February 22, 23 and 25th.  Cozumel's downtown waterfront, or malecon, is in the process of  being painted and decorated with whimsical creatures in accordance with this year's theme.
The parade route starts at the Palacio Municipal down one side of the waterfront, turns at SEDENA and laps around the other side.  The official judges station is located on the Esplanade.
The official page including the more detail on the events can be found here.
Please also keep in mind that several streets will be closed to traffic, and plan accordingly. This is one of the island's biggest celebrations!  Please celebrate responsibly.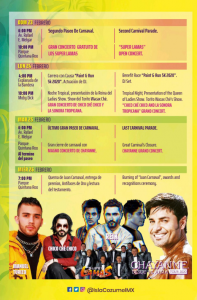 Programa de Conciertos y Eventos del Carnaval Cozumel 2020
¡El Carnaval Cozumel 2020 está a punto de arranar! Los eventos previos al Carnaval comienzan el 25 de enero con la presentación de los candidatos a la Corte real y el concierto de Manuel Turizo, en Moby Dick a parti de las 10pm.
Pueden encontrar el programa de eventos previos al Carnaval y los eventos del Carnaval Cozumel 2020 junto a esta publicación.
Los desfiles del Carnaval 2020 tendrán lugar los días 22, 23 y 25 de febrero. El malecón de Cozumel se encuentra en el proceso de ser pintado y decorado con criaturas caprichosas acordes al tema de este año.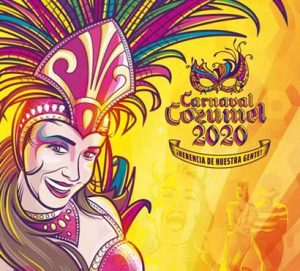 El recorrido del desfile iniciará en el Palacio Municipal, ubicado a un costado del malecón, dando vuelta en la SEDENA y regresando por el otro lado. La estación oficial de los jueces se localizará en la Explanada.
Aquí pueden encontrar la página oficial que incluye mayores detalles acerca de los eventos.
Por favor también tomen en cuenta que diversas calles estarán cerradas al tránsito vehicular, por ello, planeen con anticipación. ¡Esta es una de las mayores celebraciones de la Isla! Por favor celebren de manera responsable.
Latest posts by Laura Wilkinson
(see all)