Cozumel Watersports Reopen
Cozumel's National Marine Park Implements Gradual Reopening
Cozumel's National Marine Park "Arrecifes de Cozumel"  has reopened – in a limited capacity – which started on June 8th.  Called a "gradualeconomic reactivation,"  the agreement – currently valid for June and July – features rolling closures. Currently the popular site known as "El Cielo" will be open, however recreational tourist activities will be suspended in Paradise Reef, and Paradise Bajo.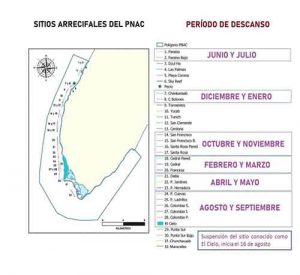 Currently 16 sites are open and can be enjoyed throughout the year including Dzul-Ha, Las Palmas, Yucab, San Clemente and Cardona.
During a recent press statement, the following info graphic was released which shows the rolling closures for the more popular dive sites.
El Parque Nacional Marino de Cozumel implementa una reapertura gradual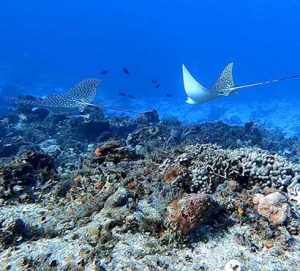 A partir del 8 de junio, y en forma restringida, reabrió el Parque Nacional Marino "Arrecifes de Cozumel". Bajo el nombre "reactivación económica gradual", este acuerdo estará vigente durante junio y julio e incluye cierres temporales.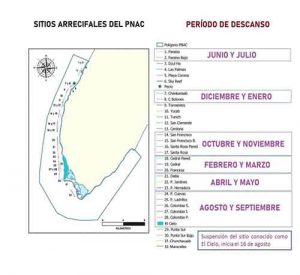 El popular sitio conocido como "El Cielo" se encuentra abierto por ahora; sin embargo, se suspenderán las actividades turísticas en los arrecifes Paraíso y Paraíso Bajo.
En la actualidad ya han abierto 16 sitios y pueden disfrutarse todo el año, incluyendo Dzul-Ha, Las Palmas, Yucab, San Clemente y Cardona.
A través de un comunicado de prensa reciente, se publicó la siguiente información gráfica que muestra los cierres temporales de los sitios de buceo más populares.
Latest posts by Laura Wilkinson
(see all)