Tizimin Seeks To Set World Record With Largest Rosca De Reyes Christmas Pastry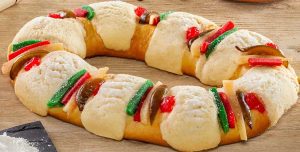 Tizimin, a town located in the Yucatan Peninsula not too far from Cozumel is looking to make Guiness World Records this holiday season with the world's largest Rosca de Reyes.   The planned pastry will be more than 3 Kilometers long, use 2,500 kilos of flour, 15,000 eggs and 15,000 of the iconic plastic dolls will be hidden inside this traditional Mexican sweet bread.
Local, State and Federal organizations such as the National Chamber of Commerce, have teamed up to break the existing record, held by Saltillo, Coahuila with a 2 kilometer 65 meter Rosca de Reyes.
During the Tizimin yearly "Feria de Reyes"  4 local bakeries – La Amistad, La Reforma, La Mejor and El Angel de Oro – will work together to create a 3 kilometer Rosca.  It's estimated that the bakeries will use 650 kilos of sugar, 500 kilos of sweet fruit and hide 15,000 dolls inside.  Eight bakers will work in each bakery and work 72 hours to create their portion of the sweetbread.
On January 6, 2020 at 2 pm – after the mass at "Santos Reyes" church – the massive sweet will be put together.  The Rosca will provided be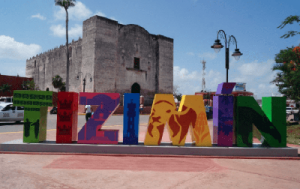 free of charge to bystanders after it's been verified by Guiness World Records who will travel all the way from Miami to verify the record.
Tizimín quiere establecer el récord mundial con la Rosca del tiDía de Reyes más grande
Esta temporada navideña Tizimín, una población localizada en la Península de Yucatán y no muy alejada de Cozumel,  desea formar parte de los Récords Guinness con la Rosca de Reyes más grande del mundo. Los planes son que la rosca tenga más de 3 kilómetros de largo,  donde se utilicen 2500 kilos de harina, 15000 huevos y que dentro de este tradicional pan dulce mexicano se escondan 15000 muñequitos.
Organismos locales, estatales y federales tales como la Cámara Nacional de Comercio, se han unido para romper el récord que mantiene Saltillo, Coahuila con una Rosca de Reyes de 2 kilómetros 65 metros de largo.
Durante la Feria de Reyes que se celebra anualmente, 4 panaderías – La Amistad, La Reforma, La Mejor y El Ángel de Oro- trabajaran en conjunto para crear la Rosca de 3 kilómetros. Se calcula que las panaderías usarán 650 kilos de azúcar, 500 kilos de fruta dulce cristalizada y 15000 muñequitos que se colocarán dentro de la misma. En cada una de las panaderías trabajaran ocho panaderos durante 72 horas para crear su porción correspondiente de este pan dulce.
El 6 de enero del 2020 a las 2 p.m., después de la misa en la iglesia de los Santos Reyes, se armará el masivo pan dulce. Después de que la rosca haya sido verificada por Records Guinness provenientes de Miami, no tendrá costo alguno para los espectadores.
An ex-Connecticut Yankee who has called Cozumel home for over 18 years, Laura ran away to the Caribbean years ago, bumped around the islands teaching SCUBA diving, lost some time in Jamaica, and finally stopped in Cozumel for a 2 week vacation that hasn't ended yet. With a degree in Journalism from a fancy private college she convinced her parents to pay for, Laura writes, edits, and creates the weeklyCozumel 4 You news,social media, and promotional articles about the island, as well as moderates the Cozumel 4 You Facebook group, which currently has over 25,000 members. Her long suffering husband, Fabian, has long since resigned himself to having zero private life, as he's been involved in her various schemes and plots since his arrival. Proud parents to a variety of rescue dogs and cats, Laura continues to be the bane of her traditional Mexican mother-in-law's existence, as she muses her way through life in the Mexican Caribbean.
______________________________
Una ex yanqui de Connecticut quien llama hogar a Cozumel desde hace más de 15 años. Laura escapó al Caribe hace años, desplazándose de una isla a otra dando clases de BUCEO. Se dedicó a perder el tiempo en Jamaica y finalmente se detuvo en Cozumel para pasar unas vacaciones de 2 semanas que aún no terminan. Convenciendo a sus padres que pagaran una elegante universidad privada, obtuvo su título en Periodismo y Laura crea semanalmente Cozumel 4You, medios sociales y artículos promocionales sobre la Isla y también es moderadora en el grupo Cozumel 4 You en Facebook que actualmente cuenta con 25,000 miembros. Fabián, s umuy tolerante marido, desde hace mucho tiempo se resignó a no tener vida privada, pues se ha visto implicado en los diversos proyectos y planes que urde Laura. Son orgullosos padres de diversos perros y gatos rescatados. Mientras contempla su paso a través de la vida en el Caribe mexicano,Laura continúa siendo la pesadilla en la existencia de su muy tradicional suegra mexicana.
Latest posts by Laura Wilkinson (see all)