Art Exhibition Cozumel
"Muses of the Sea"  Art Exhibition Starting Saturday
13 Island Woman display their art ….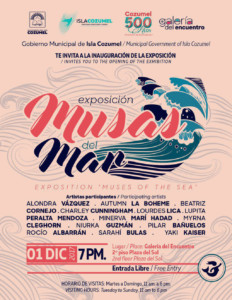 The Cozumel Municipality will be launching a fantastic new art exhibiting called "Muses of the Sea."  Starting December 2nd the vision of 13 different women will be on display with this collective exhibition.  The artists are from different origins, cultures, ages, education and arisitc expression.  What unites these "Muses" is their love of art and their proximity of the Ocean.
The grand opening of the exhibition will be Friday, December 1st starting at 7 pm.  Many of the Muses will be on hand to discuss their works.  Island residents are encouraged to stop by and cheer on local artisits.
The exhibition is housed at the Encounter Gallery which is located on the second floor of the Plaza del Sol, in the downtown zocalo directly behind the clocktower.  Visiting hours are Tuesday – Sunday from 11 am until 6 pm.  The exhibition will be on display until January 8th.  Admission is free.
"Musas del Mar", una exhibición de arte que comienza el sábado
Exhiben su arte 13 mujeres que viven en la Isla . . .
El municipio de Cozumel lanza una nueva y fabulosa muestra de arte llamada las "Musas del Mar". A partir de
Diciembre 2 se podrá ver esta exhibición colectiva formada por 13 mujeres. Las artistas provienen de diferentes orígenes, culturas, edades, formación y expresiones artísticas s. Lo que une a estas "Musas" es su amor por el arte y su cercanía al océano.
La gran inauguración de la exhibición será el viernes 1 de diciembre a partir de las 7 pm. Muchas e las Musas estarán presentes para hablar acerca de sus obras. Se  invita a los habitantes de la Isla que apoyen a las artistas locales.
La exposición será en la Galería Encuentro en Plaza del Sol, localizada en la plaza del centro  justo detrás del reloj. El horario de visita es jueves a domingo a partir de las 11 a.m. hasta las 6 pm. La exposición concluirá en Enero 8. La entrada es libre.
Latest posts by Laura Wilkinson
(see all)