Oktoberfest Cozumel
Celebrate Oktoberfest – Rotary Club Event – This Weekend
 6th Annual Fundraiser with free admission …..
The Rotary Club of Cozumel is organizing their sixth annual Oktoberfest celebration, scheduled to take place this weekend – on Saturday and Sunday October 6 – 7  at the Benito Juárez Park (also known as the downtown zocalo).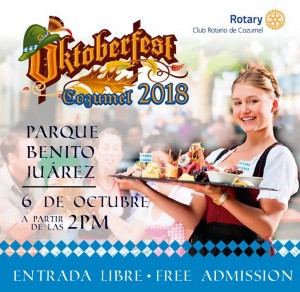 On Saturday 6th, the event will be from 2pm to 12am with cultural activities and authentic German food & beers will be available for sale. Admission is free.
The "Oktoberfest" festival will start on Sunday October 7th from 12:00pm to 12:00 am and feature performers, entertainment, raffles and door prizes all day long. Authentic German food, beers and desserts will be available for sale.
All proceeds from the 6th Annual Oktoberfest event will go to local and international Rotary programs. For more information on this event, or to donate a raffle prize, please contact Alex Franco, at alexfranco15@hotmail.com.
Este fin de semana: Oktoberfest, evento del Club Rotarios
La 6ª recaudación anual. Entrada libre. . .
Este fin de semana, los días sábado 6 y domingo 7 en el parque Benito Juárez (o zócalo) tendrá lugar el sexto Oktoberfest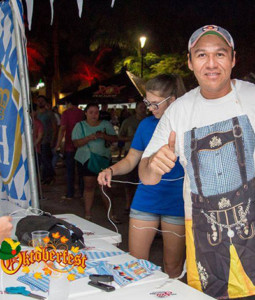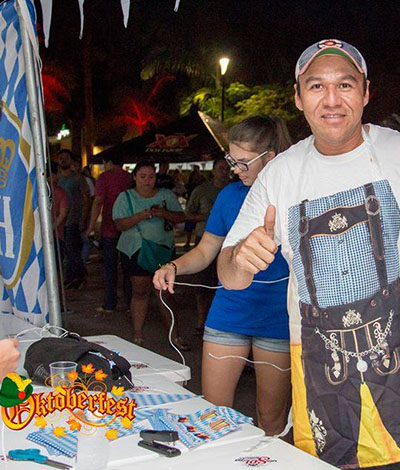 de Club Rotario de Cozumel).
El sábado 6 las actividades culturales, auténtica comida alemana y cervezas estarán a la venta de las 2 pm a las 12 am. La entrada es gratuita . El festival Oktoberfest inicia el domingo 7 de octubre, de 12:00 pm a 12:00 am, con la presentación de artistas, entretenimiento, rifas y premios todo el día. Auténtica comida alemana, cervezas y postres estarán a la venta.
Todo lo que se recaude a través del 6º Oktoberfest se destinará a programas locales e internacionales del Club Rotario. Para mayor información sobre el evento o para donar un premio para la rifa, por favor póngase en contacto con Alex Franco a alexfranco15@hotmail.com
Laura Wilkinson is the Editor for Cozumel 4 You. An ex-Connecticut Yankee who has called Cozumel home for over 15 years, Laura ran away to the Caribbean years ago, bumped around the islands teaching SCUBA diving, lost some time in Jamaica, and finally stopped in Cozumel for a 2 week vacation that hasn't ended yet. With a degree in Journalism from a fancy private college she convinced her parents to pay for, Laura writes, edits, and creates the weekly Cozumel 4 You news, promotional articles about the island, and her very own blog, which she finds hilarious. Her long suffering husband, the Fabster, has long since resigned himself to having zero private life, as he's been involved in her various schemes and plots since his arrival. Proud parents to a variety of rescue dogs and cats, Laura continues to be the bane of her traditional Mexican mother-in-law's existence, as she muses her way through life in the Mexican Caribbean.
Latest posts by Laura Wilkinson (see all)