Pre-Festival 500 Celebrations
Pre-Festival 500 Celebrations Begin This Weekend
A full program celebrating 500 years of history and two cultures …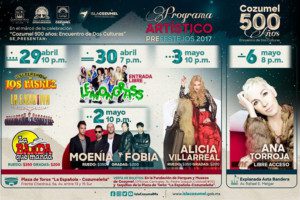 Preparations for the celebrations commemorating 500 years of history and two cultures are nearly completed.  Events start this Friday, April 28th and run until the 6th of May.
Not only will there be historical and religious events located in the town of Cedral, celebrating their rich cultural heritage and importance, but there will also be a series of concerts, that will take place in the Parque Andres Quintana Roo, which is located right in front of the Palacio Municipal.
Please click on the schedules to enlarge.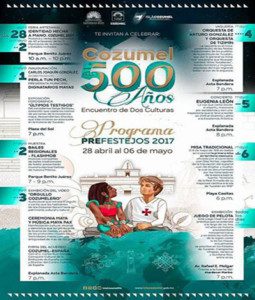 Este fin de semana comienza el festival previo a la celebración de 500 años
Un programa completo para celebrar 500 años de historia y de dos culturas. . .
Están a punto de concluir los preparativos para la celebración de 500 años de historia y de dos culturas. El viernes 28 de abril comienzan los eventos y continuarán hasta el 6 de mayo.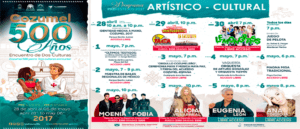 No sólo habrán eventos históricos y religiosos en el poblado del Cedral para celebrar su rica herencia cultural e importancia, sino también una serie de conciertos en el parque Andrés Quintana Roo, localizado frente al Palacio Municipal.
Para ampliar, por favor de clic a los programas.
Laura Wilkinson is the Editor for Cozumel 4 You. An ex-Connecticut Yankee who has called Cozumel home for over 15 years, Laura ran away to the Caribbean years ago, bumped around the islands teaching SCUBA diving, lost some time in Jamaica, and finally stopped in Cozumel for a 2 week vacation that hasn't ended yet. With a degree in Journalism from a fancy private college she convinced her parents to pay for, Laura writes, edits, and creates the weekly Cozumel 4 You news, promotional articles about the island, and her very own blog, which she finds hilarious. Her long suffering husband, the Fabster, has long since resigned himself to having zero private life, as he's been involved in her various schemes and plots since his arrival. Proud parents to a variety of rescue dogs and cats, Laura continues to be the bane of her traditional Mexican mother-in-law's existence, as she muses her way through life in the Mexican Caribbean.
Latest posts by Laura Wilkinson (see all)