More Than 40 Cenotes Detected In Cedral Area by Karina Carrion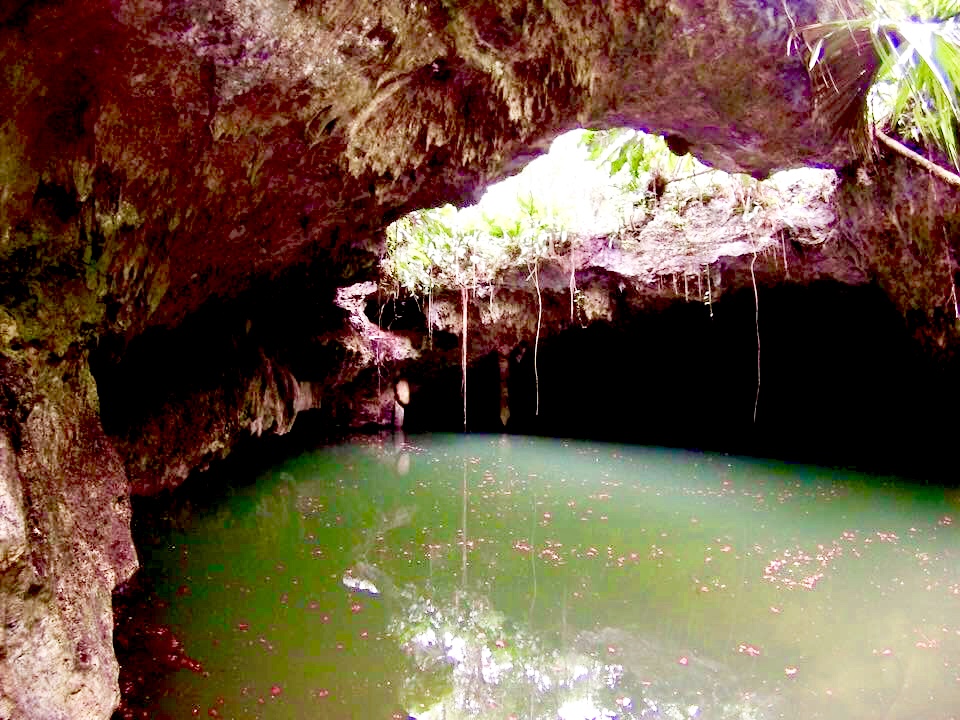 Research undertaken at El Cedral by scholars from Universidad Autónoma de México (UNAM) and Universidad de Quintana Roo Cozumel have enabled the detection of over 40 cenotes of the seven originally located, thus allowing the scope of the research to be broadened out to confirm if these could be used by the people. This was announced by the president of Ejido Cozumel, Emilio Novelo Flores.
As part of the research's features, he pointed out that the work was done through satellites and authorizations granted to Universities, therefore they are now in the process of fieldwork to locate each of the cenotes' coordinates on land; which -he acknowledged- might take a little longer.
The purpose of the work undertaking and cooperation between Uqroo and the Ejido is to have real and updated information on those ecosystems while at the same time investigations are done to determine use and condition of each of the cenotes, mainly due to overexertion these could have – he said –, so environment impact works can be done in each of the identified cenotes.
In light of having three reefs in the marine park partially closed, the interviewee agreed that tourism needs to be given further recreational options so the reeds may have a break; therefore he deems that the work identifying cenotes will be a major contribution and added that water sampling of each is being done in order to corroborate the possible contamination index.
The president of the Ejido admitted that they expected seven cenotes at El Cedral area, but it was a pleasant surprise that results delivered 44 sites in the first stage of the research and which have now been recorded by satellite. Now that coordinates have been gathered, a personal visit will be made one by one, and he recognized that even now there are tours being offered to some of these where visitors appreciate the wonders of each cenote.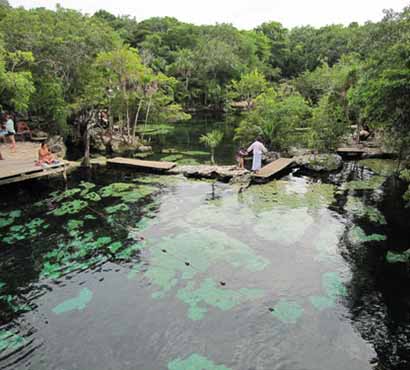 Karina Carrión is a lifelong Cozumel resident, and a reporter. Her writing regularly appears in Por Esto and other area publications. She is also the mother of the National Champion who took home the GOLD medal in the Paralimpiada Nacional Colima 2019 – Natalia Pérez.
Se han descubierto más de 40 cenotes en el área de El Cedral, por Karina Carrión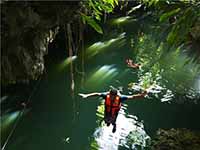 Estudios efectuados en el poblado de El Cedral, los cuales han realizado académicos de la Universidad Autónoma de México (UNAM) y la Universidad de Quintana Roo Cozumel, han permitido detectar más de 40 cenotes de los siete que se ubicaban, lo que está permitiendo ampliar estudios para corroborar si pudieran ser del uso de la gente, así lo dio a conocer el presidente del Ejido Cozumel, Emilio Novelo Flores.
Como parte del detalle de la investigación, refirió que el trabajo se efectuó a través de satélites y autorizaciones que tienen las universidades, por lo que ahora están en el proceso del trabajo de campo para realizar la ubicación de las coordenadas de cada uno de estos en tierra, lo que podría llevar un poco más de tiempo, reconoció.
La intención de la realización y cooperación del trabajo entre la Uqroo y el Ejido es poder tener información real y actualizada de estos ecosistemas, al tiempo en que realizarán estudios para determinar la viabilidad del uso y condición de cada uno de los cenotes, sobre todo la carga que podrían tener estos, dijo, a fin de que se realicen los trabajos de impacto ambiental en cada uno de los cenotes que se vayan ubicando.
Ante la situación del cierre parcial de tres arrecifes del parque marino, el entrevistado reconoció que es necesario considerar poder ofrecerle más opciones recreativas al turismo para dejar descansar los arrecifes, por lo que considera que el trabajo de detección de los cenotes será de mucho aporte, pero además dijo, se realiza el muestreo de agua de cada uno de estos para corroborar el índice de posible contaminación.
El comisario ejidal reconoció que contemplaban alrededor de siete cenotes en la zona de El Cedral, pero grata fue su sorpresa al arrojar esta primera etapa de los estudios la cantidad de 44 lugares que han sido registrados satelitalmente y ahora que se tiene sus coordenadas, se va a efectuar la operación técnica de visitar uno por uno, reconociendo que ya en algunos de los existentes se realizan tours donde los visitantes reconocen la maravilla de cada uno de éstos.
Karina Carrión ha vivido en Cozumel desde siempre y es reportera. Sus artículos aparecen con frecuencia el Por Esto y en otras publicaciones. Tambien es madre de Natalia Pérez, campeóna nacional y receptora de la medalla de oro en la Paralimpiada Nacional Colima 2019.
An ex-Connecticut Yankee who has called Cozumel home for over 18 years, Laura ran away to the Caribbean years ago, bumped around the islands teaching SCUBA diving, lost some time in Jamaica, and finally stopped in Cozumel for a 2 week vacation that hasn't ended yet. With a degree in Journalism from a fancy private college she convinced her parents to pay for, Laura writes, edits, and creates the weeklyCozumel 4 You news,social media, and promotional articles about the island, as well as moderates the Cozumel 4 You Facebook group, which currently has over 25,000 members. Her long suffering husband, Fabian, has long since resigned himself to having zero private life, as he's been involved in her various schemes and plots since his arrival. Proud parents to a variety of rescue dogs and cats, Laura continues to be the bane of her traditional Mexican mother-in-law's existence, as she muses her way through life in the Mexican Caribbean.
______________________________
Una ex yanqui de Connecticut quien llama hogar a Cozumel desde hace más de 15 años. Laura escapó al Caribe hace años, desplazándose de una isla a otra dando clases de BUCEO. Se dedicó a perder el tiempo en Jamaica y finalmente se detuvo en Cozumel para pasar unas vacaciones de 2 semanas que aún no terminan. Convenciendo a sus padres que pagaran una elegante universidad privada, obtuvo su título en Periodismo y Laura crea semanalmente Cozumel 4You, medios sociales y artículos promocionales sobre la Isla y también es moderadora en el grupo Cozumel 4 You en Facebook que actualmente cuenta con 25,000 miembros. Fabián, s umuy tolerante marido, desde hace mucho tiempo se resignó a no tener vida privada, pues se ha visto implicado en los diversos proyectos y planes que urde Laura. Son orgullosos padres de diversos perros y gatos rescatados. Mientras contempla su paso a través de la vida en el Caribe mexicano,Laura continúa siendo la pesadilla en la existencia de su muy tradicional suegra mexicana.
Latest posts by Laura Wilkinson (see all)