Cozumel4You Facebook Group Home Food Sales
Cozumel 4 You Facebook Group Launches "Wednesday Home Food Sales"  Thread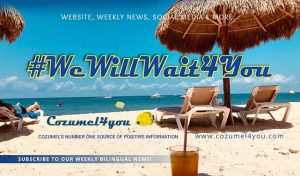 Since it's inception in 2010, the Cozumel 4 You Facebook group has had it in their rules that home food sales, replica perfumes and pets are not allowed to be offered for sale.  Our hard working admin team has always believed that restaurants that pay for permits, licenses and taxes should have preference.
With the COVID-19 pandemic shutting the island down, and so many without work and searching for ways to support their families, we've relaxed our rules for the duration of the quarantine, and create a "Master Thread"  on Wednesday where any member is allowed to post whatever food they have on offer.
This is a great opportunity for struggling island residents to earn some much-needed extra money.  It's also a great time to purchase some lovely homestyle cooking – perhaps try something new – and directly help someone working.
Be sure and check out the thread on Wednesdays on Cozumel 4 You.  https://www.facebook.com/groups/158064054226056/
El grupo Cozumel 4 You en Facebook lanza el hilo "Venta de comida casera los miércoles"
Desde su creación en 2010, entre sus reglas, el grupo Cozumel 4 You en Facebook ha establecido que no se permite la venta de comida casera,
réplicas de perfumes y mascotas.  Nuestro trabajador equipo de administración siempre ha creído que los restaurantes que pagan por sus permisos, licencias e impuestos deben tener preferencia.
Con el cierre de la Isla debido a la pandemia de COVID-19 y tanta gente sin trabajo que busca formas de mantener a sus familias, hemos relajado nuestras reglas en tanto dura la cuarentena, y creamos un "hilo maestro" losmiércoles donde se permite a todo miembro hacer publicaciones de la comida que ofrece.
Esta es una gran oportunidad para los los habitantes de la Isla que luchan por ganar algo de dinero adicional y muy necesario.  También es un gran momento para comprar algo de cocina casera, tal vez probar algo nuevo, y ayudar directamente a alguien que trabaja en ello.
Asegurese de echar un vistazo al hilo los miércoles en Cozumel 4 You.  https://www.facebook.com/groups/158064054226056/
An ex-Connecticut Yankee who has called Cozumel home for over 18 years, Laura ran away to the Caribbean years ago, bumped around the islands teaching SCUBA diving, lost some time in Jamaica, and finally stopped in Cozumel for a 2 week vacation that hasn't ended yet. With a degree in Journalism from a fancy private college she convinced her parents to pay for, Laura writes, edits, and creates the weeklyCozumel 4 You news,social media, and promotional articles about the island, as well as moderates the Cozumel 4 You Facebook group, which currently has over 25,000 members. Her long suffering husband, Fabian, has long since resigned himself to having zero private life, as he's been involved in her various schemes and plots since his arrival. Proud parents to a variety of rescue dogs and cats, Laura continues to be the bane of her traditional Mexican mother-in-law's existence, as she muses her way through life in the Mexican Caribbean.
______________________________
Una ex yanqui de Connecticut quien llama hogar a Cozumel desde hace más de 15 años. Laura escapó al Caribe hace años, desplazándose de una isla a otra dando clases de BUCEO. Se dedicó a perder el tiempo en Jamaica y finalmente se detuvo en Cozumel para pasar unas vacaciones de 2 semanas que aún no terminan. Convenciendo a sus padres que pagaran una elegante universidad privada, obtuvo su título en Periodismo y Laura crea semanalmente Cozumel 4You, medios sociales y artículos promocionales sobre la Isla y también es moderadora en el grupo Cozumel 4 You en Facebook que actualmente cuenta con 25,000 miembros. Fabián, s umuy tolerante marido, desde hace mucho tiempo se resignó a no tener vida privada, pues se ha visto implicado en los diversos proyectos y planes que urde Laura. Son orgullosos padres de diversos perros y gatos rescatados. Mientras contempla su paso a través de la vida en el Caribe mexicano,Laura continúa siendo la pesadilla en la existencia de su muy tradicional suegra mexicana.
Latest posts by Laura Wilkinson (see all)