Cozumel 4 You News
Cozumel 4 You Annual "Christmas in September" Break
A quick annual hiatus…
At Cozumel 4 You, we'll be celebrating Christmas just a little early this year when we temporarily close our doors and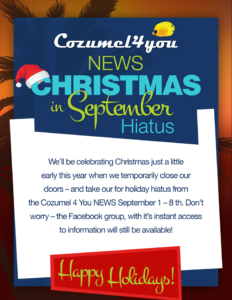 take our yearly holiday break from the Cozumel 4 You NEWS.  We refer to this as our annual "Christmas in September"  break. This is the 3rd year we've celebrated this unique holiday hiatus.  This year, we'll be breaking from  August 31 to September 8th.
There will be no weekly NEWS on August 31st or September 7th, however, don't worry, our Facebook group, with it's instant access to Cozumel information will still be available.
Receso anual de "Navidad en Septiembre" de Cozumel 4 You
Un rápido receso anual. . .
EN Cozumel 4 You celebramos la Navidad con algo de anticipación cuando cerramos nuestras puertas para nuestro receso de vacaciones anual de NOTICIAS Cozumel 4 You. A esto lo llamamos nuestro receso anual de "Navidad en Septiembre". Este es el 3er año que celebramos este particular receso de vacaciones. Este año será de Agosto 31 a
Septiembre 8.
No publicaremos NOTICIAS semanales el 31 de agosto o el 7 de septiembre. Pero, no se preocupen, nuestro grupo en Facebook, con su acceso instantáneo a información sobre Cozumel, continuará disponible.
Laura Wilkinson is the Editor for Cozumel 4 You. An ex-Connecticut Yankee who has called Cozumel home for over 15 years, Laura ran away to the Caribbean years ago, bumped around the islands teaching SCUBA diving, lost some time in Jamaica, and finally stopped in Cozumel for a 2 week vacation that hasn't ended yet. With a degree in Journalism from a fancy private college she convinced her parents to pay for, Laura writes, edits, and creates the weekly Cozumel 4 You news, promotional articles about the island, and her very own blog, which she finds hilarious. Her long suffering husband, the Fabster, has long since resigned himself to having zero private life, as he's been involved in her various schemes and plots since his arrival. Proud parents to a variety of rescue dogs and cats, Laura continues to be the bane of her traditional Mexican mother-in-law's existence, as she muses her way through life in the Mexican Caribbean.
Latest posts by Laura Wilkinson (see all)