Cozumel Airport
Cozumel Airport Tarmac Remodel
Night construction expected to culminate in August…..
According to the Administrator, Juan Pablo Garcia Luna, work is nearly complete on the runways and tarmac of the Cozumel International airport.  The work, which has to be carried out at night to avoid a disruption of service, has been slightly delayed but is expected to be completed by the end of August.
This re-paving of the runways and surrounding areas, including three helicopter landing pads, is part of regularly scheduled maintenance, and in this case, slated for every 10 years.
"This will improve all the infrastructure we have and will be one of the best in the country," said Garcia Luna.
Se remodela la plataforma del aeropuerto
Se espera que las obras nocturnas concluyan en Agosto. . .
De acuerdo al Administrador, Juan Pablo García Luna, están a punto de concluir las obras de las pistas y la plataforma del Aeropuerto Internacional de Cozumel. Hubo un pequeño retraso en las obras que se han debido realizar  en el transcurso de la noche para evitar alteraciones en el servicio,  pero se espera que concluyan a fines de Agosto.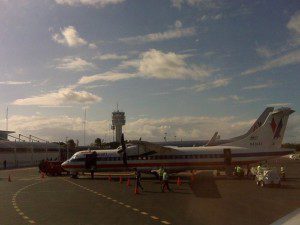 La repavimentación de las pistas Y áreas aledañas, incluyendo tres helipuertos, forma parte del mantenimiento preventivo y, en este caso, programado cada 10 años.
"Esto mejorará toda la infraestructura con la que contamos y será una de las mejores en el país", indicó García Luna.
Laura Wilkinson is the Editor for Cozumel 4 You. An ex-Connecticut Yankee who has called Cozumel home for over 15 years, Laura ran away to the Caribbean years ago, bumped around the islands teaching SCUBA diving, lost some time in Jamaica, and finally stopped in Cozumel for a 2 week vacation that hasn't ended yet. With a degree in Journalism from a fancy private college she convinced her parents to pay for, Laura writes, edits, and creates the weekly Cozumel 4 You news, promotional articles about the island, and her very own blog, which she finds hilarious. Her long suffering husband, the Fabster, has long since resigned himself to having zero private life, as he's been involved in her various schemes and plots since his arrival. Proud parents to a variety of rescue dogs and cats, Laura continues to be the bane of her traditional Mexican mother-in-law's existence, as she muses her way through life in the Mexican Caribbean.
Latest posts by Laura Wilkinson (see all)