Ironman Cozumel Competitors
What it's Like to Train for an Ironman: Why I did It
Dailene Erickson recounts her Journey to be an Ironman  ….
I am not one of those miraculous cancer survivors, 100 lb. weight loss couch-to-athlete, or a special athlete who are celebrated in each and every race I have witnessed. I am your average Joe; or Jane if you must, who decided to do an Ironman in 2010. I invite you to enter my world.
I have always been involved in sports, ice skating as a kid, later softball, then the freshman 20 lbs. kicked in – or shall I be honest and say the freshman 40 – and was getting a little disgusted with myself. Rollerblades had literally just hit the market and I had to have them. First time on my inline skates, thinking I am going to rock this sport, I forgot they didn't have toe picks like my beloved ice skates, landed on my face and broke a few ribs. Five weeks later, I was back on them. What does this have to do with Ironman? More than you can possibly imagine. Back to the skating…. I became obsessed. I still am. Inline skating is truly my passion. I am in my little world when I put on my skates and quickly became a long distance speed freak, doing the famous Athens to Atlanta 86 mile race 4 times, 100 mile Charleston to Myrtle Beach skate for the Make a Wish Foundation, as well as a few of the 2 day, 160 mile MS Ride, on skates. So distances never scared me. A few years later I started to run a little, doing a total of two 10k runs in my life, and I discovered that indoor cycling (oftentimes incorrectly referred to as Spinning) was so much freaking fun.
Fast forward a few years and I move to this pretty little island. Basically the other side is the only great place to skate, and some stretches on the north end. So my exercise outlet became indoor cycling classes, I even got certified here, and found a few gyms that let me teach. Then I had a kid but kept on with my indoor cycling to keep in shape.
Then 2009 Ironman came to Cozumel. No one here really seemed to know what this was about. I sure didn't. I never
owned a road bike, never ran more than 10k, had not run in over 10 years, and swam well but never competitively. I spoke to the Red Cross to see if I could help out for the day. They started me in the swim, then the bike course, and at 1pm put me in the med tent with our beloved Corky, just in time for the 1st pros to cross with finish line. We figured it out as we went. I stayed with her until 11pm. We consoled the athletes, laughed with them, came up with the procedures as the day passed.
As I sat with dehydrated athletes getting IVs, puking up all their gels, feeling like absolute hell, I decided I wanted to do this too! All the pros told me I can. You see, this would make normal people run and vow to never subject themselves to such torture. To me, it was a HELL YEAH! Of course not truly grasping the idea of 3.8 mile swim, 112 mile bike ride, and cooling down with a freaking marathon!
There were 6 folks from Cozumel who did Ironman in 2009, Irma Portilla de Cantarell was the only female. She paved the way for me and Martha Vazquez as we trained for 2010. We were the 2 women of a group of 14 folks from Cozumel to sign up and cross the finish line in 2010. The original Ironman team of Cozumel was called Tri-Kuzam. We KNEW NOTHING! Some trained using a coach from the mainland, others like myself used online training programs, others simply winged it.
I started building a base and in July 2010 I finally bought a road bike, using clip-less pedals for the first time in my life. My very first day on them –  guess what – I fell over at a stop with my foot clipped in. I did this more
than once. Martha and I threw all caution to the wind when we dove off the Dive Paradise Villablanca pier at sunset during a super strong norte for a swim session, despite all the DMs begging us to not jump in. It was cut short as we dangerously managed to get out without too many scrapes.
One month prior to the event, I developed full blown bronchitis: I had ¼ lung capacity. Toed the start line with about half a lung. Crossed the finish line in tears. Hell who am I kidding, I was bawling around Punta Langosta. Ended in the medtent with hyperthermia. Had to do sign up again. (This is where the broken ribs experience fits in. Ironman athetes are NOT quitters.)
I miss this team. We were not competitive. We just trained together, suffered as one, supported each other, shared what we read about the sport, and showed up on race day, crying and filled with nervous energy. We made the team well known. We raised money for different causes. The 6 who started in 2009 planted a seed that Tri-Kuzam tended to and it grew to over 35 the next year. We created monsters. Many from the original 14 went and competed in another IM or several. I completed 5 full Ironman and about 7 or so half Ironman races. I have hung up my Full IM hat, but am signing up for 2019 70.3!
Some call me crazy, some say we who do these races are super human. The ones who WIN are super human. The ones who have survived cancer, who have severe physical limitations, who have lost 100 pounds or more going from being a couch potato to doing 140.6 miles in one day, are super human. The majority of us are simply determined, a level of mental and physical determination which has guided me in every aspect of my life. I want to take this moment to celebrate the Original Triathlon Team of Cozumel, Tri-Kuzam:
Mostro Puk
Martha Vazquez
Dr. Eduardo Garcia
Ignacio Arcos
Adolfo (part of the original 6)
Scott Wilson
Tony Anschutz
Carlos Martinez
Hugo Zambrano (part of the original 6)
Jaime Mezo (part of the original 6)
Cesar Can (part of the original 6)
Rogelio Fernandez
David Janda
Yours Truly, Dailene Erickson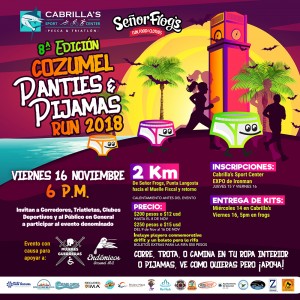 The Ironman world championships started the underpants run as a joke making fun the Europeans since they all trained in their speedos. Shortly thereafter they decided this was a great platform for fundraising for local charities. In 2011, I decided why not do the same for the Ironman Cozumel, but with a twist! We want locals to participate too so we made it panties and pajamas. This year marks the 8th edition of the fun run, raising money for different groups. This year the money goes to Mujeres Guerreras, the incredible moms of children of different abilities, and to buy special equipment for endémicos Cozumel for the important study of local bats and their role in our ecosystem, at the same time educating kids.
Register now for 200 pesos and get an amazing shirt. Price goes to 250 pesos november 8th.
La experiencia del entrenamiento Ironman: Por qué lo hice
Dailene Erickson relata su recorrido para ser Ironman. . .
No soy una de esas sobrevivientes milagrosas de cáncer, ni una atleta de sofá que perdió 100 libras de peso así como tampoco soy una atleta especial a la que homenajean en cada competencia de la cual he sido testigo. Soy una persona promedio y normal que decidió competir en Ironman en el año 2010. Los invito a entrar a mi mundo.
Siempre he participado en deportes. De niña, en patinaje sobre hielo. Posteriormente en softbol, y en primer año de universidad subí las típicas 20 libras, aunque debo ser honesta y decir 40, y me encontraba disgustada conmigo misma. Los patines se pusieron de moda y simplemente debida tenerlos. La primera ocasión en mis patines de una línea y creyendo que yo sería lo máximo en este deporte, olvidé que no tenían freno como mis amados patines de hielo, por lo que caí de cara y me fracturé varias costillas. Volví a ponérmelos cinco semanas después. ¿Qué tiene esto qué ver con Ironman? Más de lo que puedan imaginar. Regresemos al patinaje… me obsesioné. Aún lo estoy. El patinaje de una línea e mu verdadera pasión. Cuando me coloco los patines, estoy en mi propio mundo. Rápidamente me convertí en una fanática de la velocidad a larga distancia, realizando en 4 ocasiones la famosa carrera de 86 millas Atenas a Atlanta; las 100 millas de  patinaje de Charleston a Myrtle Beach  para la fundación Make A Wish, así como una de las pocas competencias de 2 días de 160 millas MS Ride en patines. Así que las distancias nunca me asustaron. Algunos años después comencé a correr un poco; haciendo un total de dos competencias 10k en mi vida. Y descubrí que la bicicleta en interiores (a lo que con frecuencia de manera incorrecta se le dice "spinning") es sumamente divertida.
Varios años después me mudo a esta pequeña y bella Isla. En esencia, el otro lado de la Isla es el único lugar que es excelente para patinar, y algunos tramos en la punta norte. Así que mi válvula para el ejercicio fueron las clases de bicicleta interior; incluso me certifiqué aquí y me he topado con algunos gimnasios que me permiten impartir clases. Luego tuve un hijo y mantuve mi forma física haciendo bicicleta interior.
Luego, en el año 2009 Ironman vino a Cozumel. Aquí nadie sabia de lo que se trataba.  Yo no lo sabía. Nunca tuve una bicicleta de carreras; nunca había corrido más de 10k; no había corrido por más de 10 años y nadaba bien, pero no como para competir. Hablé con la Cruz Roja para que me permitieran apoyarles durante un día. Me hicieron comenzar con el nado, luego el tramo de bicicleta, y a la 1 pm me pusieron en la tienda de campaña médica con nuestra querida Corky, justo a tiempo del cruce de meta de los primeros profesionales. Nos las ingeniamos sobre la marcha. Me quede con ella hasta las 11 p.m. Consolamos a los atletas, nos reímos con ellos; conforme transcurría el día desarrollábamos los procedimientos.
Mientras me sentaba acompañando a los atletas deshidratados trayendo las vías intravenosas, mientras vomitaban sus geles, sintiendo el infierno total, ¡decidí que también quería hacer esto! Todos los profesionales me dijeron que podía hacerlo. Verán, esto haría que las personas normales corran al lado contrario y juren nunca someterse a tal tortura. Para mi fue un "¡CLARO QUE SÍ!", sin tener idea del tramo de nado de 3.8 millas, el recorrido en bicicleta de 112 millas, y, para calmarse, ¡un alucinante maratón!
En el Ironman 2009 participaron 6 personas de Cozumel. Irma Portilla de Cantarell era la única mujer. Nos abrió el camino a mí y a Martha Vázquez, ya que entrenamos para el de 2010. Éramos 2 mujeres en un grupo de 14 que se inscribieron y que cruzamos la línea de meta en el 2010. El equipo Ironman original de Cozumel se llamaba Tri-Kuzam. ¡NO SABÍAMOS NADA! Algunos entrenaron con un entrenador en tierra firme; otros, como yo, usamos programas de entrenamiento en línea, en tanto que otros improvisaron.
Comencé a crear una base y en Julio 2010 finalmente adquirí una bicicleta para carreras, usando pedales sin pinza por primera ocasión en mi vida. Adivinen, el primer día me caí con el pie enganchado en el pedal. Esto me sucedió más de una ocasión. Al realizar una sesión de nado, Martha y yo fuimos sumamente cautelosas cuando al clavarnos desde el muelle de Dive Paradise en el Villablanca al atardecer durante un norte muy intenso, a pesar de que todos los guías de buceo nos suplicaban que no lo hiciéramos. El intento se acortó pues con mucho peligro logramos salir sin una cantidad considerable de raspones.
Un mes antes del evento, tuve una intensa bronquitis. Mi capacidad pulmonar era de sólo ¼. Logré cumplir con la línea de salida con medio pulmón. Crucé la meta con llorando. ¡Diablos! ¿A quien engaño? Cerca de Punta Langosta ya estaba chillando. Acabé en la tienda de campaña médica con hipertermia. Tuve que volver a registrarme. (Aquí es donde entra la experiencia de las costillas rotas. Los atletas de Ironman NO son derrotistas).
Extraño a este equipo. No éramos competitivos. Sólo entrenábamos juntos. Sufríamos como si fuéramos uno solo. Nos apoyábamos los unos a los otros. Compartíamos lo que leamos acerca del deporte y nos presentábamos el día de la carrera, llorando y llenos de energía nerviosa. Dimos a conocer al equipo. Recaudamos dinero para distintas causas. Los 6 que iniciaron en 2009, plantaron una semilla que Tri-Kuzam cuidó y desarrollo para llegar a 35 participantes al siguiente año. Creamos monstruos. De entre muchos de los originales, 14 compitieron en otro Ironman o varios más. Yo completé 5 competencias Ironman, y alrededor de casi 7 medias carreras Ironman.  Ya colgué mi sombrero de las competencias Ironman completas, ¡pero para el 20189 me voy a registrar en el 70.3!
Hay quienes dicen que estoy loca; otros dicen que quienes nos dedicamos a estas competencias somos súper humanos. Aquellos que GANAN son súper humanos. Quienes han sobrevivido al cáncer, quienes padecen serias limitaciones físicas; quienes han perdido 100 libras o más al dejar de ser papas de sofá y dedicarse a recorrer 140.6 millas en un día, son súper humanos. La mayoría de nosotros simplemente somos personas determinadas; con una determinación mental y física que a mi me ha guiado en todos los aspectos de mi vida. Deseo aprovechar este momento como homenaje Tri-Kuzam, el equipo original del triatlón de Cozumel:
Mostro Puk
Martha Vázquez
Dr. Eduardo García
Ignacio Arcos
Adolfo (parte de los 6 originales)
Scott Wilson
Tony Anschutz
Carlos Martínez
Hugo Zambrano (parte de los 6 originales)
Jaime Mezo Hugo Zambrano (parte de los 6 originales)
César Can Hugo Zambrano (parte de los 6 originales)
Rogelio Fernández
David Janda
Una servidora, Dailene Erickson
Los campeonatos Ironman mundiales dieron inicio a la carrera en ropa interior, como burla a los europeos ya que todos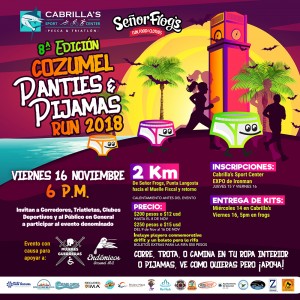 ellos entrenan en trajes de baño ajustados ("speedo"). Poco después decidieron que esta era una gran plataforma para realizar recaudaciones para instituciones de beneficencia locales. En el 2011, decidí que por qué no hacer lo mismo para el Ironman Cozumel, ¡pero con una variante! Queremos que los habitantes locales también participen por eso lo hicimos de pantaletas y pijamas. Este año será la 8ª edición de la divertida carrera, recaudando dinero para distintos grupos Este año el dinero se destinará a Mujeres Guerreras, las increíbles madres de niños con capacidades diferentes, así como para el estudio de los murciélagos endémicos de Cozumel y su especial papel en el ecosistema y a la vez dado educación a los niños.
Con 200 pesos regístrense ahora y obtengan una magnifica camisa. El 8 de noviembre, el precio aumenta a 250 el 8 de
An ex-Connecticut Yankee who has called Cozumel home for over 18 years, Laura ran away to the Caribbean years ago, bumped around the islands teaching SCUBA diving, lost some time in Jamaica, and finally stopped in Cozumel for a 2 week vacation that hasn't ended yet. With a degree in Journalism from a fancy private college she convinced her parents to pay for, Laura writes, edits, and creates the weeklyCozumel 4 You news,social media, and promotional articles about the island, as well as moderates the Cozumel 4 You Facebook group, which currently has over 25,000 members. Her long suffering husband, Fabian, has long since resigned himself to having zero private life, as he's been involved in her various schemes and plots since his arrival. Proud parents to a variety of rescue dogs and cats, Laura continues to be the bane of her traditional Mexican mother-in-law's existence, as she muses her way through life in the Mexican Caribbean.
______________________________
Una ex yanqui de Connecticut quien llama hogar a Cozumel desde hace más de 15 años. Laura escapó al Caribe hace años, desplazándose de una isla a otra dando clases de BUCEO. Se dedicó a perder el tiempo en Jamaica y finalmente se detuvo en Cozumel para pasar unas vacaciones de 2 semanas que aún no terminan. Convenciendo a sus padres que pagaran una elegante universidad privada, obtuvo su título en Periodismo y Laura crea semanalmente Cozumel 4You, medios sociales y artículos promocionales sobre la Isla y también es moderadora en el grupo Cozumel 4 You en Facebook que actualmente cuenta con 25,000 miembros. Fabián, s umuy tolerante marido, desde hace mucho tiempo se resignó a no tener vida privada, pues se ha visto implicado en los diversos proyectos y planes que urde Laura. Son orgullosos padres de diversos perros y gatos rescatados. Mientras contempla su paso a través de la vida en el Caribe mexicano,Laura continúa siendo la pesadilla en la existencia de su muy tradicional suegra mexicana.
Latest posts by Laura Wilkinson (see all)