Cozumel Music
Cozumel Music: An Interview with Charlie Monter from the LSD Band by Teresa Williams
This week, I sit down with Charlie Monter, who is the bass player for the LSD band.  As anyone who has met Charlie knows, he's quite the character and well worth listening to.  I asked Charlie to write, in his own words, how he came to call Cozumel home and how he enjoyed being a musician on the island.
Hi, my name is Charlie but everybody calls me Krusty like that Simpsons clown. Guess I ain't that funny either huh? I came to Cozumel on vacation 8 years ago. It was a moment of my life when I was fed up with my job in the city and other personal issues that I was dealing with by then. And by personal issues I mean I had just broken up with a girlfriend, of course. I had this buddy from my hometown who was living here playing with a band in a funky hole named Corona Bar. He had been telling me for months that I should come here and see it the island life could fit me. I wasn't that sure since I've never been a fan of tropical weather. Nevertheless, I packed up and headed to the peninsula. From the first moment, I knew there was something magical about this place that made me feel like a different person: calmer, more cheerful, happier.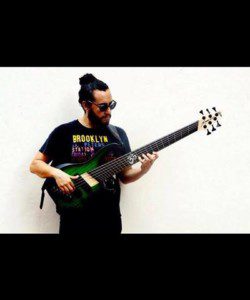 Since I didn't want to go back to my old line of work, I decided to scout for some job opportunities in the music business. I had been a weekend warrior playing bass in bars for years, but always kept my day job for a steady income (I've got a major in Communication and Journalism). But I was done with that. I wanted to do for a living the only thing that made truly fulfilled: music! It's been always difficult to try to land enough gigs for make decent money but ever since I started jamming with some bands around the island I realized that the conditions were optimal to give it a try here.
I went back to the city and quit my job, sold almost everything I had, grabbed a bass guitar and my car and drove for 3 days until I stopped to get on the ferry. I knew my life wouldn't be the same. I was decided to stay here for a year or so. The first months were rough, but I started to gain some recognition over time and after a while I managed to get steady gigs with some of the best musicians on the island. That's how a 1 year stay turned into 8 years of island life.
I feel really blessed to be able to do what I do and make money out of it. I think this is what every human being in the world should do. I'm looking forward to keep playing music for the rest of my life. I wouldn't mind if that means to stay in Cozumel as long as I need to.
The LSD band plays at Alberto's nightly.  They've been performing as a band for sometime, and as their name says they specialize in the 1960's.  If you're a fan of live music, especially of this genre, it's worth gathering up your friends and heading out to hear Charlie play.  Don't forget to check out our Cozumel Music  group which I moderate, as times and bands are subject to change.
Música en Cozumel: Una entrevista con Charlie Monter de la banda LSD, por Teresa Williams
Esta semana me siento con Charlie Monter, bajista de la banda LSD. Como bien lo sabe todo aquel que ha conocido a Charlie, es todo un personaje a quien bien vale la pena escuchar. Le pedía a Charlie que escribiera con sus propias palabras cómo es que Cozumel se convirtió en su hogar, y cómo disfruta ser músico en la Isla.
Charlie Monter
Hola. Me llamo Charlie pero todos me conocen como Krusty,  igual que el payaso de los Simpson. Hmmm, no creo ser tan chistoso. Llegue a Cozumel, de vacaciones, hace 8 años. Fue un m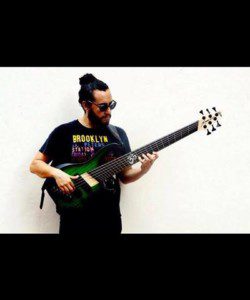 omento de mi vida donde estaba harto de mi trabajo en la ciudad y de otra serie de cuestiones personales  por las que estaba pasando. Y por cuestiones personales me refiero a que había terminado la relación con mi novia. Un amigo, procedente de mi ciudad natal, vivía aquí y tocaba con una banda en un antro que se llamaba Corona Bar.  Durante meses me había insistido que debía venir y ver si la vida de la Isla me sentaba. No estaba muy seguro pues nunca he sido fanático del clima tropical. Sin embargo, empaque mis maletas y me dirigí a la península. Desde el primer momento supe que había algo mágico en este lugar que me hacía sentir como otra persona: más tranquilo, más alegre, más contento.
Ya que no quería regresar a mi antigua ocupación, decidí buscar otras oportunidades en el negocio de la música. Durante años he sido un guerrero de fin de semana tocando el bajo en bares, pero siempre conservando mi trabajo durante el día para tener ingresos estables (cuento con una especialización en Comunicaciones y Periodismo); pero ya no quería hacer eso. Para ganarme la vida sólo deseaba hacer lo que verdaderamente me llena: ¡la música! Siempre ha sido algo difícil conseguir bastantes tocadas para ganar suficiente dinero, sin embargo desd
e que  me he presentado con otras bandas en la Isla, me di cuenta que las condiciones eran optimas para probar quedarme aquí.
Regresé a la ciudad y renuncié; vendí casi todo lo que poseía, agarré mi bajo y mi automóvil, y manejé durante 3 días hasta que me detuve para abordar el transbordador. Supe que mi vida no sería la misma. Estaba decidido a quedarme aquí durante aproximadamente un año. Los primeros meses fueron difíciles, pero pasado algún tiempo comencé a ganar reconocimiento con tocadas más estables acompañando a los mejores músicos de la Isla. Así fue como la estancia de 1 año se convirtió en 8 años de vida en la Isla.
Soy muy afortunado al poder hacer lo que quiero y a la vez ganar dinero. Creo que es lo que todo ser humano en el mundo debe hacer. Espero continuar tocando música por el resto de mi vida. No me importa si ello significa que debo quedarme en Cozumel todo el tiempo que me sea necesario.
La banda LSD se presenta todas las noches en Alberto's. Desde hace tiempo tocan juntos y, tal como lo dice su nombre, se especializan en música de la década de los años 60. Si es fanático de la música en vivo, especialmente de este género, vale la pena reunirse con los amigos y escuchar a Charlie tocar. No olviden echar un vistazo a nuestro  grupo Cozumel Music, de la cual soy la moderadora, ya que los horarios y las bandas se encuentran sujetos a cambios.

Latest posts by Teresa Williams
(see all)