Dog Travels Cozumel Nebraska
Coco's Journey:  A Dog's Travels from From Cozumel to Nebraska
Teresa Williams recounts this heartwarming story  ….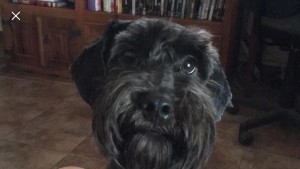 This is a story of Coco and his journey to his new home in Nebraska. It all started right here in Cozumel. Coco's owner was leaving for a couple of weeks. So she gave a hotel employee Coco and some money to take care of him. The employee could not keep pets in his apartment, so the Hotel owner kindly  let him tie Coco up in the lobby. (Since the hotel was downtown, it was necessary to keep Coco tethered so that he wouldn't run off or be hit by a car.)
Needless to say, Coco's owner never returned.  In fact, she blocked all calls from the hotel owner and completely abandoned poor Coco. Coco lived in the hotel for about 2 months until  a couple on vacation from Nebraska saw him. They fell I love with Coco and wanted to adopt him.   The wife posted on Cozumel 4 You seeking a foster for Coco, until he received all of his vaccinations and was cleared for travel.  (The woman who abandoned him didn't leave any vet records)
This is where I step into the story since I agreed to foster  Coco. Lisa Ramirez – from the Humane Society of Cozumel Island –  and I went to the hotel to pick up Coco. His fur was long and matted so we took him to Oasis Animal Hospital to get groomed. He was very skinny. I brought him home to meet my dog boys. Needless to say my Jake was not to happy but we dealt with it and made it work. He was with us about 6 weeks. I took him to the Humane Society to get his first vaccinations, deworming and to get neutered. We went back a couple of weeks later to get the final vaccines, and a few days before travel got his health certificate to travel.
Now that Coco was ready to fly we needed a way to get him all the way to his new home in Nebraska.  Here's where the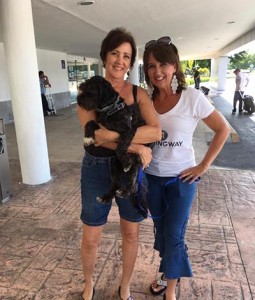 work of many comes in.  The original plan was to have an escort – Cindy and her husband – take him with them on their way to their home in Virginia – and give him to a transport group during their layover in Dallas.  Apparently it's against airline regulations, so we needed to come up to a new plan.   We didn't know what we were going to do at this point. Cindy decided to go ahead and take Coco all the way to Virginia. They fostered Coco for two weeks until they could organize transport. He got to meet her pack and meet the deer that come visit in the yard.
This is where the amazing part starts. There is a group on Facebook called I-81 Transport. There are over 6,000 members. They are all volunteer drivers who transport animals. In the last year, Cliff, the coordinator,   has personally coordinated transport for 370 dogs. In total on the I-81 Transport page they been able to move 4,154 dogs, 260 cats, 1 hawk, 1 pig and 1 raccoon. This group is really amazing!!
Cliff started work on transport team. It took 20 volunteers to escort him over 2 days and 10 states to get him to Nebraska. Each volunteer drives about an hour to meet the next volunteer. Throughout the journey there was a running thread in the group and every single driver posted a photo of Coco a little further on his way.  It was one of the most touching and inspiring things I've ever done.
Last night Coco made it to his new home in Nebraska with his forever family:  Sydney and her husband, and his new brother Ajax.
Sometimes it takes a village. In this case two countries and several states and many many people. Thank you to everyone that had part in Coco's journey. Thank you so much to Cindy, Cliff and all the volunteers of I-81 Transport.  Have a happy life sweet Coco. We all love you!
La travesía de Coco. El recorrido de un perro de Cozumel a Nebraska
Teresa Williams relata esta conmovedora historia. . .
Esta es la historia de Coco y su travesía hasta su nuevo hogar en Nebraska. Todo comenzó justo aquí en Cozumel. La propietaria de Coco partiría por un par de semanas, por lo que dejó a Coco con el empleado de un hotel y algo de dinero para cuidarlo. Al empleado no le era permitido tener mascotas en su departamento por lo que amablemente el propietario del hotel le permitió amarrar a Coco en el lobby. (En virtud que la ubicación del hotel era en el centro de la ciudad, era necesario mantener atado a Coco para que no escapara y corriera con el riesgo de ser atropellado por un automóvil).
No hace falta decir que la propietaria de Coco nunca regresó. De hecho, bloqueó toda llamada entrante del propietario del
hotel y abandonó a Coco por completo. Coco vivió en el hotel casi 2 meses hasta que lo vio una pareja procedente de Nebraska que vino de vacaciones. Se enamoraron de Coco y querían adoptarlo. La esposa publicó en Cozumel 4 You que estaban en busca de un hogar que adoptara temporalmente a Coco mientras recibía todas sus vacunas y recibiera el visto bueno para viajar. (La mujer que lo abandonó no dejó ningún historial de vacunación).
Aquí es cuando yo me convierto en parte de la historia pues acepté quedarme temporalmente con Coco. Lisa Ramírez, de la Sociedad Humanitaria de la Isla de Cozumel, y yo fuimos al hotel por Coco. Su pelaje era tan largo y estaba tan largo y enmarañado que lo llevamos a Oasis Animal Hospital para que lo arreglaran. Estaba muy delgado. Lo llevé a casa para que conociera a mis chicos de cuatro patas. Está de más decir que mi Jake no estaba contento, pero nos hicimos cargo del asunto e hicimos que funcionara la situación. Coco estuvo con nosotros casi 6 semanas. Lo llevé a la Sociedad Humanitaria para recibir sus primeras vacunas, desparasitación y esterilización. Regresamos dos semanas después para que recibiera sus últimas vacunas y le entregaran su certificado para poder viajar.
Ahora que Coco estaba listo para volar, necesitábamos enviarlo hasta su nuevo hogar en Nebraska. Aquí es donde interviene la labor de muchas personas. El plan original era que Cindy y su esposo lo llevaran hasta su casa en Virginia, y entregarlo a un grupo encargado del transporte durante su escala en Dallas. Aparentemente esto es contrario a las normas de las aerolíneas por lo que era necesario hacer un plan nuevo. A partir de este punto no sabíamos qué hacer. Cindy decidió seguir adelante y llevar a Coco hasta Virginia.  Tuvieron a Coco consigo durante dos semanas hasta que les fuera posible organizar el transporte. Coco conoció a la manada de Cindy y al venado que viene de visita al jardín. Aquí es donde comienza la parte asombrosa. Existe un grupo en Facebook llamado I-81 Transport. Son más de 6,000 miembros. Todos son conductores voluntarios dedicados a transportar animales. El año pasado Cliff, el organizador, personalmente coordinó el transporte para 370 perros. El grupo de la página I-81 Transport ha logrado movilizar un total de 4,154 perros, 260 gatos, 1 halcón, 1 cerdo y un mapache. ¡Este grupo es realmente sorprendente!
Cliff comenzó a trabajar en organizar al equipo de transporte. Fueron necesarios 20 voluntarios para acompañar a Coco durante más de 2 días y 10 estados para llevarlo hasta Nebraska. Cada voluntario conduce alrededor de una hora para encontrarse con el siguiente voluntario. A través del trayecto, el grupo mantuvo un hilo y cada uno de los conductores subía una fotografía de Coco acercándose más a su destino. Esta es una de las cosas más conmovedoras e inspiradoras que he hecho.
Ayer por la noche, Coco llegó a con su familia permanente en Nebraska: Sydney y su esposo, y Ajax, su nuevo hermano.
En ocasiones se necesita de la labor de todos. En este caso dos países y diversos estados, y muchas muchas personas. Gracias a todos aquellos que fueron parte de la travesía de Coco. Muchas gracias Cindy, Cliff y a todos los voluntarios de I-81 Transport . Que tengas una vida feliz, dulce Coco. ¡Todos te queremos!

Latest posts by Teresa Williams
(see all)