Aeroshow Founder & Cozumel Resident Dies in Plane Crash
Pre-Aeroshow testing claims life of Eduardo Toledo Parra …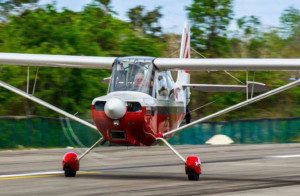 Cozumel residents, Aeroshow organizers and fellow pilots are in mourning after the tragic crash that claimed the life of a Aeroshow founder, Eduardo Toledo Parra, when his plane went down during a practice flight for the  7th Annual Aeroshow.
Last Friday afternoon, Captain Eduardo Toledo Parra, a experienced and avid stunt pilot reportedly lost control of his plane during landing and crashed into the mangroves just outside of the Cancun aerodome.   According to on-the-scene emergency responders the pilot died instantly upon impact.
Engineer Eduardo Toledo Parra was a respected member of the Cozumel community, and owner of the Channel 10 TV station.  The 7th Annual Aeroshow was held in his honor.   "Sadly, in aviation, mistakes are paid with life. I would now like people to always remember my father as a warrior, who left as he wanted: in the field, on his plane, "said his son Carlos Toledo Cardounel shortly after the accident.
Muere el fundador del Aeroshow en un accidente aéreo quien vivía en Cozumel
Las prácticas previas al espectáculo cobran la vida de Eduardo Toledo Parra. . .
Los habitantes de Cozumel, los organizadores del Aeroshow y compañeros pilotos están de duelo después del trágico accidente que cobro la vida de Eduardo Toledo Parra, fundador del evento, cuando su avión cayó durante un vuelo de práctica para el 7º Aeroshow.
Según se informa, el viernes pasado por la tarde el Capitán Eduardo Toledo Parra, veterano y ávido piloto de acrobacias aéreas, perdió el control de su avión durante el aterrizaje y se estrelló en los manglares del aeródromo de Cancún. De acuerdo a los servicios de emergencia, el piloto falleció al momento del impacto.
El Ingeniero Eduardo Toledo Parra era un miembro respetado en la comunidad de Cozumel y propietario del canal 10 de televisión. El 7º Aeroshow se llevó a cabo en su honor. "En la aviación, tristemente, los errores se pagan con la vida. Me gustaría que la gente recuerde a mi padre como un guerrero que se fue tal como quiso: en el campo, en su avión", dijo su hijo Carlos Toledo Cardounel poco después del accidente.
Latest posts by Laura Wilkinson
(see all)