Grocery Shopping in Cozumel
The Art of Grocery Shopping in Cozumel: A Gringa Perspective
Madeleine Mason discusses the delicacy of shopping in Cozumel…
"The odds of going to the store for a loaf of bread and coming out with only a loaf of bread are three billion to one."
― Erma Bombeck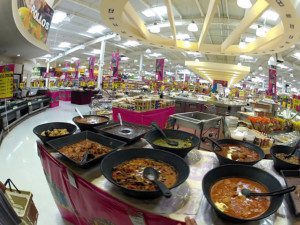 Grocery shopping. Love it or hate it, we cannot avoid it. Accomplishing this task in Cozumel, however, presents an entirely different set of challenges, to which those of us who have lived here for a while have become accustomed. It is so second nature for us to hit more than one store to get all of the items that we need, that we do not even think twice about it. We have also learned that, if you see something that you want but do not necessarily need at that moment, you'd best snatch it up because it will not be there when you do need it!
My husband and I spent three weeks in Houston over the holidays and made several trips to the neighborhood Kroger. Being a fastidious list-maker (I put things in the order they are placed in the store, for one), I relished knowing that I could find everything I could possibly need in one stop. The selection of produce (7 different types of potatoes!!) and meats and deli products and cleaning products, etc. made these outings so much more pleasant, albeit, more expensive as we just had to buy items not available here, simply because we could!
Upon returning to Cozumel, we had to restock the fridge, as well as buy the ingredients for a small dinner party we were having.  This was my grocery list:
Yes, five different stores….FIVE. The funny thing is, this is neither annoying nor unusual. It just is the way it is here. We may get our meat from Mega (our preference) but we have to get our paper towels (Bounty all the way) from Sam's and we prefer the produce from Maharaja. It may sound crazy to those who do not live here but we just accept that it is our norm and fortunately, everything is relatively close so it doesn't take too much time to accomplish these errands.
But there is an upside to shopping here. It is a social outing. You will, inevitably, run into someone you know at one of your stops. Get-togethers are planned, gossip is exchanged and all that is new in Cozumel is discussed. We have one friend who we see only at Mega…never anywhere else! We find ourselves catching up in the dairy section or the check-out aisle at least 2-3 times a month!
It may take some getting used to if you are a newcomer but you'll get the hang of it. We all do!
Happy hunting!!
El arte de hacer compras en el supermercado en Cozumel; perspectiva de una gringa
Madeleine Mason habla de la fragilidad al hacer las compras en Cozumel . . .
"Las probabilidades de ir a la tienda por una hogaza de pan y salir sólo con una hogaza, son tres mil millones a una".
– Erma Bombeck
Compra de comestibles. Lo ama o lo odia; no podemos evitarlo. Sin embargo, lograr esta tarea en Cozumel presenta una serie de retos muy diferentes a los cuales, los que hemos vivido aquí por un tiempo, ya nos hemos acostumbrado. Es parte de nuestra segunda naturaleza visitar más de una tienda para obtener los artículos que necesitamos, tanto así que no lo pensamos dos veces. También hemos aprendido que, si uno ve algo pero al momento no lo necesita, ¡más vale agarrarlo en ese instante pues no estará ahí cuando lo necesite!
Mi esposo y yo pasamos las fiestas navideñas en Houston e hicimos varios viajes a la tienda Kroger en la colonia. Como soy excelente haciendo listas (coloco las cosas en el orden que están acomodadas en la tienda), disfrute saber que podía encontrar en un solo sitio todo lo que podría necesitar. La selección de frutas y legumbres 8¡7 tipos diferentes de papas!), de carnes y carnes frías, etc. hacían que estas salidas fueran mucho más placenteras aunque más costosas ya que teníamos que comprar los artículos que aquí no estás disponibles, ¡sólo por el hecho que podíamos hacerlo!
Al regresar a Cozumel debíamos reabastecer el refrigerador y comprar los ingredientes necesarios para una pequeña cena que daríamos. Esta fue mi lista del supermercado:
Sí, cinco tiendas diferentes. . .CINCO. Lo curioso es que no es molesto ni extraño. Es como es aquí. Es posible que compremos la carne en Mega (nuestra predilección) pero que debamos comprar las toallas de papel (Bounty) en Sam's, y preferimos comprar las frutas y verduras en el Maharaja. Puede parecer una locura a aquellos que no viven aquí, pero aceptamos esto como la norma y afortunadamente todo está relativamente cerca así que n toma mucho hacer estas diligencias.
Hacer las compras aquí tiene un lado positivo. Es una salida social. En alguna de sus paradas inevitablemente se topará con alguien a quien usted conoce; se planean las reuniones, se intercambian los chismes y se platica toda cosa novedosa de Cozumel. Tenemos una amistad con quien nos topamos únicamente en Mega… ¡nunca la vemos en otro sitio! ¡Al menos 2 o 3 veces al mes nos ponemos al día en la sección de lácteos o en el pasillo de salida!
Si usted es recién llegado, es posible que le tome un tiempo acostumbrarse, pero lo hará. ¡Todos lo hacemos!
¡Feliz cacería!

Latest posts by Madeleine Mason
(see all)