Becoming a Mexican Citizen – The Naturalized Way by Christi Courtney
Finally, after 15 years I am proudly becoming a Mexican Citizen, which I am obtaining through long-term residency.  Although I was eligible over five years ago, I now know that I would not have been ready back then, for a variety of reasons.
It would not have the same significance as it does to me now, and I did not have the same respect, appreciation and admiration for the Mexican culture that I do now.  I certainly did not have the patience five years ago to respect the process.  Anyone who has lived here for any extended period of time surely has experienced the ebbs and flows and the love/hate phases we go through with island living.  It is only when we finally accept things the way they are that one can truly appreciate the culture.
This process happens faster for some people – and the experience is vastly different for those who work or own an island business vs. retirees who are relaxing and enjoying their golden years here.  Neither one is better – it just makes the individual's perspective different.
Becoming a Naturalized citizen is not that difficult of a process if you are truly  prepared.  There are different ways you are eligible, but I can only speak to my experience in the naturalization process which I obtained by long-term residency.
I've heard about people who have become nationalized on their own through Cancun Immigration offices.  Keep in mind that if you choose to go through Cancun, everything goes through Mexico City anyway – so it does take longer.  I also cannot guarantee that the information here will be applied the same way in Cancun – so please keep that in mind.
I chose to hire a professional, Gisela Rodriguez, the Cozumel Lawyer to facilitate my process.  She is very familiar with the process which trust me, saves  frustrations, multiple trips to Cancun and delays in the process.  It was important for me to make sure no corners were cut and that everything happened smoothly and completely legally so there will be no future problems renewing my Mexican passport.  Unfortunately, I've heard a few of these horror stories – so I recommend going this route.   For me, this is an investment in my future – personally and professionally.
Here are some tips for surviving and expediting your Naturalization process:
First, verify that you are eligible.  The eligibility requirements as of July 2016:
You must be a permanent resident for 5 years (FM2 or Residente Permanente) – make sure you have copies of all of your past immigration booklets or cards.
You must not have been out of Mexico for more than 180 days in the previous two years prior to submitting your application.  Here's a tip – verify that MX Immigration stamps your passport CORRECTLY for EACH "Entrada" and each "Salida" with the CORRECT dates.  This is very important.  Otherwise, there is an extra process to get verification from Immigration which adds more time to the process.
Make sure you speak and read conversational Spanish.  If you cannot hold a decent conversation in Spanish (understand questions and respond appropriately) – do not waste your energy, time or money making the trip to Mexico City (or Cancun) until you feel comfortable.
Once you have determined your eligibility requirements, gather the documents you will need:
You must have an original birth certificate with an Apostille (verification of the authenticity of the document) usually from the Secretary of State from the state you were born in.  Check your state's requirements for this.  For Texas, I was required to get a certified copy from the Department of Vital Statistics within one year of the request for the Apostille.  This process took approximately 45 days.
The original birth certificate and apostille must be translated by an official certified MX translator.  Here on the island, we have Monica Sauza who I also highly recommend..
Make a list of all of your entries and exits from Mexico over the past two years.  Include travel days – they do count.
You must obtain a "Certificado de Antecedentes Penales" from the state in which you reside in Mexico (ie: Q. Roo).  This is something that Gisela can help you get here easily.  You will need three infantil sized photos, white background, no glasses or hat and your ears and neck must be visible.
Once you have these documents ready, Gisella will prepare your Solicitud and make arrangements with her partner in Mexico City.  Then you will coordinate to book your flight and hotel.  I flew Interjet direct from Cozumel to Mexico City – it was a breeze and Interjet is a nice airline.  I stayed in Historic Mexico City Centro – in Hotel Zocolo Central – HIGHLY recommended.
My hotel was beautiful and it is right on the Zocolo within walking distance to of course the Zocalo and Palacio Nacional, the famous Mexico City Metropolitan Cathedral,  Museo of Anthropology, Museo de Templo Mayor, Torre Latino, Parque Alameda, Palacio de Bellas Artes, The Fashion Musuem and so much more.  It is also within walking distance of the Secretaria de Relaciones Exteriores where you will file your application for Naturalization.
I recommend allowing two full business days which gives you ample time to make both "tramites" you will need there and some time to sight see.  Mexico City is beautiful!  I flew in on Sunday and returned on Wednesday.  Because I flew in on a Sunday, I had to take a taxi from the airport to my hotel, which was $250 pesos.
What to expect in Mexico City:
Day 1:
You will be chauffeured by Gisela's partner from your hotel to the Federal building where you will obtain your Federal "Certificado de Antecedentes Penales".  This can only LEGALLY be obtained in person and in Mexico City.  The only exception to this is to give an immediate family member (Mother, Father, Spouse, Son/Daughter) a notarized power of attorney, but again, this can only be obtained in person in Mexico City.  This was a 4 hour process including transportation to and from the federal building of waiting in various lines.  Be prepared to go through a metal detector, turn off your cell phone, and stand in line with 400 – 500 people.  Because this is the only place in Mexico to obtain this document, which is also required for a variety of things for everyone – they process 3000 – 4000 people a DAY.  I was impressed at how organized the process was, but due to the volume, it does take time.   Dress in cool, comfortable clothes and shoes, make sure you have a black ink pen, and take a book to read in line – remember, any electronic devices you have will have to be turned off and there are Federales monitoring the line constantly.  I was very lucky and grateful that it was a cool, overcast, low humidity day when I was there.
Day 2:
Gisela's partner will pick you up at your hotel at the designated time and will take you first to get proper passport photos, which is right across the street from Secretaria de Relaciones Exteriores (SRE).
The process once inside SRE is to provide signatures and fingerprints and you will be asked at that point to take an exam comprising of multiple choice questions on Mexican history, culture, geography and government.  Gisella will provide you with the most recent study guide as they do change.   There are 100 questions, you will be asked to answer 5-10 of these, they are not the same for each applicant, so learn them all.  After the exam, you will sit and wait as they review all of the documents submitted.  If everything is in order, you will then be given an interview, which is simply a conversation with an SRE Agent.  Depending on how well your exam goes and how well you appear to comprehend the instructions they give you in Spanish, will determine how involved your interview is.  This is why your command of the Spanish language will be important.
After this, if everything is good – you will receive an "Acuse" (written and stamped confirmation that your application was accepted).  You're free to go.
Now is simply a waiting period of three to four months for the "Official" word.    During this time, SRE verifies your immigration status and time out of the country and process your paperwork.  Once your citizenship becomes official, you will make one more trip back to Mexico City to get your "Carta de Naturalization" and if you go through Gisella, your first passport is included!  So you will also apply for your passport while you are there.
I won't receive my final documents until October or November, but the process went smoothly, easily and gave me an even greater respect for the country I've called home for 15 years.  For me it was a really important step in my life and an investment in my future. I hope this information helps anyone who's been considering making the step.  Please feel free to contact me or Gisela, if you have any questions or need more information.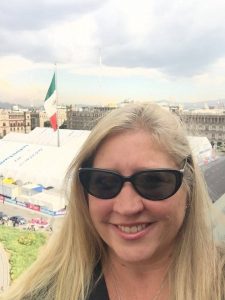 Christi Courtney is the owner of Blue XT Sea Diving, one of the original pioneers in boutique diving here in Cozumel. An island resident since 2001, Christi is well known for her commitment to diving fitness and safety.  She is also a Triathlete and a Friend of Bill W.
Ciudadanía mexicana a través de la naturalización, por Christi Courtney
Finalmente y después de 15 años con orgullo me convierto en ciudadana mexicana. No obstante que desde hace más de cinco años reunía los requisitos, debido a diversos motivos se que no hubiera tenido la preparación en aquel entonces.
Esto no hubiera sido tan importante como lo es ahora, y mi respeto, apreciación y admiración hacia la cultura mexicana no eran los mismos que son ahora. Es indudable que hace cinco años no tenía la paciencia para respetar el trámite. Toda persona que ha residido aquí durante largo tiempo seguramente ha vivido el flujo y reflujo de las etapas de amor/odio que atravesamos al vivir en la Isla. Cuando al fin aceptamos las cosas tal y como son, es cuando uno en realidad se aprecia la cultura.
Para algunos el procedimiento es más rápido que para otros; y la experiencia es considerablemente distinta para quienes trabajan o son propietarios de un negocio en la Isla a comparación de quienes son jubilados y que aquí disfrutan sus años dorados. Uno no es mejor que el otro; simplemente hace que la perspectiva individual del tramite sea distinta.
Si en realidad se encuentra listo para convertirse en ciudadano naturalizado, no es un trámite difícil. Existen diferentes opciones; sin embargo, sólo puedo hablar de mi experiencia del trámite de naturalización el cual obtuve después de una larga temporalidad como residente en el país.
Me he enterado de personas que personalmente realizan el proceso de naturalización ante las oficinas de Cancún. Consideren que si eligen hacerlo en Cancún, el proceso tarda un poco más ya que de todas formas todo se envía a la Ciudad de México. No puedo garantizar que la información que aquí presento se aplique de la misma manera en Cancún, así que por favor tomen eso en cuenta.
Para que el trámite fuera más fácil opté por contratar los servicios de una profesional; en este caso Gisela Rodríguez, abogada de Cozumel – Cozumel Lawyer. Ella conoce el trámite lo cual, créanme, ahorra frustraciones, múltiples viajes a Cancún y retraso en el proceso. Me era importante saber que no habría omisiones, que todo el trámite ocurriría sin problemas y de forma totalmente legal para que no me fuera a topar con problemas en el futuro al momento de renovar mi pasaporte mexicano. Lamentablemente hemos escuchado historias horrendas, por ello es que les recomiendo esta ruta. Personal y profesionalmente es una inversión para mi futuro.
A continuación encontrarán algunas sugerencias para sobrevivir y facilitar el trámite de naturalización:
Primero confirmen que cumplen los requisitos. A Julio de este año, los requisitos son:
Ser residente permanente por 5 años (FM2 o condición como residente permanente); asegúrense de tener copias de todas sus libretas o tarjetas migratorias anteriores.
No haber estado fuera de México durante los 180 días previos a la presentación de la solicitud. Un consejo: asegúrense que migración de México selle CORRECTAMENTE CADA "entrada" y "salida" y con las fechas CORRECTAS. Esto es muy importante, ya que en caso contrario existe un tramite adicional para obtener la verificación por parte de la oficina de migración lo cual añade más tiempo al trámite.
Asegúrese de leer español y hablarlo en un estilo de charla. En caso de que no pueda sostener una conversación decente en español (esto es comprender las preguntas y responder adecuadamente), no gasten su energía, tiempo o dinero haciendo el viaje a la Ciudad de México (o a Cancún) sino hasta que se sientan cómodos.
Una vez que han determinado que cumplen con los requisitos, reúnan los documentos que necesitan:
Deben contar con un original del acta de nacimiento acompañada de la apostilla (confirmación de la autenticidad del documento) que emite la oficina de la Secretaría de Estado del estado donde usted nación. Verifique los requisitos que, para este tramite, aplican en su estado. En el caso de Texas, se me solicitó obtener una copia certificada de la Oficialía del Registro Civil dentro del año para la solicitud de la apostilla. El trámite tardó aproximadamente 45 días.
El acta de nacimiento y la apostilla deben ser traducidas por perito traductor mexicano. Aquí en la Isla contamos con Monica Sauza, a quien también recomiendo ampliamente.
Haga una lista de todas las entradas a y salidas de México que haya realizado durante los últimos dos años. Incluya los días de viaje ya que estos también cuentan.
Es necesario obtener un certificado de antecedentes no penales del estado donde usted reside (por ejemplo, Q. Roo). Gisela puede ayudarle a obtener esto fácilmente aquí. Se necesitan tres fotos tamaño infantil, fondo color blanco, sin lentes, sombreros, cuello y orejas deben estar visibles.
Cuando ya tenga estos documentos listos, Gisela preparará su solicitud y hará los arreglos con su socio en la ciudad de México; coordinará su reservación de vuelo y hotel. Yo volé a través de Interjet directamente de Cozumel a la Ciudad de México. Fue muy sencillo e Interjet es una aerolínea agradable. Me hospedé en el hotel Zócalo Central ubicado en el centro histórico de la Ciudad de México, ALTAMENTE recomendable.
Mi hotel estaba hermoso y está justo cerca del zócalo y de Palacio Nacional, de la Catedral Metropolitana, del Museo de Antropología, del Museo del Templo Mayor, de la Torre Latinoamericana, de la Alameda, del Palacio de Bellas Artes, del Museo de la Moda, y muchos más. También se encuentra a corta distancia de la Secretaría de Relaciones Exteriores donde ingresará su solicitud para la naturalización.
Recomiendo que se den dos días hábiles ya que ello permite suficiente tiempo para realizar los trámites necesarios y algo de tiempo para pasear. ¡La Ciudad de México es bella! Mi vuelo fue el domingo y regresé el miércoles. Como llegué en domino tuve que tomar un taxi del aeropuerto al hotel que costó $ 250 pesos.
Qué esperar en la Ciudad de México:
Día 1:
El socio de Gisela le transportará de su hotel al edificio federal donde obtendrá su certificado de antecedentes no penales federal. Esto sólo puede obtenerse LEGALMENTE en persona y en la Ciudad de México. La única excepción a lo anterior es confiriendo un poder notarial a un miembro directo de la familia (madre, padre, cónyuge, hijo/hija) pero, repito, sólo puede obtenerse en la Ciudad de México. Este es un trámite de 4 horas incluyendo la transportación al y del edificio y espera en varias filas. Prepárense para pasar por un detector de metales; apaguen su teléfono celular y espera en línea con 400 a 500 personas. Debido a que este es el único lugar en México para obtener este documento, también requerido por otras personas para una diversidad de cosas, DIARIAMENTE hacen el trámite para 3000 a 4000 personas. Quedé impresionada con la organización, pero debido al volumen, toma tiempo. Usen ropa fresca y cómoda al igual que los zapatos; no olviden llevar una pluma con tinta negra y un libro para leer. Recuerden apagar todos sus dispositivos electrónicos y que agentes federales vigilan la fila constantemente. Fui muy afortunada y estoy agradecida que el clima ese día estuvo fresco, nublado y la humedad era baja.
Día 2:
El socio de Gisela pasará por usted al hotel a la hora designada y le llevará a tomarse las fotografías adecuadas para el pasaporte; esto es, justo frente a la Secretaría de Relaciones Exteriores (SRE).
Una vez dentro de la SER el procedimiento implica firmas y huellas; en algún punto se le pedirá tomar un examen de elección múltiple sobre historia, cultura, geografía y gobierno mexicanos. Gisela le proporcionará la guía de estudios más actualizada ya que la de ellos tiene costo. Hay 100 preguntas y se le pedirá que conteste de 5 a 10 de ellas. Las preguntas son distintas para cada solicitante, así que apréndanse todas. Después de presentar el examen, espera durante el tiempo que revisan todos los documentos que se presentaron. En caso que todo esté en orden, pasará a una entrevista que implica una conversación con el agente de la SER. Dependiendo qué tan bien le fue en el examen y qué tanto comprenda las instrucciones que le den en español, ello determinará el sentido de su entrevista. Por ello es que su dominio del español será tan importante.
Después de esto, si todo está bien, usted recibirá un acuse de recibo (confirmación de que su solicitud ha sido aceptada), y puede irse.
Ahora sólo será cuestión de esperar la respuesta oficial en un periodo de tres a cuatro meses. Durante este tiempo, la SER verifica su situación migratoria, el tiempo que ha permanecido fuera del país y tramitarán sus documentos. Cuando la naturalización sea oficial, viajará una vez más a la Ciudad de México para obtener su Carta de naturalización, y si la tramitan a trabes de Gisela, ¡incluye su pasaporte! >Así que también tramitará su pasaporte cuando se encuentre allá.
Recibiré mis documentos hasta Octubre o Noviembre, pero el procedimiento fue sencillo y ahora tengo un enorme respeto al país que he llamado hogar desde hace 15 años. En lo personal fue un paso muy importante en mi vida y una inversión para mi futuro. Espero que esta información ayude a todo aquel que esté considerando dar este paso. En caso de dudas o de requerir mayor información, por favor pónganse en contacto conmigo o con Gisela.
Christi Courtney es propietaria de Blue XT Sea Diving, una de las pioneras en el buceo de boutique en Cozumel. Ha vivido en la Isla desde el año 2001 y es bien conocida por su compromiso hacia el acondicionamiento y seguridad en el buzo. También es triatleta y una amiga de Bill W.
Latest posts by Laura Wilkinson
(see all)