How We Came to Call Cozumel Home
 Gary Gomola Shares a very Special story……
How We Came To Call Cozumel Home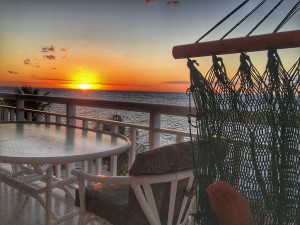 How many married couples have a photo of the day that they met?  Patricia Wolf Gomola and I do, and here it is.  This photo was taken on September 18, 1993 at Big Julian's restaurant in Cozumel, twenty five years ago this week. Not only is that day the beginning of the story of our marriage, but also the start of how we came to call Cozumel home.
But let's go back a step first.  Prior to the world wide web as we know it today, there was an on-line service called Prodigy (even before AOL).  Prodigy had special interest bulletin boards, one of which was Scuba Diving.  I became a member of that board and over a period of time became on-line friends with a core group of other members.  Patricia Wolf was also a member of that core group.  I lived in Connecticut and she lived in California.  The group would discuss the usual scuba topics; trips, equipment etc.  After a while we all decided that we should meet up in person on a dive trip.  The leader of the group (Jackie) organized the trip for September 1993 in Cozumel.  About 20 of us from all over the U.S. arrived and stayed at the Fiesta Inn (now Hotel Cozumel) and dove with Dive Paradise.  This was a scuba trip, not a match making or dating trip, but a spark ignited between Pat and me.  Apple (may she rest in peace) noticed it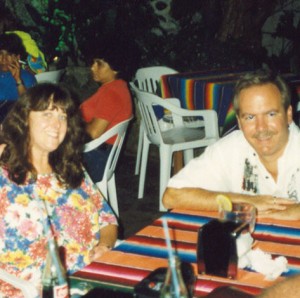 and commented.  The whole group had a great week of diving, comradery and some great meals.  The first night's meal was at Big Julian's and that is when and where the picture was taken.  Big Julian's restaurant no longer exists, but you can still find Big Julian at the nursery on the corner of Avenida 25 and Calle 5.  The second photo is from a couple of nights later at Carlos & Charlie's (the old one uptown).  Pat is to the right of me and on the left is Jackie, the trip organizer.
At the end of the week we all went our separate ways, promising to keep in touch through Prodigy.  Pat and I said good-bye, and never thought that we would see each other again.  But that did not happen.  To make a long story short, we got married 15 months later.  Besides finding each other we also became enchanted with the island.  That turned into a long relationship with Cozumel.  We would visit Cozumel at least once a year, and after a few years we purchased a timeshare at the Allegro.  It got to the point where a week was not enough, and we started to come for two weeks at a time.  We would stay one week at the Allegro and one week in town.  Every time we would see Apple, and she saw how happy we were, she would remind us that we met on one of her trips.  She took great pride in that.
During our career years (Pat was a Speech Pathologist, and I was a CPA) we dreamed of retiring to a Caribbean Island.  Of course Cozumel was at the top of our list, having a special place in our hearts.  In 2003, while staying at Plaza las Glorias (now Cozumel Palace) we saw the start of construction at El Cantil next door.  We took a tour of the incomplete building in yellow hard hats and sat for the sales pitch.  We were excited, but realized it was not the right time in our lives.  We still had mortgages and we were about to be facing college tuition.  When we returned the following year and saw the completed building I started kicking myself and continued to do that with each following visit.  I had a bad case of "condo envy".
Fast forward to 2013.  The mortgages were paid, and college tuition was over.  Pat was fully retired, and I had started semi-retirement.  We had been to all the major dive spots around the world and it was time to settle down.  Now was the time to buy.  Even though Cozumel was at the top of our list, and El Cantil our preferred building, being a prudent accountant, I decided that we needed to approach this logically instead of emotionally.  So, we discussed several islands in the Caribbean (we had been to just about every one of them over the years) to see which would be a good fit for us.  We
narrowed the list down to three; Grand Cayman, Ambergris Caye, and Cozumel.  During a three month period we visited each island with an eye to what it would be like to live there and went condo shopping on each.  We found very nice condos that suited us on each island, but surprise surprise Cozumel came out on top.  With apologies to the three bears; Grand Cayman was too expensive, Ambergris Caye was too rural, but Cozumel "was just right".  Even though we did look at a few other condo complexes in Cozumel, we soon became the proud owners of Casa Tropical at El Cantil in July 2014.
For the next couple of years we spent about 12 to 16 weeks per year in Cozumel as I was winding down my business obligations and transitioning clients to other partners in the firm.  In 2016 we received our residente permanente cards, and in the fall of 2017 began our first full winter in Cozumel.  Our plan going forward is to spend three months in Connecticut (the summer) and nine months in Cozumel.
When we purchased the condo we thought we were buying just a piece of real estate.  We were very pleasantly surprised to find that we also acquired a whole new set of friends at our condo complex, and in the local and ex-pat community at large.  We have also become active in the Cozumel Humane Society.  As we were making frequent trips back to the U.S., we have escorted several dogs and cats to their new adopted families in New England.  We have both worked at the spay/neuter clinics, and I am now the official Secretary of The Friends of The Cozumel Humane Society, doing the tax work and donation acknowledgements. We have attended a few Cozumel Rotary Club meetings, and have participated in other organization fund raisers and events.  We are trying to give back to our new community in the same way we did in the U.S.
Although we have loved Cozumel for 25 years, we now have a much deeper affection and appreciation for the island.  We now call it "Home".  We love the Diving, the culture, the food and the people.  I have been taking Spanish lessons as I feel obligated to at least try and learn the language of my adopted home.  And, of course, I have to mention the gorgeous sunsets!  The third photo is the sunset view from my hammock. Now we can dive whenever we want.  That's us in the last photo a few months ago finding a seahorse.  I found my lovely wife, and a new life, in Cozumel twenty five years ago this week.  Happy Anniversary to "my little dive buddy".
By: Gary R. Gomola
Cómo es que Cozumel se convirtió en mi hogar
Gary Gomola comparte una historia muy especial. . .
¿Cuántas parejas casadas tienen una fotografía del día que se conocieron? Patricia Wolf Gomola y yo la tenemos, y aquí está. Esta fotografía fue tomada el 18 de septiembre de 1993 en el restaurante Big Julian's en Cozumel, esta semana, hace
25 años. No sólo es el día que comenzó la historia de nuestro matrimonio, sino también de cómo llegamos a decir que Cozumel es nuestro hogar.
Pero primero vamos un paso atrás. Antes de la presencia de la red informática mundial tal como la conocemos hoy día, existía un servicio en línea conocido como Prodigy (incluso antes de AOL). Prodigy tenía un interés especial en foros de discusiones, y uno de éstos era el del buceo. Me convertí en miembro de dicho foro y  al paso del tiempo hice amigos con el grupo principal. Yo vivía en Connecticut y ella en California. El grupo hablaba sobre los temas habituales sobre el buceo: viajes, equipo, etc. Después de un tiempo todos decidimos que era hora de conocernos en persona en un viaje de buceo. El viaje a Cozumel en Septiembre del año 1993 fue organizado por quien dirigía el grupo (Jackie). Alrededor de 20 participantes del grupo, procedentes de diversos estados de los EUA, llegamos y nos hospedamos en el Fiesta Inn (hoy el Hotel Cozumel), y buceamos con Dive Paradise. Este era un viaje de buceo, no un viaje para encontrar parejas o citas; pero una chispa se encendió entra Pat y yo. Apple (descanse en paz) se percato de ello y lo comentó. Todo el grupo pasó una semana excelente buceando, de camaradería y  excelentes comidas.  La primera cena fue en Big Julian's, y ahí fue cuando en donde se tomó la fotografía. El restaurante Big Julian's ya no existe; sin embargo, aún pueden encontrar al Gran Julián en el vivero  que se ubica en la 25ª. Avenida y Calle 5. La segunda fotografía es de un par de noches después en Carlos'n Charlie's (el antiguo más al centro de la ciudad). Pat aparece a mi derecho, y a la izquierda está Jackie, quien organizó el viaje.
Al finalizar la semana cada quien se fue por su lado, prometiendo que nos mantendríamos en contacto a través de Prodigy. Pat y yo nos despedimos y nunca se nos ocurrió que nos volveríamos a ver.  Pero no fue así. Para no hacer larga la historia, contrajimos matrimonio 15 meses después. Además de encontrarnos, también habíamos quedado fascinados con la Isla. Eso se convirtió en una larga relación con Cozumel. Visitábamos Cozumel al menos una vez al año, y después de varios años adquirimos un tiempo compartido en el Allegro. Esto llegó al punto que una semana no era suficiente por lo que comenzamos a quedarnos dos semanas. Cada ocasión que veníamos, veíamos a Apple, y ella vio lo felices que éramos; nos recordaba que nos conocimos en uno de sus viajes. Ella se sentía muy orgullosa de ello.
Durante nuestros años de ejercer las profesiones (Pat era Fonoaudióloga y yo contador público) soñábamos en retirarnos
a una isla del Caribe.  Sin duda alguna Cozumel se encontraba hasta arriba en nuestra lista, ya que ocupaba un lugar especial en nuestros corazones. En el año 2003, durante nuestra estancia en Plaza Las Glorias (hoy día conocido como Cozumel Palace), observamos cómo a un lado del hotel iniciaba la construcción de El Cantil. Con cascos de protección color amarillo, hicimos el recorrido de la obra incompleta y nos sentamos a escuchar el discurso de estrategia de ventas. No obstante nuestro entusiasmo, nos dimos cuenta que no era el momento adecuado en nuestras vidas. Aún teníamos que cubrir hipotecas y estábamos a punto de enfrentarnos al pago de la universidad. Cuando al año siguiente regresamos, al ver el edificio concluido quise darme golpes contra la pared y continué haciéndolo cada visita subsiguiente. Padecía un caso agudo de "envidia por un condominio".
Adelantemos el tiempo al año 2013. Se liquidaron las hipotecas y ya habíamos concluido de pagar las colegiaturas de la universidad. Pat ya se había retirado y yo comenzaba a casi retirarme. Ya habíamos buceado en los principales sitios de buceo en el mundo y había llegado la hora de echar raíces. Ahora era el tiempo de comprar. Aunque Cozumel se encontraba en el primer lugar de nuestra lista y El Cantil fuera nuestro edificio preferido, al ser un contador prudente decidí que era necesario abordar esta situación de manera lógica en lugar de hacerlo emocionalmente. Entonces platicamos acerca de diversas islas en el Caribe (en el transcurso de los años habíamos visitado casi todas) y decidir cual era nuestra mejor opción.  Redujimos la lista a tres: Gran Cayman, Cayo Ambergris y Cozumel. Durante un periodo de tres meses procedimos a visitar cada isla desde el punto de vista de lo que sería vivir ahí, y en cada una fuimos a ver condominios con la intención de comprar. En cada isla encontramos condominios muy lindos que se ajustaban muy bien a nosotros; pero, sorpresa, sorpresa, Cozumel estaba en la cima.  Nuestras disculpas a los tres osos. Gran Cayman era demasiado caro. Cayo Ambergris demasiado rural. Cozumel "era perfecta". Incluso a pesar de haber visto otros complejos en condominio en Cozumel, en poco tiempo, en Julio 2017 nos convertimos en propietarios de Casa Tropical en El Cantil.
En los próximos dos años, en lo que daba por terminado mis obligaciones comerciales y realizaba la transición de los clientes a otros socios en el despacho, llegamos a pasar de 12 a 16 semanas al año en Cozumel. En el año 2016 recibimos nuestras tarjetas como residentes permanentes, y en otoño del 2017 pasamos nuestro primer invierno completo en Cozumel. Nuestro plan a futuro es pasar tres meses en Connecticut (durante el verano) y nueve meses en Cozumel.
Cuando adquirimos el condominio supusimos que solo pagábamos un pedazo de un bien inmueble.  Quedamos gratamente sorprendidos al adquirir también un nuevo grupo de amigos en nuestro complejo en condominio, así como en gran parte de aquellos en la comunidad de x patriados. También nos mantenemos muy activos en la Sociedad Humanitaria de Cozumel. Ya que realizábamos viajes frecuentes de regreso a los EUA, acompañamos a diversos perros y gatos con sus nuevas familias adoptivas en Nueva Inglaterra. Ambos hemos trabajado en las clínicas de esterilización y actualmente soy el secretario oficial de The Friends of The Cozumel Humane Society, encargándome del trabajo fiscal y reconocimientos de donativos. Hemos participado en algunas reuniones con el Club Rotarios Cozumel, y hemos participado en otros eventos de recaudación de fondos de otras organizaciones. Estamos tratando de  retribuir a nuestra nueva comunidad de la misma manera que lo hacíamos en los EUA.
Si bien durante 25 años hemos amado a Cozumel, ahora tenemos un mayor afecto y apreciación por la Isla. Ahora la llamamos "Hogar". Nos enamoramos del buceo, de la cultura, de la comida y de la gente. He estado tomando clases de español pues me siento obligado de al menos tratar de aprender el idioma de mi casa adoptiva. Y, por supuesto, ¡debo mencionar los maravillosos atardeceres! La tercera fotografía es un atardecer visto desde mi hamaca. Ahora podemos bucear cuando queremos. En la última fotografía aparecemos nosotros descubriendo un caballito de mar. Esta misma semana hace veinticinco años encontré a mi  adorable esposa y una nueva vida en Cozumel. Feliz aniversario a mi "pequeña compañera de buceo".
Latest posts by Laura Wilkinson
(see all)