Evening Event At Chankanaab With the Mayan Crossing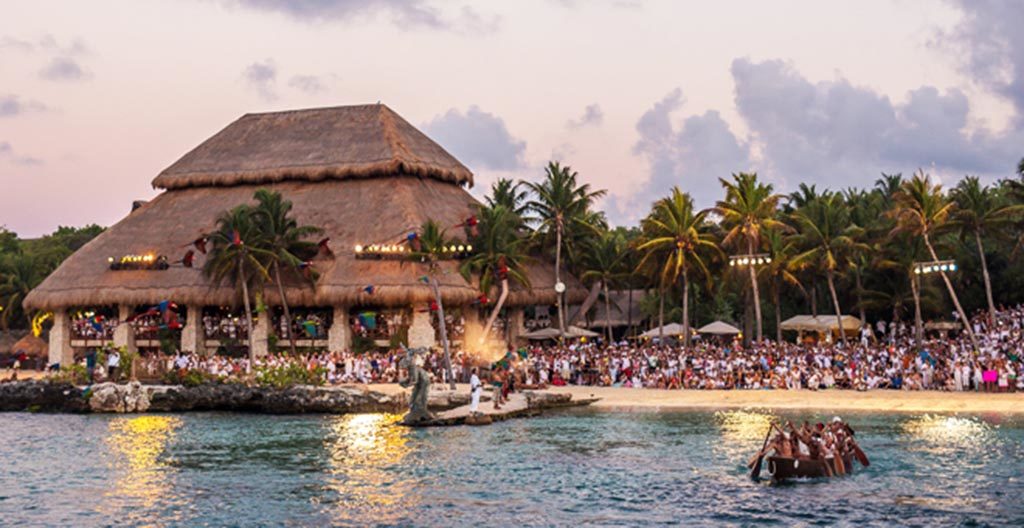 The Cozumel Municipal Government is organizing a fun & unique event for May 17th When the mayan rowers, or "Messengers of the Moon" arrive.
This special night event will take place at Chankanaab Park, at the Lagoon area. There are two types of admission – a general admission bracelet and a VIP bracelet.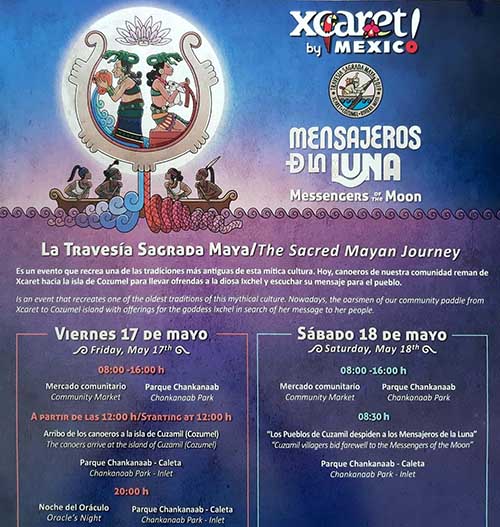 There are only 50 VIP bracelets available to attend this unique event and includes:
From 7 pm to 10 pm preferred area at the lagoon
Domestic drinks, beer, wine and local regional canapes
From 8 to 9 pm the Show, performed by artists and dancers from Xcaret
The VIP bracelets will be $40.00 USD adult price. Children under 12, will be free. The funds collected will be donated to the DIF (which is the Family Development Entity) of the government.
The other tickets we have available are:
General entrance, adult: $ 15.00 usd including teens from 12 – 17 years old: $ 10.00 USD. Children under twelve are free
General entrance bracelet includes:
General seating from 8 to 9 pm
Show, performed by artists and dancers from Xcaret
These bracelets will be on sale, at Fantasy Travel Experts, and our office located in:
Calle 19 Sur Num 419 between Ave. 20 Sur and 20 Sur Bis
White 3 stories building, Col. Andres Q. Roo
from Monday to Friday from 9:00 am to 1 pm and from 5:00 PM TO 7:00 pm
987 87 240-81 and 98787261-38
Evento nocturno en Chankanaab con la Travesía Sagrada Maya
El gobierno municipal de Cozumel está organizando un evento único y divertido para el 17 de mayo cuando lleguen los canoeros maya o "Mensajeros de la Luna".
Este evento especial tendrá lugar en el parque Chankanaab, en el área de la laguna. Hay dos tipos de admisión: brazalete general y brazalete "VIP".
Sólo hay disponibilidad de 50 brazaletes VIP para atender a este evento único e incluyen: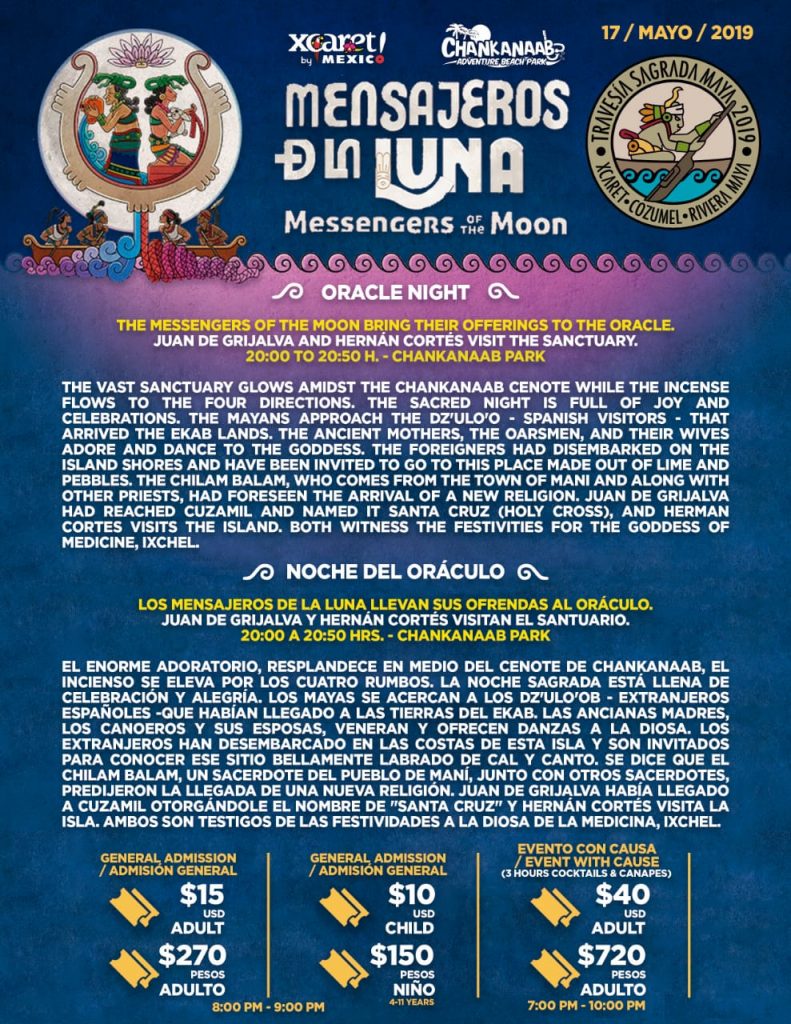 De 7 pm a 10 pm, área preferencial en la laguna.
Bebidas nacionales, cerveza, vino y canapés regionales.
De 8 a 9 pm el espectáculo de artistas y bailarines de Xcaret.
Los brazaletes VIP tienen un costo de $40 dólares estadounidenses para adultos. Los niños menores a 12 años entran gratuitamente. Los fondos que se recauden se donarán al DIF (Desarrollo Integral de la Familia).
Otros boletos que tenemos disponibles son:
Entrada general: adulto, $15 dólares y adolescentes de 12 a 17 año, $ 10.00 dólares estadounidenses. Los menores a 12 años, entran gratuitamente.
La entrada general incluye:
Asientos generales de 8 a 9 pm.
Espectáculo de artistas y bailarines de Xcaret.
Los brazaletes estarán a la venta en Fantasy Travel Experts y nuestra oficina se ubica en:
Calle 19 sur No. 419 entre Ave. 20 sur y 20 sur bis
Edificio de 3 pisos, colonia Andrés Q. Roo
de lunes a viernes de 9:00 am a 1 pm y de 5:00 pm a 7:00 pm
987 87 240 81 y 98787261-38
Latest posts by Laura Wilkinson
(see all)