COVID 19 Testing Cozumel
Regulation for COVID Testing to Enter the US Ends
COVID Testing in Cozumel No Longer Necessary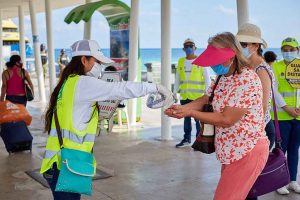 Starting June 12, 2022 the US Center for Disease Control (CDC) is resending their order requiring all persons to show a negative COVID-19 test result (or documentation of recovery) prior to boarding a flight into the United States.
Non US Citizens will still be required to provide proof of vaccination to travel to the US.
For more information see Requirement for Proof of COVID-19 Vaccination for Air Passengers.
Concluye la disposición de prueba COVID para ingresar a los Estados Unidos de Norteamérica
A partir del 12 de junio de 2022, el Centro de Control de Enfermedades de los Estados Unidos (CDC) retransmite la orden a través de la cual se exigía que toda persona
debía demostrar resultados negativos en la prueba COVID-19 (o documentos de su recuperación) antes de abordar un vuelo con destino a ese país.
Esta disposición para viajar a los Estados Unidos de Norteamérica continuará vigente para ciudadanos que no son estadounidenses.
Para más información, consulte los requisitos de prueba de vacunación contra la COVID-19 para los pasajeros de los aviones.
Latest posts by Laura Wilkinson
(see all)