Cozumel 2023 Property Taxes Predial
Discounts for Predial (Property Tax) & Garbage Collection fees 2023 Announced

Cozumel residents are invited  to take advantage of the discounts offered by the "Early Bird" program, by paying their property tax, and annual garbage collection in January.
This property taxes and garbage collection payment program is in  effect from January 2nd to March 31st. the 2023 with discounts ranging 15% to 10%. Additionally  there is a 10% discount for garbage collection that will end on February 28
Anuncian descuentos en el pago del impuesto predial y recolección de basura 2023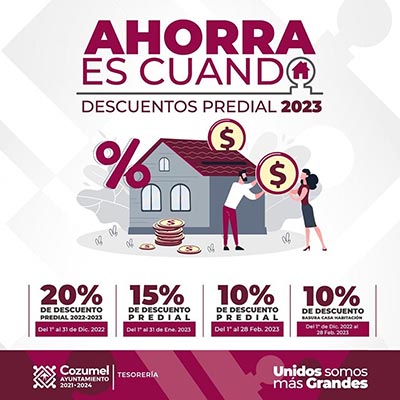 Se invita a los habitantes de Cozumel a aprovechar los descuentos que ofrece el programa "para los madrugadores", pagando su impuesto predial y la recolección anual de basura en el mes de enero.
Este programa de pago de impuesto predial y recolección de basura estará vigente del 1º de enero al 28 de febrero de 2023 con descuentos que van del 15 al 10%, y 10% de descuento en la recolección de basura.
Latest posts by Laura Wilkinson
(see all)