Cozumel Airport
Cozumel's International Airport Being Remodeled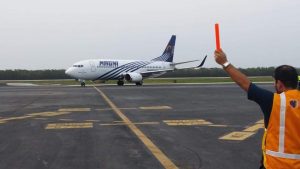 Cozumel's international airport is in the process of getting a much needed facelift.
In a recent interview Jorge Carlos Campos Romero, manager of the terminal operated by Aeropuertos del Sureste (Asur) reported that construction is already underway, and includes:  the expansion of the Immigration area, new rest rooms,  additional administrative offices and the  redesign of passenger arrivals, facilitating a smoother flow.
In 2019 according to Asur statistics, the airport greeted 552,633 national and international travelers.
In 2020, Cozumel greeted  270,757 passengers, while in 2021 it received 526,518.
The remodel is scheduled to be completed by the end of 2022.
LOCAL TIP:  The Cozumel Immigration office has already moved to the departure area.  It is no longer necessary for Temporary or Permanent Residents to visit the offices of Immigration in the Departure area prior to checking in.
Cozumel Airports largest passenger arrivals are from the United States, Canada and other states of Mexico.
Cozumel is currently connected through United Airlines with Houston, Denver, Los Angeles, Chicago. While through Southwest, with Houston; American Airlines connects with: Miami, Dallas, Charlotte and Austin. While with the Frontier airline it connects with Chicago and Denver, and Sun Country, with Dallas.
El aeropuerto de Cozumel se encuentra en remodelación
El aeropuerto de Cozumel está en proceso de recibir una muy necesaria remodelación.
En una entrevista reciente, Jorge Carlos Campos Romero, gerente de la terminal operada por Aeropuertos del Sureste (Asur), informó que la construcción está en marcha e incluye la ampliación del área de Migración, nuevas salas de descanso, oficinas administrativas adicionales y el rediseño de llegadas de pasajeros, haciendo que el flujo sea más expedito.
De acuerdo con las estadísticas de Asur, en 2019 el aeropuerto recibió 552,663 viajeros nacionales e internacionales.
En 2020 Cozumel recibió a 270,757 pasajeros, mientras que en 2021 recibió a 526,518.
Se tiene previsto que la remodelación concluya a finales de 2022.
CONSEJO LOCAL: La oficina de Migración de Cozumel ya se trasladó a la zona de salidas. Ya no es necesario que los Residentes Temporales o Permanentes visiten las oficinas de Migración en el área de salidas antes de registrar su salida.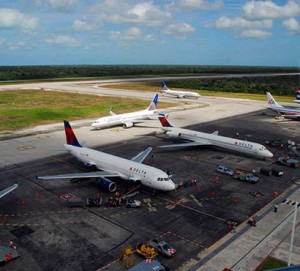 La mayor cantidad de pasajeros que llegan al aeropuerto de Cozumel provienen de los Estados Unidos, Canadá y otros estados de México.
Hoy en día Cozumel las conexiones con Cozumel son a través de United Airlines con Houston, Denver, Los Ángeles, Chicago. En tanto que con Southwest son a Houston. American Airlines conecta con Miami, Dallas, Charlotte y Austin. Mientras que la aerolínea Frontier conecta con Chicago y Denver, y Sun Country con Dallas.
Latest posts by Laura Wilkinson
(see all)