Cozumel Cruise Ship Arrivals
28 Cruise Ship Arrivals Scheduled for this Week
Cozumel Cruise Ship arrivals for the second week of March  show  "high season /  nearly Pre-pandemic level" arrivals  with 28 ships scheduled to call into port this week   This same week in 2019 there were 36 ships in port.
All three of Cozumel's cruise piers – Puerta Maya (11 arrivals), TMM/SSA International (8 arrivals), and Punta Langosta (9 arrivals) – will each see arrivals this week.
It's been estimated that nearly 40,000 people will visit Cozumel during this period.
Está programado el arribo de 28 buques turísticos para esta semana
Se espera que los arribos de buques turísticos a Cozumel para la segunda semana de marzo muestren un nivel de "temporada alta/casi pre-pandémico" con 28 buques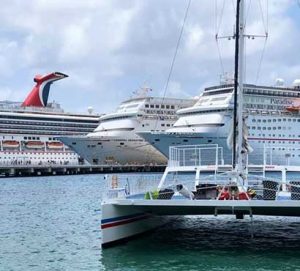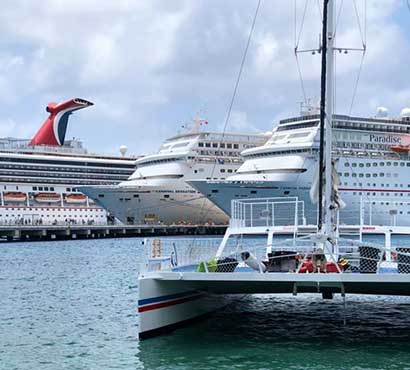 tocando puerto esta semana. En 2019 arribaron a puerto 36 buques esta misma semana.
Cada uno de los tres muelles destinados para buques turísticos en Cozumel recibirán buques esta semana: Puerta Maya (11), TMM/SSA Internacional (8), y Punta Langosta (9).
Se calcula que alrededor de 40,000 personas visitarán Cozumel durante este periodo.
Un indicador real de la temporada alta de buques turísticos en Cozumel es "20 en el puerto"; también conocido como 20 arribos en una semana. El periodo de mayor afluencia suele ser de mediados de noviembre hasta mediados de abril.
Latest posts by Laura Wilkinson
(see all)