Cozumel English Language Church
Communitas, Cozumel's English Language Church to Resume Sunday Services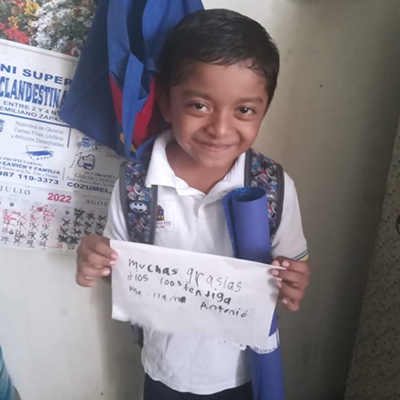 Communitas, the English Language Congregation of Cozumel will resume Sunday services at 9:00 am, November 27 at the Eben Ezer Presbyterian Church on 30th Avenue and 10th Street North.
This Saturday, November 19, at 9:30 at Buccanco (4.5 km Hotel Zone North), the congregation is hosting a Preview Gathering.  A breakfast will be available from the menu. There will be a get-acquainted time followed by a brief presentation of the mission of Communitas and it ministries to those in need on the island. Curious visitors and returning attenders are welcome to attend.
Communitas is an interdenominational congregation which sponsors a weekly service of Christian worship. Its services are seasonal but its ministries to the island are year around. Monthly volunteers in the Food Bank pack generous end-of-the-month bags of groceries and supplies for over 32 families. Communitas also assists a small Mexican congregation with monthly packets of food and sanitary items to a congregation of prison worshipers in the Cozumel island prison.
For more information – https://m.facebook.com/groups/1769941493269595/about/
Communitas, la iglesia en idioma inglés en Cozumel reanudará sus servicios dominicales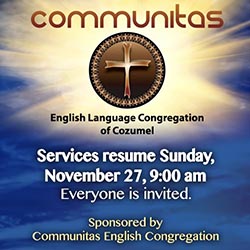 Communitas, la Congregación en idioma inglés en Cozumel reanudará los servicios dominicales a las 9:00 am el 27 de noviembre en la Iglesia Presbiteriana Eben Ezer en la Avenida 30 y la Calle 10 Norte.
Este sábado 19 de noviembre a las 9:30 en Buccanos (km 4.5 en la Zona Hotelera Norte), la congregación será anfitriona de una reunión preliminar.  Se ofrecerá un desayuno del menú. Habrá tiempo para conocerse, seguido de una breve presentación de la misión de Communitas y sus ministerios a los necesitados de la Isla. Son bienvenidos los visitantes curiosos y quienes vuelven a asistir.
Communitas es una congregación interdenominacional que patrocina un servicio semanal de culto cristiano. Sus servicios son por temporadas, pero sus ministerios en la Isla se llevan a cabo todo el año. Los voluntarios del Banco de Alimentos empacan generosas bolsas los fines de cada mes con víveres y suministros para más de 32 familias. Communitas también ayuda a una pequeña congregación mexicana con paquetes mensuales de alimentos y artículos sanitarios a una congregación de fieles en la cárcel de la isla de Cozumel.
Latest posts by Laura Wilkinson
(see all)