Cozumel ExPats Consulate
U.S. Consulate General Merida, Mexico
Message for U.S. Citizens: Town Hall Meeting in Cozumel
Tuesday, March 3, 2020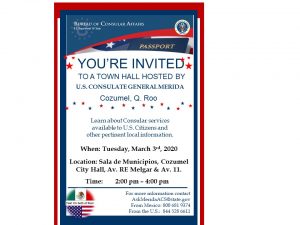 The U.S. Consulate General in Merida invites all U.S. citizens to join us for a Town Hall event on Tuesday, March 3, 2020 in Cozumel at 2:00 p.m. at the Sala de Municipos located at the Cozumel City Hall on Av. RE Melgar & Av. 11.  At this meeting Consulate staff will provide information on Consular services as well as other pertinent local information.
The agenda for this year's event is as follows:
Welcome and opening remarks from Cozumel Consular Agent Terri Barnhart-Ocejo
Remarks by U.S. Consulate General Merida's American Citizen Services Chief Natalia Almaguer
Remarks from the Federal Benefits Unit (Social Security Administration) from U.S. Embassy Mexico City
Remarks from Cozumel's Director of Tourism Pedro Hermosillo
Remarks from Mexican Census Bureau (INEGI)
Remarks from Andrea Sekula of Costamed Hospital regarding health insurance acceptance in Mexico
Remarks from Monica Alvarez from the Instituto Quintanarroense de la Mujer
Questions and Answers session
Please come and bring questions about issues that are important to you. Staff will be available after the remarks to answer individual questions.  We look forward to seeing you there.
Please note that we will not provide any consular services at the town hall.
Contact information:
U.S. Consulate General, Merida
Within Mexico:  01-999-316-7168
From the United States:  1-844-528-6611
State Department – Consular Affairs
888-407-4747 or 202-501-4444
Enroll in Smart Traveler Enrollment Program (STEP) to receive security updates
Follow the US Consulate on Facebook and Twitter
Latest posts by Laura Wilkinson
(see all)