Cozumel Fishing Tournament
Details on the 46th Annual Cozumel Fishing Tournament
Rita Absher discusses the May 13 – 14 Tournament & Events …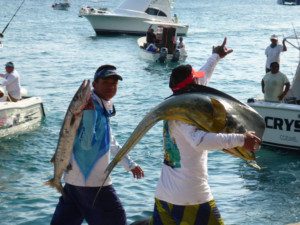 Another year, another fishing tournament.  This year will be the 46th.  In spite of reports that the "Rodeo de Lanchas  Mexicanas"  might not be held this year due to political reasons – the island's largest tournament is a GO!   Events will take place 12-14 May. Friday the 12th , as is the norm, is the banquet dinner for the participants, with the actual fishing days being on Saturday and Sunday the 13th and 14th.
No word yet on how many boats have already inscribed for the tournament,  I personally am curious to see how many participants there will be this year, as I do believe overall tourism has been down.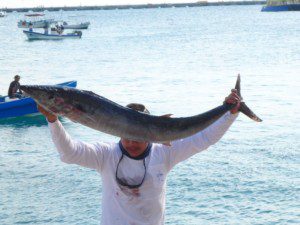 The organizers have announced the prizes, and as usual they include:   cars, trucks, motos and money.  First place is a Mercedes Benz car.  Second place is a truck.
This tournament will also be catch & release, with the exception of the Blue Marlin, which can also be caught as long as it is 85 inches minimum.  Boats will receive 3,000 points for catch-and-release of the blues.  Sharks are not permitted.  White Marlin and sailfish are both catch-and-release.  The catch-and-release must be accompanied  with a video.
Each boat is allowed one specimen per species each day.  This means if you catch 4 dorado in one day, only one can be taken into consideration for the day.  However, if you catch 4 dorado and 1 barracuda, one dorado and one barracuda can be submitted.
Fishing starts at 8AM each day and scales close sharply at 6pm.  The scales open at 4pm.  Whether you are in the tournament or just want to people watch, at the end of each day head down to the ferry pier about 4PM and watch the weigh-ins.
For more information, check out the tournament webpage.
Rita Absher is the owner of Albatros Charters, a company that specializes in deep sea fishing, snorkeling, sunset trips and El Cielo tours.  Albatros Charters features fully equipped, comfortable boats, with all the requirements, the lures, the bait, the licenses and even the refreshments.
Detalles sobre el 46º torneo de pesca de Cozumel
Rita Absher platica acerca del torneo de Mayo 13 al 14 y los eventos . . .
Otro año, otro torneo de pesca. Este será el 46º año. A pesar de la información respecto a que posiblemente no se lleve a cabo el "Rodeo de Lanchas Mexicanas" debido a cuestiones políticas, ¡el torneo más grande de la Isla ES UN HECHO! Los eventos tendrán lugar del 12 al 14 de mayo. Como ya es costumbre, el viernes 12 se lleva a cabo la cena para los participantes y los días de pesca son el sábado 13 y el domingo 14.
Aún se desconoce la cantidad total de embarcaciones inscritas para el torneo. En lo personal,  me interesa ver cuántos participarán este año pues considero que, en general, el turismo ha disminuido.
Los organizadores han dado a conocer que los premios, como siempre, incluyen: autos, camionetas, motocicletas y dinero. El premio del primer ligar es un auto Mercedes Benz. El segundo lugar es una camioneta.
Este torneo también será de atrapar y soltar, exceptuando el marlín azul que también puede pescarse siempre y cuando sea de 85 pulgadas (2.16 mts) como mínimo. Las embarcaciones recibirán 3,000 puntos por pescar y liberar a los azules. No se permite pescar tiburón. El marlín blanco y el pez vela también son para atrapar y soltar. La práctica de atrapar y soltar debe acompañarse con un video.
A cada embarcación se le permite una especie de pez por día. Ello significa que si usted pesca 4 dorados en un día, sólo uno se tomará en cuenta para el día. Sin embargo, si pesca 4 dorados y 1 barracuda, un dorado y una barracuda pueden presentarse.
La pesca comienza a las 8 a.m. cada día, y el pesaje cierra en punto de las 6:00 p.m. El pesaje inicia a las 4:00 p.m. Ya sea que usted participa en el torneo o sólo quiere ver gente, al final del cada día diríjase al muelle del centro alrededor de las 4 p.m. para ver el pesaje.
Puede encontrar mayor información en la página web del torneo.
Rita Absher es propietaria de Albatros Charters una empresa especializada en pesca profunda, práctica de esnórquel, viajes al atardecer y excursiones a El Cielo. Albatros Charters cuenta con embarcaciones totalmente esquipadas y cómodas, con todos los requisitos, carnada e incluso refrescos.    
Latest posts by Laura Wilkinson
(see all)