Cozumel Grouper Season
Grouper Season Closed from February 01 – March 31
 Respect their breeding season…..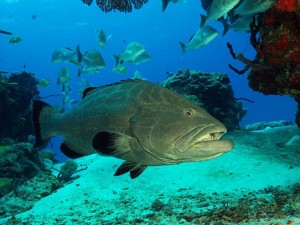 All types of Grouper  fish are not in Season in our area, the state of Quintana Roo, in Mexico, from February 1st – March 31st.
When the season is closed it  means no one is allowed to fish any type of  Grouper in Quintana Roo for 2 months; so whatever type of fishing you do, spearfishing, bottom fishing or fishing from shore; there is a 100% closure (Veda).
Quintana Roo is the state we live in, with popular destinations like Cancun, Isla Mujeres, Puerto Morelos, Playa del Carmen, Riviera Maya, Cozumel, Puerta Aventuras, Tulum and Mahahual.
Grouper (Mero)  in the Cozumel area spawn each year around March at predictable times and in predictable places. The Mexican  Government decided to have a fixed annual closed Grouper season (Veda) less than 5 years ago.
Grouper can be left  alone to reproduce. Wonderful  for snorkelers and scuba divers. And nice for fishermen; so that we can have fish for the future.
It takes a long time for Grouper to reach maturity. Much longer than for example fish like Mahi Mahi and Triggerfish. This means that if a large number of mature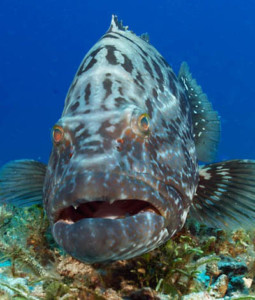 Grouper adults are fished one year, it will take a long time before the Grouper population can return to normal. The size of the population can also be negatively affected if the fish are caught before they have had the chance to spawn. These characteristics combined with the relatively strong demand for Grouper fillet suggest that some measures simply had to be taken.
Balance is the key!
When you are here in Mexico, living or on vacation, just don't order Grouper during closure. Do not buy it. Do not order it in a restaurant. You might be told "No worries, it is frozen from before the Closure. We froze it during the Season"
Don't take the chance. Fresh Grouper tastes so much better at the beginning of April, then frozen during closure. Something to look forward too!
Veda en la pesca de mero del 1º de febrero al 31 de marzo
Respete la temporada de reproducción…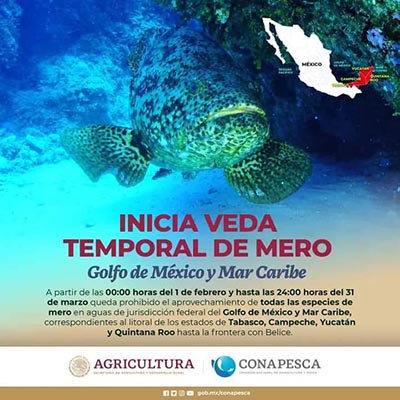 La pesca de todos los tipos de mero en nuestra zona, el Estado de Quintana Roo, estará en veda del 1º de febrero al 31 de marzo.
La veda significa que nadie puede pescar ninguna clase de Mero en Quintana Roo durante dos meses. Por lo que cualquier tipo de pesca que usted realice ya sea pesca submarina, de fondo o desde la costa estará 100% en veda.
Quintana Roo es el estado donde vivimos, con destinos populares como Cancún, Isla Mujeres, Puerto Morelos, Playa del Carmen, Rivera Maya, Cozumel, Puerto Aventuras, Tulum y Mahahual.
El mero pude dejarse solo para que se reproduzca. Esto es maravilloso para quienes practican esnórquel y para los buzos al igual que para los pescadores ya que podremos tener peces para el futuro.
El mero tarda mucho en alcanzar a madures; mucho más que, por ejemplo, peces como el dorado (mahi mahi) y el pez ballesta. Esto significa que, si durante un año se pesca una gran cantidad de adultos mayores de mero, deberá transcurrir mucho tiempo para que vuelvan a reproducirse. Estas características, combinadas con la gran demanda de filetes de mero, obligan a tomar medidas.
¡La clave es el equilibrio!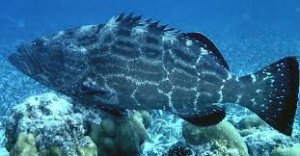 Cuando usted se encuentra aquí, en México, viviendo o de vacaciones, no pida mero durante la veda. No lo compre. No lo ordene en un restaurante. Es posible que le digan: "No se preocupe; fue congelado antes de la veda. Los congelamos durante la temporada".
No se arriesgue. El mero fresco sabe mucho mejor a principios de abril, que el congelado durante la veda. ¡Algo que esperamos con ansias!
Latest posts by Laura Wilkinson
(see all)