Cozumel Ironman 2017
Cozumel's 9th Annual Ironman This Sunday:  A Quick Overview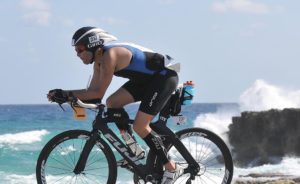 This Sunday Cozumel Hosts the 9th Tri – Here's the details……
This Sunday, November 26th, Cozumel will host their  9th Ironman Cozumel.  Since it's inception this has been a sold out event: 2,800 participants  and their supporters will be here on island for  this long-awaited event.
Check out this YouTube video for this year's race route.  The official website ironmancozumel.com has the details for the race route and various requirements for competitors.
Race Times & Road Closings:
The elite category  race start is at 7:15 am at the Marina Fonatur.  The entire downtown waterfront will be closed off so spectators can cheer on the competitors, including many local athletes.   Many roads, including the cross island road, southern and northern hotel zones will be restricted to one-lane traffic only.  Expect delays, re-routing, and increased patience.  Island residents in various colonias will have their trash collection days adjusted to allow additional support post-event.
For more information on the Cozumel Ironman, athlete stats, and information on the professional athletes, check out the official webpage.
Este domingo se lleva a cabo el el 9º Ironman Cozumel. Un vistazo rápido
El 9º triatlón tendrá lugar en Cozumel este domingo. Aquí están los detalles. . .
El domingo 26 de noviembre, la Isla de Cozumel será anfitriona del 9º Ironman. Desde sus inicios ha sido un evento cuyas ventas se agotan. Aquí, en la Isla, contaremos con la presencia e 2,800 participantes y sus fanáticos.
En YouTube  podrán cuál será la ruta de la carrera este año. En el sitio oficial ironmancozumel.com encontrarán detalles de la ruta y diversos requisitos para los competidores.
Horario de las carreras y cierre de vialidades:
La carrera de la categoría élite inicia a las 7:15 am en marina Fonatur. Todo el
malecón estará cerrado para que los espectadores puedan animar a los competidores, entre los cuales hay muchos atletas locales. Diversas vialidades, incluyendo la carretera transversal, las zonas hoteleras norte y sur se limitarán a una sola dirección de transito vehicular. Podrán toparse con retrasos, re-direccionamiento de transito y mayor paciencias. Se ha ajustado la recoja de basura en diversas colonias brindando apoyo después del evento.
Para obtener mayor información sobre Ironman Cozumel, las estadísticas de los atletas e información sobre los profesionales, visiten la página web oficial.
Latest posts by Laura Wilkinson
(see all)