Cozumel Lobster Season Lobster Prices
Fishermen Attribute Low Lobster Sales to Inflation:  Prices Dropped
The Cozumel Fishermen's Cooperative (Cooperativa Pesquera Cozumel) are reporting lower than normal sales this lobster season.  In fact, their director, José Ángel Canto Noh, stated in a recent press conference that sales have not rebounded to the level of  2020.  Canto Noh went on to say that his long term clients are now only purchasing 30 kilos per order as opposed to the pre-2020 orders of over 100 kilos.
In fact, since the cooperative flash freezes their catch they're offering lobster tail at the amazingly low price of only $400 mxn/kilo, which is about 200 – 300 pesos less than the normal price.
 Quintana Roo – the State in which Cozumel is located –  has an open lobster season runs from July until the end of February yearly, with a yearly quota of 25 tons of full lobster and 15 tons of tail.
The Cooperative "flash freezes" much of the lobster tails caught during the open season, so while lobster is served in many island restaurants, it does not mean that these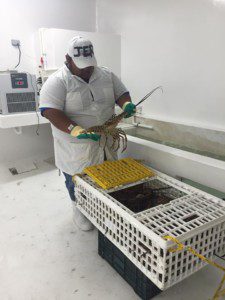 establishments are not adhering to State regulations.
Los pescadores atribuyen las bajas ventas de langosta a la inflación. Bajaron los precios
En esta temporada de langosta, la Cooperativa Pesquera Cozumel reporta ventas más bajas de lo normal.  De hecho, su director, José Ángel Canto Noh, en una reciente conferencia de prensa expresó que las ventas no han repuntado al nivel del 2020.  Canto Noh añadió que sus clientes a largo plazo ahora sólo compran 30 kilos en cada pedido, contarrio a los pedidos anteriores al 2020, que superaban los 100 kilos.
Desde que la cooperativa congela sus capturas, ofrecen la cola de langosta al sorprendente precio de tan solo $400 pesos/kilo; alrededor de 200 – 300 pesos menos que el precio regular.
La temporada abierta para captura de langosta en Quintana Roo, el Estado donde se encuentra Cozumel, va desde julio hasta finales de febrero de cada año, con una cantidad anual de 25 toneladas de langosta completa y 15 toneladas de colas.
La Cooperativa "congela rápidamente" gran parte de las colas de langosta que fueron capturadas durante la temporada abierta, por lo que, aunque muchos restaurantes de la Isla sirvan langosta, no significa que estos establecimientos no cumplan la normativa estatal.
Latest posts by Laura Wilkinson
(see all)