Cozumel News Karina Carrion Almas con Tradicion 2023 Festival
Almas con Tradicion 2023 Festival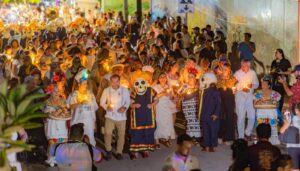 By Karina Carrión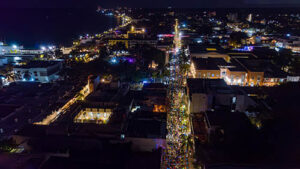 Cozumel, QRoo. – The official inaugural ceremony of the Day of the Dead festival Almas con Tradición 2023 (Souls with Tradition 2023] from October 28th to November 3rd took place recently with cultural, artistic, and sports events with the special participation of Mojiganga de Zacualpan de Amilpas from the State of Morelos.
The mayor of Zacualpan de Amilpas, State of Morelos, Daniel Fernando Domínguez Ocampo, and his wife, Jessica Manzanares Barreto, honorary head of DIF in said municipality, were welcomed by Juanita Alonso Marrufo, mayor of Cozumel, who emphasized that Almas con Tradición Festival is an event that has brought the government and civil organization together with the invaluable participation of the people of Cozumel.
"In each edition we have sought to enrich our Festival further through cultural exchanges such as this year's with the important visit of the State of Morelos, with the traditional mojiganga of Zacualpan de Amilpas with its 185-year traditional festival, considered the most important cultural religious parade of the south-central region of the country, with a yearly attendance of 40 thousand visitors."
With all this multi-cultural richness and range, the current administration of Cozumel envisions this event as a window exposing us to the world, showing part of what being a Mexican and proud Cozumelenian means. Enjoy this Almas con Tradición Festival caringly created for all of you.  And remember that living our cultural traditions in Cozumel, united we are better," Cozumel's mayor expressed..
As part of the inaugural protocol, the iconic public clock was embellished with a video mapping reminiscing previous editions of this Festival that for the third consecutive year is taking place in the Island. "Recoveco", a band known for its interest in reminiscing, preserving, and promoting music from Veracruz, fused with contemporary Afro-Cuban, Salsa, Rock and Bolero rhythms, will be performing.
After the opening ceremony, the cultural-artistic program was launched by the official ballet followed by Julkin group's pre-Hispanic dance, the Bailes Caribeños dance troupe of the Culture Deputy Office, and the stellar performance of  Mojiganga de Zacualpan de Amilpas from the State of Morelos who stepped down from the stage to dance along the audience to the music of "La Iniciativa" band, also from the State of Morelos.
The main park of this Magical Town was dressed-up in colors for this Festival, while authorities invited town residents to join the activities that will conclude on Friday, November 3.
Festival Almas con Tradición 2023
Por Karina Carrión
Cozumel, QRoo. – En días recientes se  llevó a cabo la inauguración oficial del tercer Festival Día de Muertos "Almas con Tradición Cozumel 2023" que cobró vida del 28 de octubre al 3 de noviembre con actividades culturales, artísticas y deportivas, en las que se cuenta con la participación especial de las Mojigangas de Zacualpan de las Amilpas del Estado de Morelos.
Acompañada por el alcalde de Zacualpan de Amilpas del Estado de Morelos, Daniel Fernando Domínguez Ocampo y su esposa la honoraria del DIF de ese municipio, Jessica Manzanares Barreto, la presidenta cozumeleña, Juanita Alonso Marrufo,  dio la bienvenida a los presentes, destacando que el Festival Almas con Tradición es un evento que ha permitido unir voluntades, tanto del gobierno como de las organizaciones civiles y la invaluable participación de la sociedad cozumeleña.
"En cada edición hemos procurado enriquecer nuestro festival con intercambios culturales como el que viviremos este año con la importante visita del Estado de Morelos, con la tradicional mojiganga del municipio de Zacualpan de Amilpas, festiv
idad con más de 185 años de historia, considerado el desfile religioso cultural más importante de la región centro sur del país, al cual acuden cerca de 40 mil visitantes cada año" refirió.
"Con toda esta riqueza y gama multicultural, en la actual administración de Cozumel vislumbramos este evento como una ventana de exposición al mundo, mostrando parte de lo que significa ser mexicano y ser orgullosamente cozumeleños, disfruten mucho este festival Almas con Tradición que ha sido realizado con mucho cariño para todos ustedes. Y recuerden que viviendo nuestras tradiciones culturales en cozumel, unidos somos más grandes" expresó.
Como parte de este protocolo de inicio,  el emblemático reloj público fue engalanado con un video mapping en el que se proyectó una remembranza de las anteriores ediciones de este festival que se realiza por tercer año consecutivo en la isla, en el que para esta edición se
dio a conocer que se contará con la participación del grupo "Recoveco", conocido por su interés de rescatar, preservar y difundir la música veracruzana, fusionándola con ritmos contemporáneos como afro cubanos, salsa, rock y bolero.
Luego del acto inaugural dio paso al programa artístico cultural inaugurado por el ballet oficial de este festival, seguido por otros espectáculos como la danza prehispánica a cargo del grupo Julkiin, seguido por el grupo de Bailes Caribeños de la subdirección de Cultura y como espectáculo estelar la presentación de las Mojigangas de Zacualpa de las Amilpas del Estado de Morelos, quienes bajaron del escenario para interactuar bailando con el público al ritmo de la banda "La Iniciativa" del mismo estado.
El parque de este Pueblo Mágico se vistió de colores para recibir este festival en el que también estuvieron presentes, al tiempo en que las autoridades invitaron a los residentes a sumarse a las actividades con las que se concluirá el festival durante este viernes 3 de noviembre.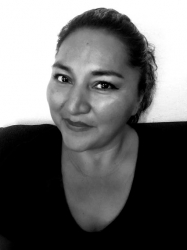 Latest posts by Kary Carrión
(see all)