Cozumel News Karina Carrion Cozumel taxi union demonstration
Cozumel taxi union demonstration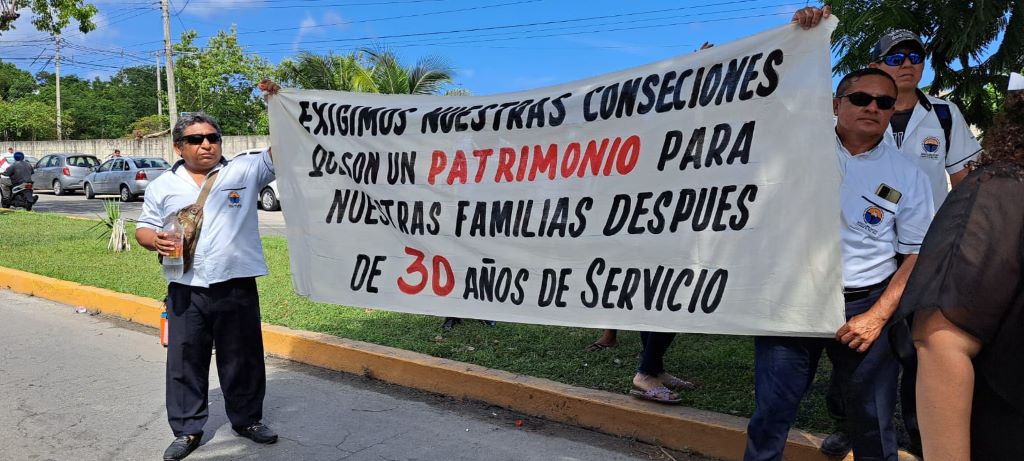 By Karina Carrión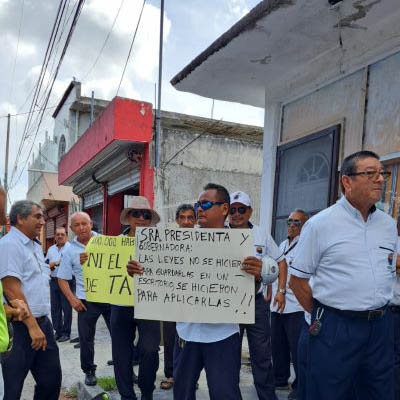 COUMEL, MX –  More than two hundred members and drivers of the Adolfo López Mateos Taxi Drivers Union of Cozumel protested outside Imoveqroo demanding concessions they say to be entitled to, after several decades.
Arturo Payán Tejero, Secretary General of the Union, reported that a letter has been delivered to the Government of the State of Quintana Roo itemizing the needs of the Union members, including the request for at least 200 concessions that are "necessary" to provide service to "the population."
Anuar García García, representative of the Instituto de Movilidad en Quintana Roo (Imoveqroo – Institute of Mobility), came out of the office to the road that was closed by the protesters to whom he assured that their concerns in their written petition would be given attention straightway and by which they expressed the need to immediately obtain their concessions as they do not want to do things outside of the law.
In turn, members and their relatives protested outside Imoveqroo, carrying placards with slogans against the government demanding their concessions. In some cases, they said that "we have been providing public transportation service for over 30years and have been promised concessions that do not arrive."
Some protesters lamented that during their struggle and while waiting to receive a concession, members have died, and their widows are still waiting to receive the concession or license plate that would allow them to guarantee their assets.
The members threatened that unless they get a favorable answer, they have considered taking other steps necessary to serve their interests, pointing out that if they need to carry out blockades, strikes or demonstrations, they will do so until their petition is attended to.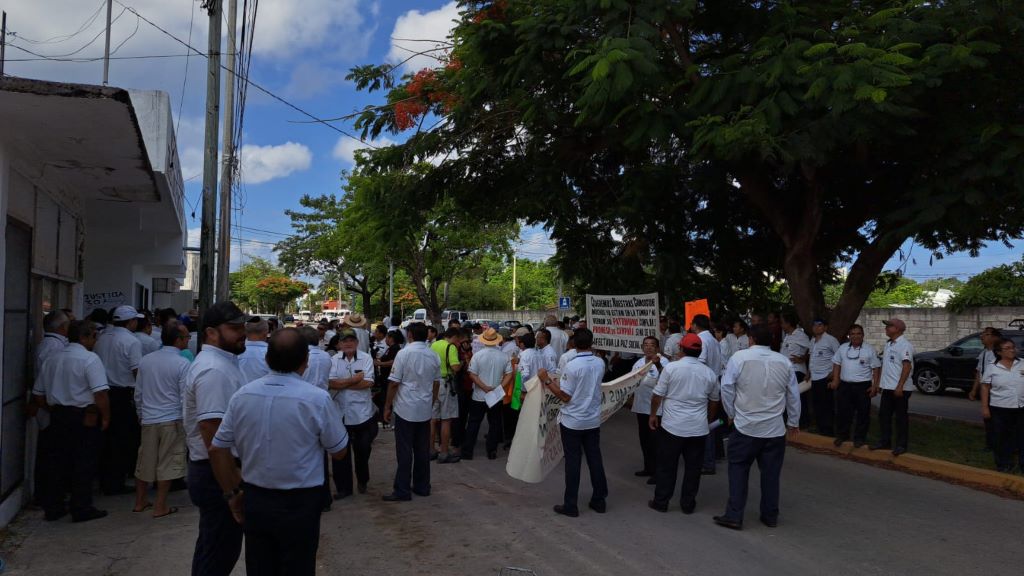 Manifestación del sindicato de taxis de Cozumel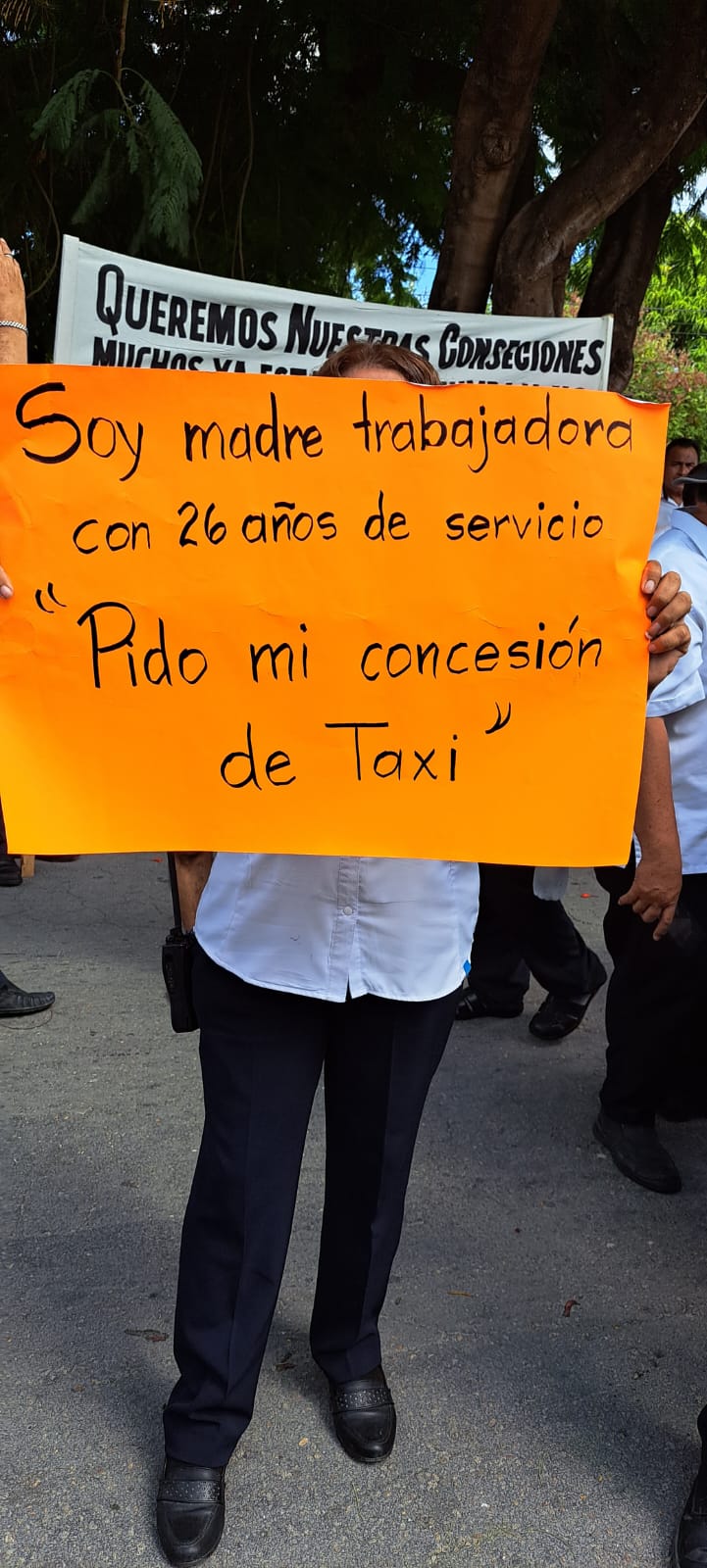 Por Karina Carrión
COZUMEL, MX.- Más de dos centenares de socios y chóferes del Sindicato de Taxistas "Adolfo López Mateos" en Cozumel,  se manifestaron afuera de Imoveqroo para exigir concesiones que aseguraron, se han ganado por varias décadas.
Arturo Payan Tejero, secretario general del Sindicato, dio a conocer que entregó un escrito dirigido al Gobierno del Estado de Quintana Roo en el cual detallan las necesidades los agremiados, entre éstos la petición de al menos más de 200 concesiones "necesarias" para así poder  brindar el servicio a "la población".
En esta ocasión el delegado del Instituto de Movilidad en Quintana Roo (Imoveqroo), en Cozumel,  Anuar García García, salió al exterior de las oficinas donde permaneció cerrada la vialidad con la presencia de los manifestantes a quienes les garantizó brindar la atención inmediata a su petición al enviar el documento que ellos le hicieron llegar y en el cual, plasman su necesidad de obtener sus concesiones de manera inmediata,  ya que no quieren salirse de la legalidad.
Por su parte, los socios y familiares que se manifestaron afuera de Imoveqroo, portaban pancartas con consignas contra el gobierno exigiendo les entreguen sus concesiones, en otros casos les referían que "tenemos más de 30 años dando el servicio de transporte público y nos han prometido las concesiones y no llegan".
Algunos de los denunciantes lamentaron que durante su lucha y espera por recibir una concesión han fallecido socios y las viudas siguen en espera de poder recibir la concesión o placa que les permita garantizar el patrimonio de sus familias.
Los socios sentenciaron que de no obtener repuesta favorable, han considerado tomar otras acciones necesarias por así convenir a sus intereses, señalando que si tienen que hacer bloqueos, paros o marchas las van a hacer hasta que sea atendida su petición.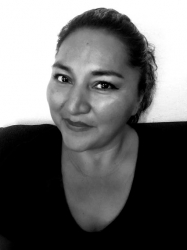 Latest posts by Kary Carrión
(see all)