Cozumel News Karina Carrion Police Assistance Booths
Police Assistance Booths
By Karina Carrión
Cozumel, January 2023. – "We are taking one more step; one of many others we have undertaken since the beginning of the current municipal administration, to strengthen Public Safety works done in our Island", pointed out Juanita Alonso Marrufo, mayor of Cozumel, during the inaugural protocol ceremony of four of the 14 restored booths.
During the infrastructure launching tour, Juanita Alonso delivered a message in which she reviewed the actions taken in terms of Public Safety, as well as the goals set, highlighting the alliance of wills, where order, discipline and loyalty of the police officers prevail. In response to the magnificent disposition of the corps, she pledged her word and is keeping it.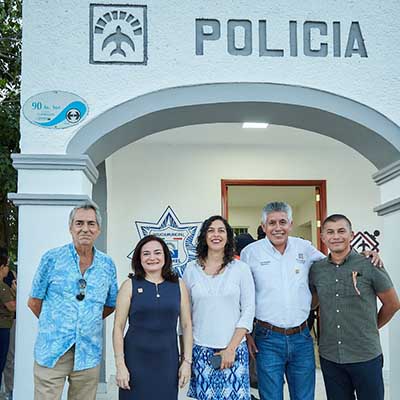 Likewise, she summarized the investment of close to 12 million pesos for patrol cars, thus doubling the number of vehicles in one year of her administration; the efforts made before the State Government for uniforms and basic training that amounted in two million pesos; training of 32 courses for 196 police members seeking their comprehensive training.
Cozumel's Mayor also recounted actions, emphasizing that: "We have made a commitment to the troops, and we are fulfilling it". When speaking about their salaries, wages, and benefits, she mentioned full and timely pays, where more than 45 million have been invested with resources of our own and from FORTAMUN; and in order to dignify the police work, a long-standing demand was met by taking out life insurance for one million pesos.
She also wished the spaces be preserved and that all help to take care of them; that by joining together we can make safer places of the parks and public squares for children to play, for our young people to practice some recreational activity and for our adults to go for walks.
"To build that environment, your local government is acting, and we will continue to work. We need the active participation of all of you. Let us not forget that security and social peace are the responsibility of all of us. We must remain united, because with facts is how we prove that united we are greater," concluded Cozumel's Mayor.
In each of the booths that were put into operation, the mayor introduced the police officer in charge of the place, inviting citizens to have confidence and make reports to this officer.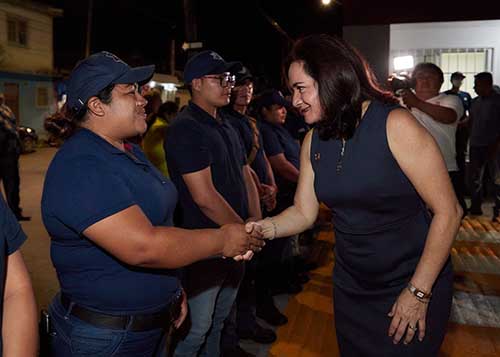 Also, representatives of each neighborhood committee welcomed the authorities and were thankful the restoration of these buildings, while all agreed to work together for the benefit of citizens in terms of security.
Carlos Daniel Pomol Gómez, Director of Public Works, was in charge of explaining that the civil works of  the 14 booths was carried out with resources from the Ramo 33 of the Fund for the Strengthening of Municipalities (FORTAMUN) with an investment of one million 616 thousand, 364 pesos and an additional 350 thousand for furniture, equipment and communication equipment.
The booths inaugurated last Monday are located in different parks located in the urban neighborhoods such as Flamingos II, San Miguel second stage, Inviqroo Cuzamil and Emiliano Zapata.
Casetas de policía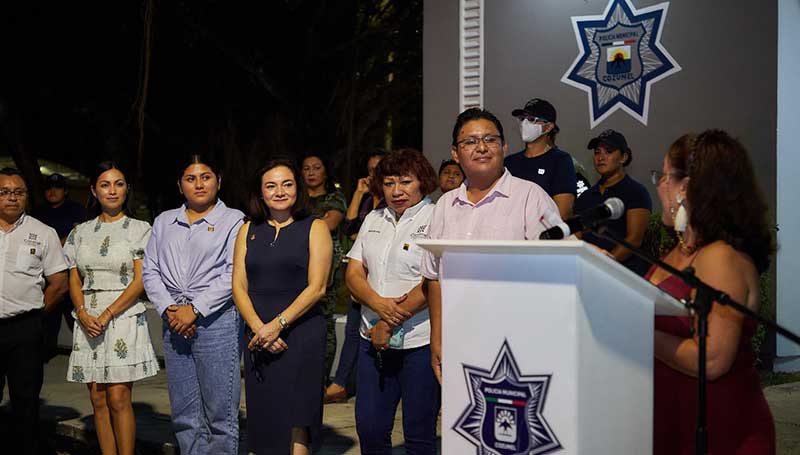 Por Karina Carrión.
COLLAGE CASETAS
Por Karina Carrión.
Cozumel, enero de 2023. –  "Estamos dando un paso más, uno de muchos otros que hemos emprendido desde el inicio de la presente administración municipal, para fortalecer las labores de Seguridad Pública en nuestra isla", destacó la presidenta municipal, Juanita Alonso Marrufo durante la ceremonia protocolaria inaugural de cuatro de las 14 casetas policíacas rehabilitadas.
Durante la gira para poner en marcha la infraestructura en mención la presidenta municipal, Juanita Alonso emitió un mensaje en el que hizo un recuento de las acciones ejercidas en materia de Seguridad Pública, así como las metas  trazadas, sobresaliendo la unión de voluntades, prevaleciendo el orden, disciplina y lealtad de las y los policías. En respuesta a la magnífica disposición de la corporación, empeñó la palabra y se les está cumpliendo.
Asimismo, prosiguió con la recapitulación, como la inversión cercana a los 12 millones de pesos para patrullas, con ello duplicando el número de parque vehicular en un año de administración; la gestión ante el Gobierno del Estado para uniformes y adiestramientos básicos que se tradujo en dos millones de pesos,  la capacitación en 32 cursos a 196 elementos procurando una formación integral.
La mandataria cozumeleña prosiguió con el recuento de las acciones en la que destacó: "Nos hemos comprometido con la tropa y estamos cumpliendo" al hablar de los sueldos, salarios y prestaciones que se pagan completas y puntuales, en los que se ha invertido más de 45 millones con recursos propios y del FORTAMUN y en aras de la dignificación de la labor policial se atendió una añeja demanda con la contratación del seguiro de vida por un monto de un millón de pesos.
Asimismo, deseó que los espacios se preserven y ayuden a cuidarlos; que unidos, hagamos los parques y plazas públicas, los más seguros para que los niños jueguen, que nuestros jóvenes practiquen alguna actividad recreativa y nuestros adultos acudan a dar un paseo.
"Para construir ese entorno, su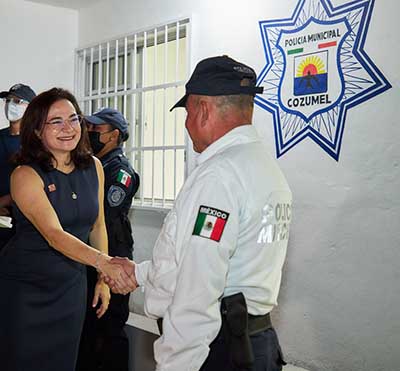 gobierno municipal está actuando y seguiremos trabajando. Necesitamos de la participación activa de todos ustedes, no olvidemos que la seguridad, la paz social es responsabilidad de todas y todos. Vamos a mantenernos unidos, pues así estamos demostrando con hechos que, unidos somos más grandes" finalizó la edil cozumeleña.
En cada una de las casetas que fueron puestas en marcha la presidenta municipal presentó al policía encargado del lugar, invitando a la ciudadanía a tener la confianza y emitir sus reportes ante este uniformado.
De igual manera representantes de los diversos comités vecinales al hacer uso de la palabra en cada colonia dieron la bienvenida a las autoridades y agradecieron por la rehabilitación de dichas edificaciones coincidiendo todos en el trabajo corresponsable para beneficio de la ciudadanía en materia de seguridad.
Por su parte el director de Obras Públicas, Carlos Daniel Pomol Gómez estuvo a cargo de la explicación de motivos en a que detalló que la obra civil de las 14 casetas se realizó con recursos del Ramo 33 del Fondo de Aportaciones de Fortalecimiento de los Municipios (FORTAMUN) con una inversión de un millón 616  mil , 364 pesos y 350 mil adicionales para mobiliario, equipamiento y equipo de comunicación.
Las casetas inauguradas este lunes están ubicadas en diversos parques ubicados en distintas colonias de la mancha urbana, tal como la Flamingos segunda etapa, San Miguel segunda etapa, Inviqroo Cuzamil y Emiliano Zapata.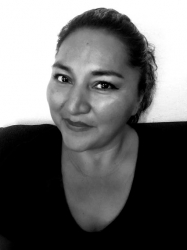 Latest posts by Kary Carrión
(see all)