Cozumel News Karina Carrion The Santa Cruz de Sabán celebration
The Santa Cruz de Sabán celebration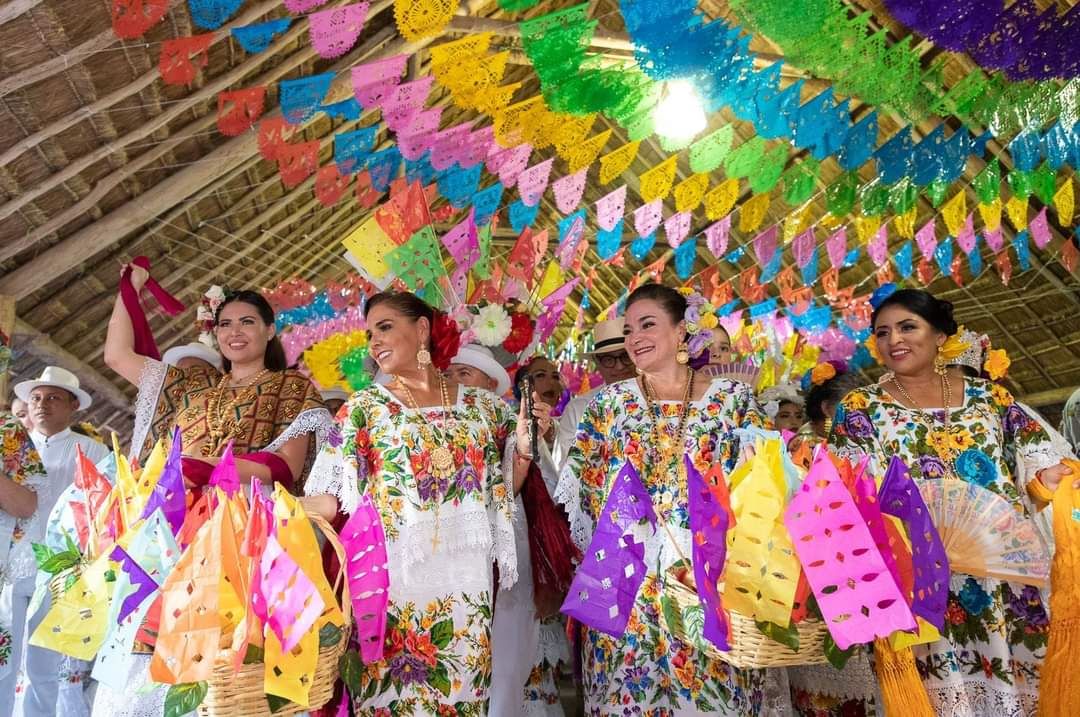 By Karina Carrión
The celebration of the 175th. edition in honor of the Santa Cruz de Sabán, in the village of El Cedral, concluded with the traditional dance of the pig's head, where nearly one hundred Cozumel families participated. The recovery of these events stood out for its austerity however praised by families who seek to preserve this celebration.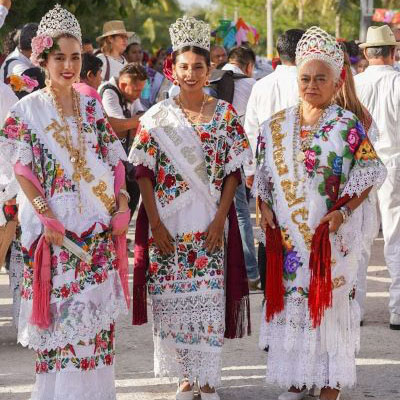 On Wednesday evening members of Comité Ejidal Villa Cozumel, headed by commissioner Azucena Flores, thanked all families participating in the dance as well as the Governor of the State Mara Lezama Espinosa and Juanita Alonso Marrufo, the mayor of Cozumel, who hosted the event's closing ceremony.
Colorful designs of "ternos" (traditional dress) and the "rebozos" (long woven scarfs), tiaras made of flowers, flower bouquets and ribbons as well as the "papel picado" (tissue paper with cut-out in shapes) were carried by the "mestizas"; while hats, the espadrilles, bandanas and jícaras (gourds) with the "tox" were the garments of the "mestizos" who carried the pig's heads to once again fulfill the promise each family had made to keep this tradition alive.
Unlike previous years, families enjoyed their participation without fences  forbidding them from taking pictures, so the members of the Board tanked those present for participating in the celebration I honor of Santa Cruz de Sabán in the village of El Cedral.
The group that opened the dance was led by the queen Ana Laura Salas Payán, and Torcacitas Gual, godmother of the Santa Cruz celebrations, together with volunteer ladies who joined Don Licho Cárdenas and his family in celebrating the commitment made by Don Casimiro Cárdenas in 1848.
La tradicional celebración de El Cedral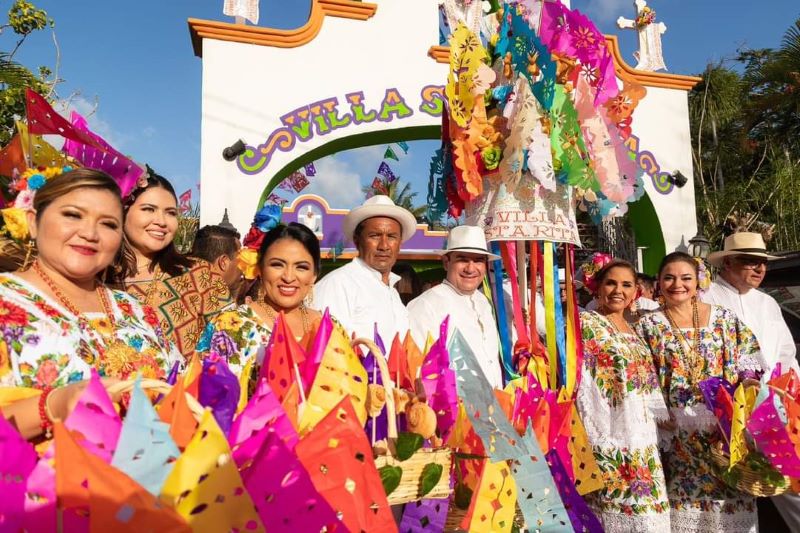 Por Karina Carrión
COZUMEL,  mayo – Con el tradicional baile de la cabeza de cochino en el que participaron cerca de cien familias cozumeleñas, concluyeron las tradicionales fiestas en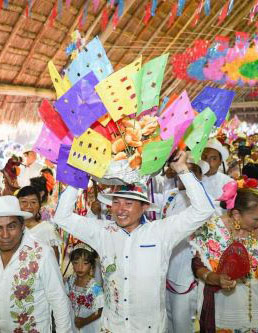 honor a la Santa Cruz de Sabán, en el poblado del Cedral, en su edición 175, en la que la recuperación de estas festividades se destacaron por ser austeras  pero aplaudidas por las familias que buscan preservar dicha celebración.
La tarde noche del reciente  miércoles, integrantes del Comité Ejidal Villa Cozumel, encabezados por la comisaria Azucena Flores, agradecieron  a todas las familias participantes en el baile, así como  a la Gobernadora del Estado,  Mara Lezama Espinosa y a Juanita Alonso Marrufo, presidenta municipal, quienes engalanaron la clausura de éstas festividades.
Coloridos diseños de ternos y rebosos, diademas de flores, ramilletes de flores y cintas con diseños diversos, así como banderas de papel picado, fueron portados por las "mestizas", mientras que los sombreros, las alpargatas,  los paliacates, y las jícaras con el "tox", eran las prendas de los "mestizos" que cargaban las cabezas de cochino para cumplir una vez más con la promesa de cada familia que busca mantener viva  dicha tradición.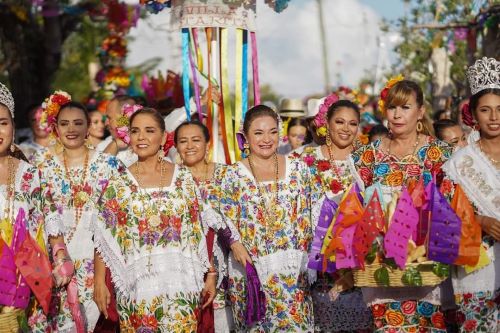 A diferencia de otros años, las familias disfrutaron su participación sin que existieran vallas que prohibieran acercarse a tomar fotografías, por lo que los integrantes de la directiva agradecieron a los presentes al ser partícipes de la celebración en honor a la Santa Cruz de Sabán, en el poblado del Cedral.
El grupo que abrió el baile fue encabezado por la reina Ana Laura Salas Payán;  y Torcacitas Gual,  como madrina de las fiestas de la Santa Cruz, junto con las Damas Voluntarias que acompañaron a Don Licho Cárdenas  y su familia en la celebración que mantienen como parte del compromiso que hiciera Don Casimiro Cárdenas, en el año de 1848.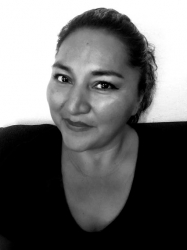 Latest posts by Kary Carrión
(see all)