Cozumel Weekly News in Photos
by Karina Carrion
COFEPRIS KEEPS SURVEILLANCE OPERATIONS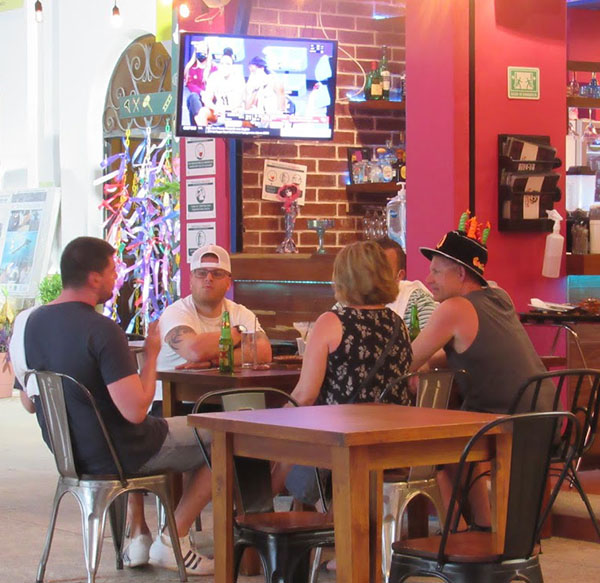 Since the beginning of the pandemic to date, COFEPRIS' staff has carried out over one hundred inspections to different businesses in Cozumel, resulting in the suspension of at least 50 of them as these have not complied with health prevention protocols against COVID-19. This situation is now declining,
So stated Miguel Pino Murillo, coordinator for the Commission the Protection Against Health Risks (COFEPRIS) who as well referred that despite of the reduced number of staff in the agency, they have kept permanent actions to ensure the work required to prevent the SARS-CoV-2 contagion.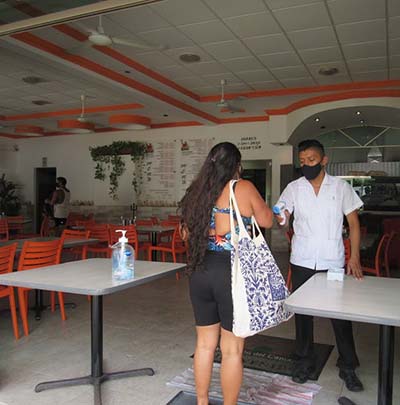 Pino Murillo affirmed that in addition to visits made to air and port terminals, they continue checking venues where there is a significant number of visitors such as hotels, restaurants, beach clubs, department stores, among others.
In Cozumel specifically since the pandemic began, a little more than one hundred inspections have been carried out, resulting in the suspension of 50 businesses where health protocols to prevent COVID-19 have been neglected, ranging from using a face mask, taking body temperature and social distancing within the premises.
He urged all other businesses to meet health standards in order to avoid fines which range from 200 to two thousand UMAs [Unit of Measure and Update] while clarifying that "it is not about putting an end to the business activities, but to avoid a health setback which could lead to an economic paralysis once again." .
SO FAR THIS YEAR, MORE THAN 41 KILOS OF DRUGS HAVE WASHED ASHORE IN COZUMEL
This after the most recent discovery on the eastern coast of the Island where a package with white powder, apparently cocaine, was found. The package was seized by elements of the Quintana Roo police and later handed over to the Attorney General's Office (FGR) for the corresponding procedures.
Having seen a suspicious package some tourists decided to report it to the authorities calling the 911 emergency number last Monday. Police forces were deployed o the eastern side of the Island, near the "El Mirador" beach and restaurant.
The police officers secured and bagged the rectangular package, wrapped with transparent tape bearing a white label; the package was torn at the bottom, so it was observed that the contents were a white and wet powder, looking like a drug. The package was transferred to the general office of Public Security for immediate reporting.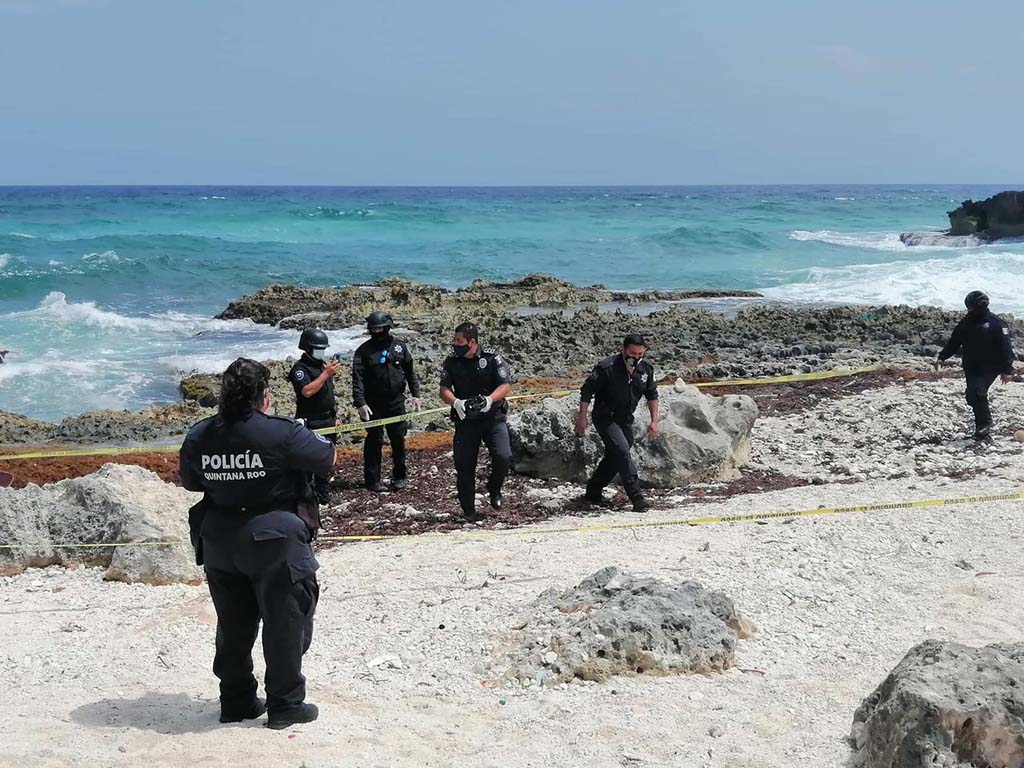 Following, Quintana Roo police agents traveled to Playa del Carmen making the evidence available to the federal authority.
It is worth mentioning that so far this year at least 41 kilograms of cocaine have been seized by elements of the Ministry of National Defense (SEDENA), in addition to at least three kilograms of dry weed, apparently marijuana, which have been turned over to the competent authority.
COLLAGE INFORMATIVO
Por Karina Carrión
COFEPRIS MANTIENE OPERATIVOS DE VIGILANCIA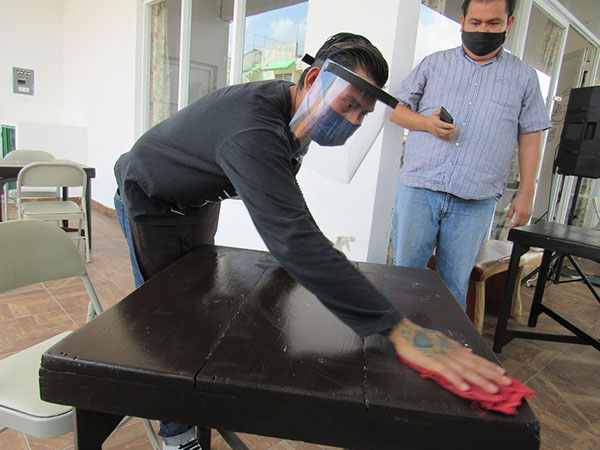 COZUMEL, abril.- Más de cien verificaciones ha realizado personal de COFEPRIS a diversos comercios en la localidad desde el inicio de la pandemia a la fecha en Cozumel, lo que ha derivado en que se concrete la suspensión por lo menos a 50 negocios ante la falta de cumplimiento de los protocolos sanitarios de prevención contra el COVID-19, situación que ha ido disminuyendo.
Así lo afirmó Miguel Pino Murillo, coordinador de la Comisión de Protección contra Riesgos Sanitarios (COFEPRIS) en Quintana Roo, refiriendo que pese al reducido número del personal de la dependencia, han mantenido acciones permanentes con la finalidad de poder cubrir el trabajo que se requiere como parte de la prevención para el contagio del virus del SARS-CoV-2.
El entrevistado aseguró que además de que efectuaron visitas a terminales aéreas y portuarias, también continúan verificando las instalaciones comerciales donde se registra el movimiento de un importante número de personas como en los hoteles, restaurantes, clubs de playa, tiendas departamentales, entre otros.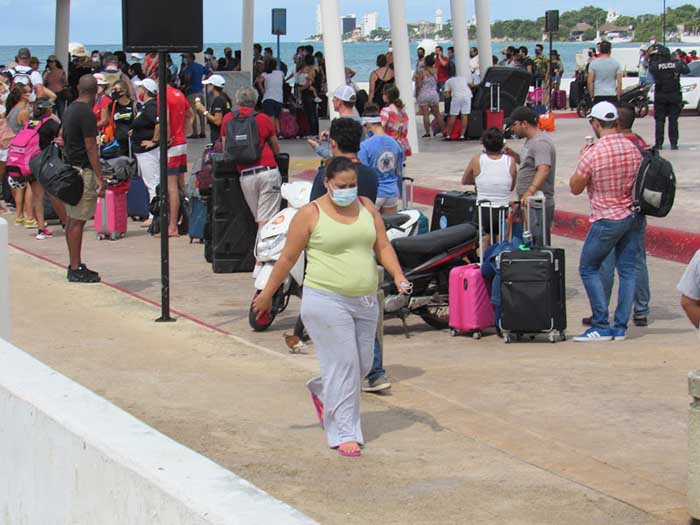 En el caso específico de Cozumel, explicó que en lo que va de la pandemia se han realizado poco más de cien verificaciones de las cuales, se ha derivado en la suspensión de 50 negocios donde se llegó a detectar la omisión de los protocolos sanitarios obligatorios por el COVID-19, los cuales van desde el uso del cubreboca, el uso de gel antibacterial, la toma de temperatura, así como el mantener la distancia entre una y otra persona dentro de cada recinto.
Por ello exhortó a los demás comerciantes a cumplir con las normas sanitarias a fin de evitar multas que podrían ir de los 200 a las dos mil UMAS, aclarando el coordinador que "no se trata de acabar con el sector comercial, pero se busca evitar un retroceso en la salud que pueda derivar en la paralización económica nuevamente".
EN LO QUE VA DEL AÑO, MÁS DE 41 KILOS DE DROGA HAN RECALADO A COZUMEL.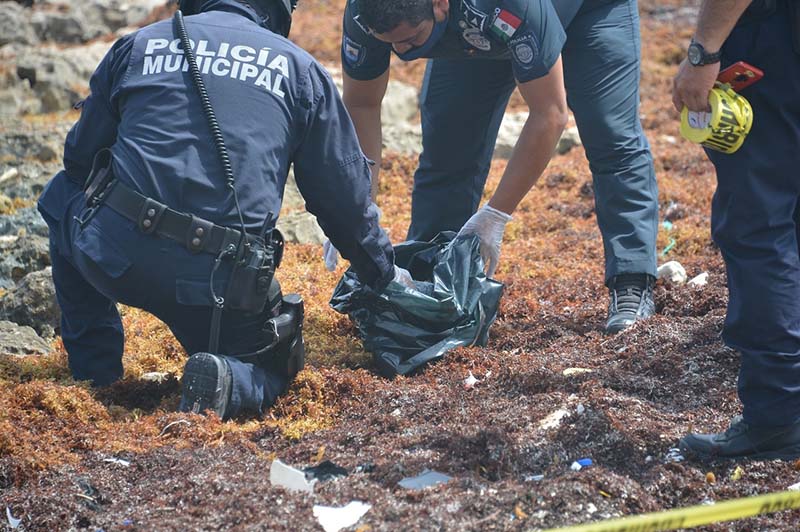 Esto luego del más reciente hallazgo que se registró en las costas de la zona oriental de la ínsula donde se encontró un paquete que en su interior contenía polvo blanco, al parecer cocaína, el cual fue asegurado por elementos de la Policía Quintana Roo para posteriormente ponerlo a disposición de la Fiscalía General de la República (FGR), para los trámites correspondientes.
El reciente lunes se registró el reporte al número de emergencias 911, lo que derivó en la movilización de las fuerzas policíacas quienes se trasladaron hasta la zona oriente de la isla, a la altura de la playa y restaurante "El Mirador", debido a que unos turistas reportaron haber visto un paquete sospechoso, por lo que optaron por dar parte a las autoridades.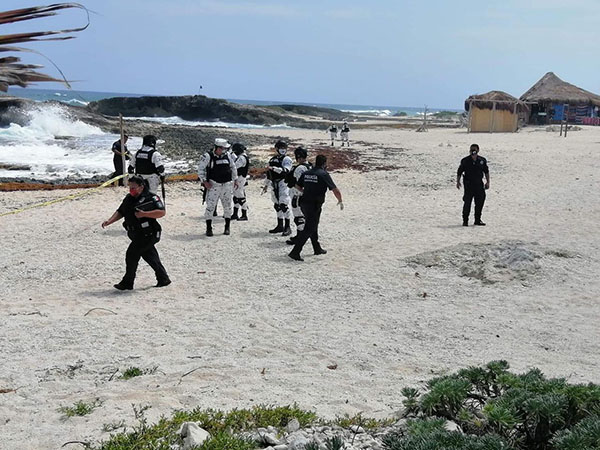 De tal manera que los oficiales procedieron al aseguramiento y embalaje del paquete de forma rectangular, envuelto en cinta transparente con una etiqueta de color blanco, mismo que se encontraba rasgado de la parte inferior, por lo que se observó que en su interior contenía polvo blanco mojado, con las características del narcótico, efectuando el traslado de éste hasta la dirección de Seguridad Pública para su reporte inmediato.
Posteriormente, los agentes de la Policía Quintana Roo se trasladaron hacia Playa del Carmen, para realizar la puesta a disposición del indicio asegurado, ante la autoridad federal.
Cabe hacer mención que en lo que va del año se suman al menos 41 kilogramos de cocaína, la cual ha sido asegurada por elementos de la Secretaría de la Defensa Nacional (SEDENA), además de al menos tres kilogramos de hierba seca, al parecer marihuana, los cuales han sido turnados a la autoridad competente.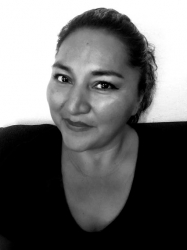 Latest posts by Kary Carrión
(see all)