Cozumel Weekly News in Photos
by Karina Carrion
Good news for Cozumel! The first vaccines for those aged 60 and over have arrived!
COZUMEL, March 2021.- Daniel Harrison Hartman along with his wife Genevieve Hartman, both North American nationals, were among the first foreigners living in Cozumel to receive the Pfizer BioNTech COVID-19 vaccine sent by the federal government through the Bienestar (Wellness) program for adults over 60.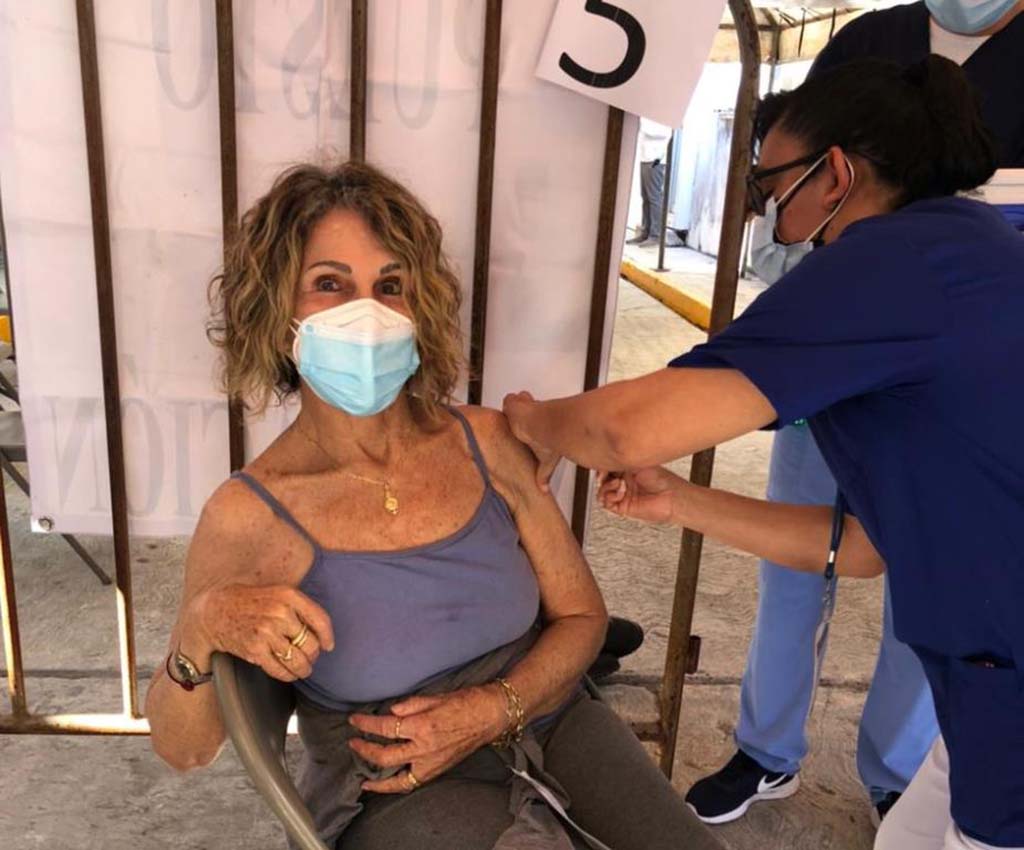 Vaccines were applied on the last Thursday of February at three different stations. The General Hospital, the Mexican Institute of Social Security (IMSS) as well as the Institute on Services and Social Security for State Workers (ISSSTE) were the places where areas were adapted to provide care for each senior citizen who arrived and waited for their immunization dose against the virus that has claimed millions of lives around the world.
The SARS-CoV-2 vaccine applied to senior citizens was Pfizer BioNTech COVID-19, delivered in two doses. So last week a helicopter of the Ministry of the Navy (SEMAR) arrived with four thousand 25 vaccines allotted amongst grandparents and medical staff who are in the first at risk.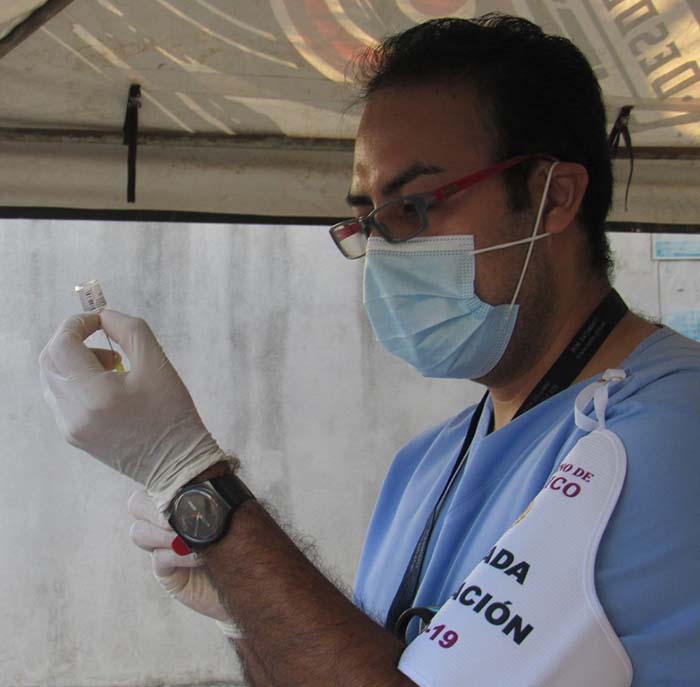 In the case of the General Hospital or Health Center, one thousand doses were delivered to be applied in the same number of older adults, while the nation's servants delivered two thousand doses at IMSS, and 70 more for frontline medical staff providing healthcare to COVID-19 patients.
Finally, through ISSSTE 900 vaccines were delivered and applied to senior citizens, and 55 more for medical staff, resulting in a total of four thousand twenty-five doses of the vaccine applied in just a day and a half. This situation sparked uneasiness among some elderly people who had registered earlier but who, respecting their turn or respective date as per their section, were let without the first of two doses of the vaccine.
In this sense, the state representative for the social programs of the federal government, Arturo Abreu Marín, confirmed that Quintana Roo expects to receive another batch of vaccines in March; however, he was unable to specify which laboratory these would be from, he only reiterated that they hope to cover the total of over seven thousand senior citizens who are part of the universe of that population, also considering foreign nationals living in the municipality.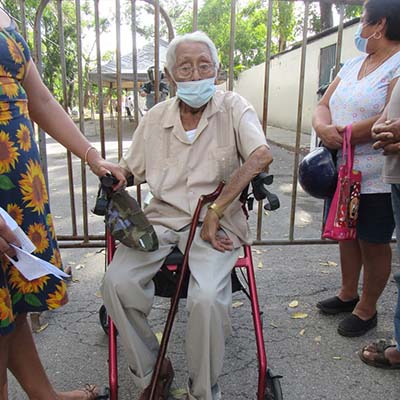 In an historic event, Daniel Harrison Hartman along with his wife Genevieve Hartman were the first residents to be vaccinated together with local people such as Nora González Osorio and Manuel Gómez Calderón bot vaccinated at the ISSSTE clinic. Likewise, Víctor Manuel Morales received the vaccine at the Mexican Institute of Social Security (IMSS); while Juanita Chuc Tejero got her dose at the General Hospital.
COMMUNAL LANDOWNERS OF VILLA COZUMEL
Through a legal claim against the Foundation for Parks and Museums of Cozumel as well as the National Institute of Anthropology and History of Quintana Roo (INAHWROO), members of the Villa Cozumel Communal Land are demanding restitution of their lands after topographic and satellite studies revealed exploitation of their land. This was informed by Leonardo Emilio Efraín Novelo Flores, president of the agrarian community.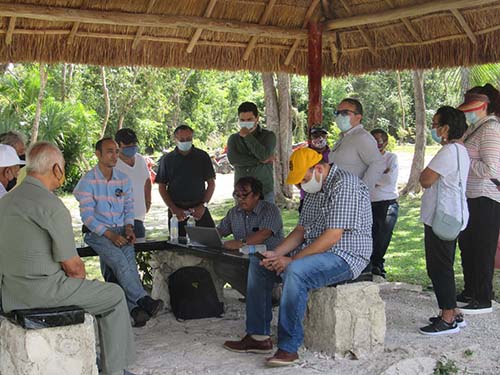 Consequently, as part of the introduction of evidence, authorities of the No. 44 Unitary Agrarian Court inspected the site in dispute in the San Gervasio archaeological zone noting that this lawsuit was first filed in 2019 by Villa Cozumel Communal Land against the INAH, the Foundation for Parks and Museums, the state governor and the mayor in turn.
Novelo Flores, the commissioner of the communal lands, stated that for over two decades and in accordance with the claimants communal lands of an area encompassing up to eight thousand square meters have been exploited damaging and affecting the most vulnerable sector of the group, this is, over one hundred communal land members.
On the most recent weekend, the court inspection that took place in response to the process filed due to an apparent encroachment by the FPMC and the INAH, among others, was part of the examination of the relevant evidence to rule in favor or against the claim, as deemed by the Unitary Agrarian Court, for which actuary Eduardo Utrilla was present, while INAHWROO'S legal representation was in charge of María Rodríguez Herrera.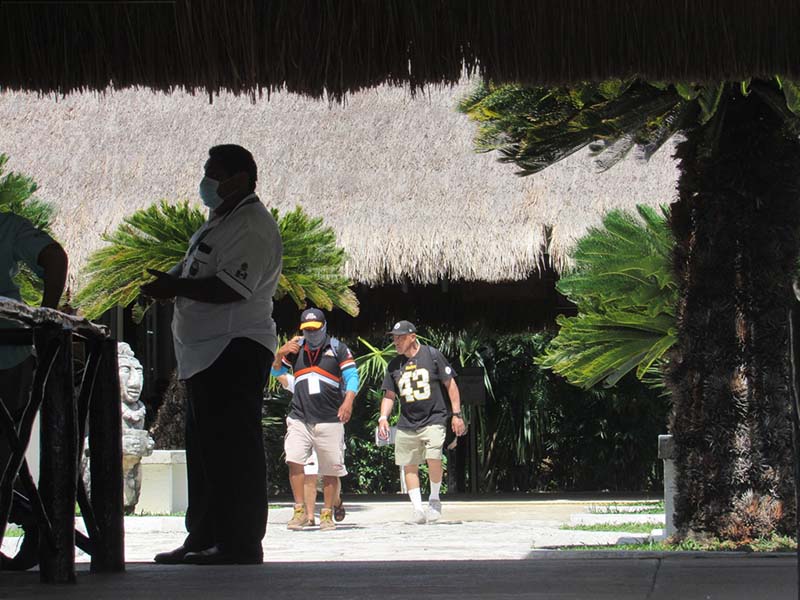 On behalf of the City Council of Cozumel, the legal director, Lenin Adrián Caamal Gonzalez, explained that the Villa Cozumel Communal Land proceedings are ib case file 410/2019 bringing suit to have the farming lands restored.
He said that a favorable ruling is expected for FPMC as the it is also expected that it will be proved that the situation raised by Villa Cozumel Communal Land does not exist, because he considered that the area is common heritage of the people of Cozumel who are allowed access the archaeological zone.
It should be added that the archeological remains of San Gervasio are located outside the area in conflict. He regretted that the interest in the case points towards the economic part, because although there are profits for INAH, these are used for maintenance of the tourist site; and in addition, they are claiming benefits for the exploitation of a neighboring area with commercial premises, besides other spaces.
COLLAGE INFORMATIVO
Por Karina Carrión.
¡Buenas noticias para Cozumel!, llegaron las primeras vacunas para los de 60 años y +
COZUMEL, marzo del 2021.- Daniel Harrison Hartman, junto con su esposa Genevieve Hartman, ambos de nacionalidad estadounidense, fueron los primeros extranjeros con residencia en Cozumel en recibir la vacuna de Pfizer BioNTech COVID-19 las cuales envió el gobierno federal a través del programa de Bienestar para los adultos mayores de 60 años de edad.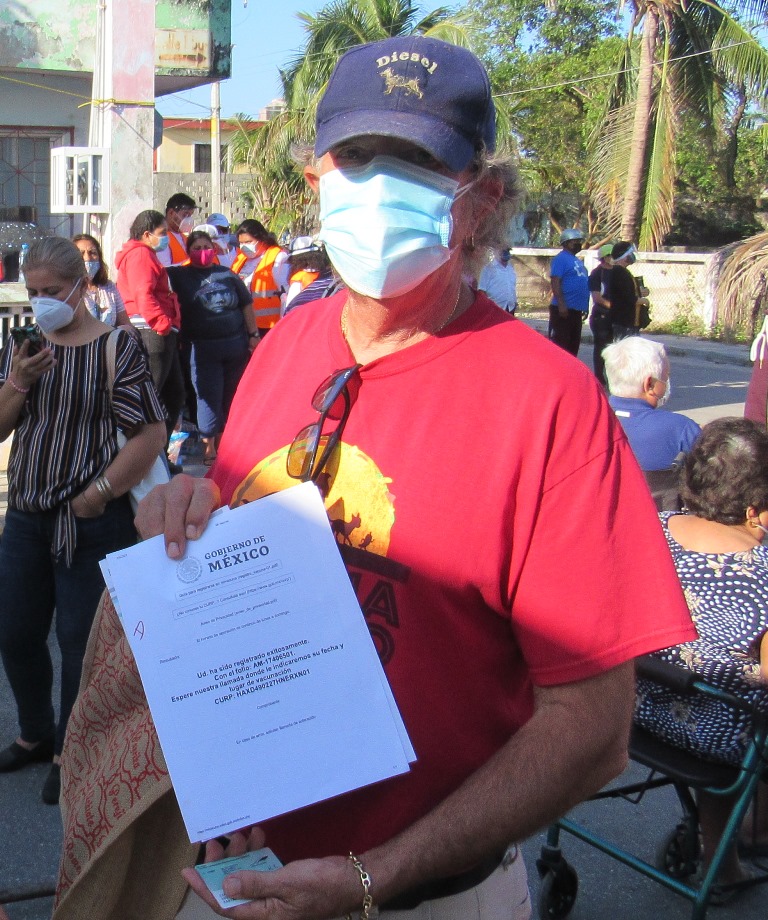 Dicha aplicación fue realizada el último jueves del mes de febrero, para lo cual se instalaron tres módulos en igual número de clínicas. El Hospital General, el Instituto Mexicano del Seguro Social (IMSS), así como el Instituto de Servicios y Seguridad Social para los Trabajadores del Estado (ISSSTE), fueron los recintos donde se adecuaron áreas para así poder brindar la atención a cada uno de los adultos mayores que llegó en espera de poder recibir la dosis para inmunizarse contra el virus que ha costado la vida de millones de personas en el mundo.
La vacuna contra el SARS-CoV-2 aplicada a los adultos mayores, fueron de los laboratorios Pfizer BioNTech COVID-19, la cual se aplicará en dos dosis, por lo que la semana pasada arribó un helicóptero de la Secretaria de la Marina (SEMAR), en el cual se realizó el traslado de cuatro mil 25 vacunas distribuidas entre los abuelitos y personal médico de primera línea de riesgo.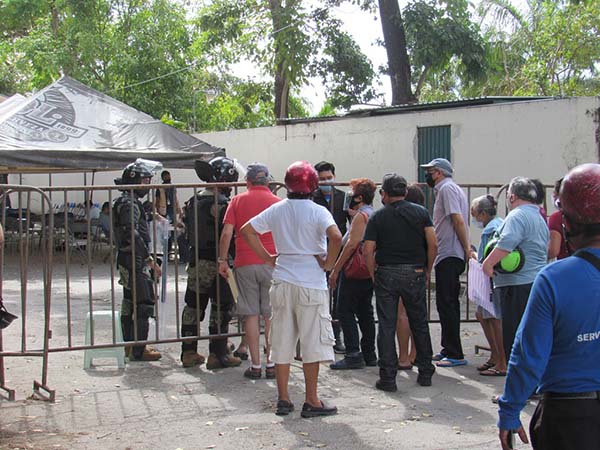 En el caso del Hospital General o Centro de Salud se entregaron mil dosis para aplicar a igual número de adultos mayores; mientras que en el IMSS, los servidores de la nación entregaron dos mil dosis para los adultos, así como 70 dosis más para aplicar al personal médico en primera línea por la atención que brindan a los pacientes con COVID-19.
Finalmente, en la clínica del ISSSTE se realizó la entrega y aplicación de 900 vacunas para los adultos mayores; así como 55 más para el personal médico, arrojando un total de cuatro mil 25 dosis del biológico que se aplicó en tan solo un día y medio, situación que generó cierta inconformidad entre algunos abuelitos que ya se habían registrado pero que por respetar el turno o la fecha que les correspondía según su sección, se quedaron sin recibir la primera de dos dosis de la vacuna.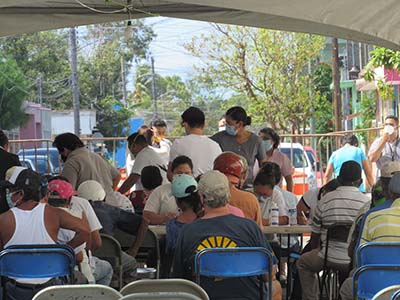 En este sentido, el delegado estatal de los programas sociales del gobierno federal, Arturo Abreu Marín, aseguró que se espera que en el mes de marzo pueda Quintana Roo recibir otro lote de vacunas, aunque no pudo concretar de qué laboratorio serían, solo reiteró que esperan poder cubrir el total de los más de siete mil adultos mayores que forman parte del universo población de dicha edad, contemplando que también se está contabilizando a los extranjeros con residencia en el municipio.
En un hecho histórico, Daniel Harrison Hartman, junto con su esposa Genevieve Hartman, fueron los primeros residentes en ser vacunados junto con la gente local como el caso de Nora González Osorio y Manuel Gómez Calderón quienes fueron inmunizados en la clínica del ISSSTE. De igual manera Víctor Manuel Morales, recibió la vacuna en el Instituto Mexicano del Seguro Social (IMSS), mientras que Juanita Chuc Tejero recibió la dosis en el Hospital General.
EJIDATARIOS DE VILLA COZUMEL
Integrantes del Ejido Villa Cozumel reclaman la restitución de sus tierras a través de una demanda jurídica contra la Fundación de Parques y Museos de Cozumel, así como del Instituto Nacional de Antropología e Historia de Quintana Roo (INAHQROO), luego de que estudios topográficos y satelitales revelaron la explotación de sus tierras, informó Leonardo Emilio Efraín Novelo Flores, Presidente del núcleo agrario.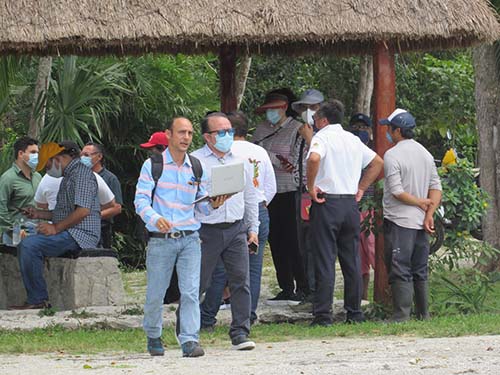 Por ello, autoridades del Tribunal Unitario Agrario No. 44, visitaron la zona en disputa para la inspección -en la zona arqueológica de San Gervasio- como parte del desahogo de pruebas, destacándose que dicha demanda se inició en el año 2019 en contra del INAH, la Fundación de Parques y Museos; y la propia figura del gobernador del estado y la presidencia municipal en turno por parte del Ejido Villa Cozumel.
Novelo Flores, comisario ejidal, aseguró que por más de dos décadas han sido explotadas las tierras ejidales que abarca una superficie de hasta ocho mil metros cuadrados que a decir de los reclamantes, han sido explotados en detrimento y afectación del sector más vulnerable del grupo; es decir más de un centenar de ejidatarios.
El fin de semana reciente se efectuó la inspección ocular judicial que obedeció al proceso iniciado por una aparente invasión de la FPMC y del INAH entre otras, adelantando que toda la movilización formó parte del desahogo de pruebas pertinentes para dictaminar a favor o en contra, según lo considere el Tribunal Unitario Agrario para el cual se presentó el actuario Eduardo Utrilla, mientras que por la representación jurídica del INAHQROO
Se contó con María Rodríguez Herrera.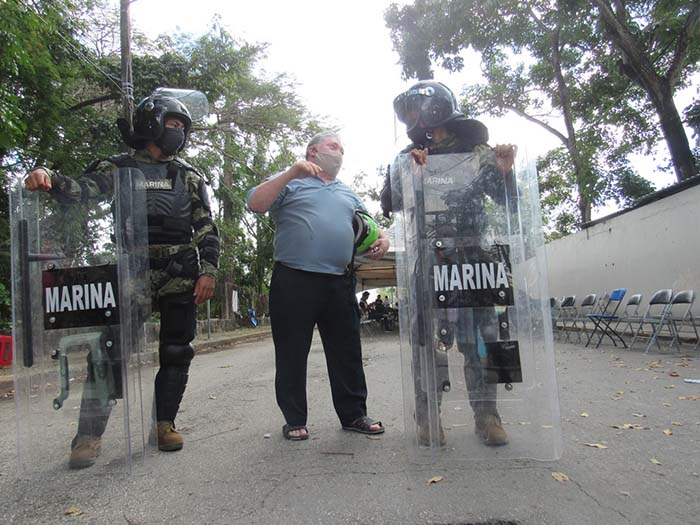 Por parte del Ayuntamiento de Cozumel, el director jurídico Lenin Adrián Caamal González, explicó que la diligencia está relacionada al expediente 410/2019 del Ejido Villa de Cozumel a través del cual promueve la restitución de tierras agrarias.
Adelantó que se espera demostrar que no existe la situación planteada por el Ejido Villa de Cozumel por lo que se espera una sentencia favorable para la FPMC, pues consideró que la zona es patrimonio de los cozumeleños a quienes se les permite el acceso a la zona arqueológica.
Cabe precisar que los vestigios de San Gervasio propiamente se encuentran fuera del área delimitada o en conflicto, por lo que lamentó que el interés apunte a la parte económica, toda vez que sí se genera una utilidad ante el INAH, pero esta se destina al mantenimiento del mismo punto turístico; además de que demandan los beneficios por la explotación de una área aledaña con infraestructura de locales comerciales, entre otros espacios.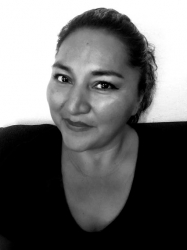 Latest posts by Kary Carrión
(see all)