Cozumel Plastic Bags
"Sin Bolsa Por Favor" Program Initiated
A new program started for residents & tourists not to use disposable plastic bags…
Various public and private sectors have come together in Cozumel to launch an ambitious new program called "Sin Bolsa Por Favor."  (No Bag Please, in English)
Spearheaded by  Promotora Ambiental SA de CV  (PASA) in conjunction  with the Municipal Department of Ecology as well as sponsoring companies – including local branches of national supermarket chains, this program is the first of it's kind in the nation to attempt to influence 100,000 residents as well as nearly 3 million visitors a year to opt not to use a disposable plastic bag for their purchases.
According to various news sources, Mexico generates nearly 4 Million tons of disposable plastic bags a year.   Additionally, these bags pose a serious threat for the island's wildlife.   Not only Many marine species, especially sea turtles, can confuse a floating plastic bag for a viable food source, such as a jellyfish.
The "Sin Bolsa Por Favor "campaign will start off in the schools, while Cozumel children will receive an education on the importance of opting to use less disposable plastic.  A media campaign based in island supermarkets will follow. Lastly ecological reusable bags will also be distributed to residents.
Please consider participating in this program.  Opt out of choosing a disposable plastic bag for purchases.  Bring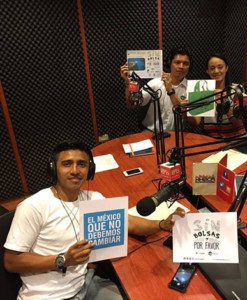 reusable bags to use when shopping, and if you must use a plastic bag please ensure that's disposed of properly.
Inicia el programa "Sin bolsa, por favor"
Los habitantes y los turistas no deben usar bolsas de plástico desechables. . .
En Cozumel se han unido diversos sectores públicos y privados para lanzar un nuevo y ambicioso programa llamado "Sin bolsa, por favor".
Encabezado por Promotora Ambiental SA de CV (PASA) en conjunto con la Dirección Municipal de Ecología y empresas patrocinadoras que incluye sucursales de cadenas de supermercados nacionales, el programa es el primero a nivel nacional que busca influir a 100,000 habitantes y 3 millones de visitantes al año para que opten no utilizar bolsas desechables de plástico para sus compras.
Según diversas fuentes, anualmente México genera 4 millones de toneladas de bolsas desechables. Además, las bolsas son una seria amenaza para la vida silvestre de la Isla. Muchas especies marinas, en especial las tortugas, pueden confundir una bolsa de plástico que flota con algún alimento, como medusas.
La campaña "Sin bolsa, por favor" comenzará en las escuelas en tanto los niños de Cozumel reciben educación respecto a la importancia de usar menos plástico desechable. Posteriormente seguirá una campaña en los supermercados. Finalmente, se distribuirán bolsas ecológicas reutilizables entre los habitantes.
Por favor considere participar en este programa. Elija no utilizar bolsas desechables en sus compras. Lleve consigo bolsas reutilizables cuando va de compras, y si es necesario hacer uso de la bolsa de plástico, asegúrese de disponer de ella de manera adecuada.
Latest posts by Laura Wilkinson
(see all)