Cozumel Turtle Name Contest
Cozumel Turtle Hatchings Contest for Island Children Announced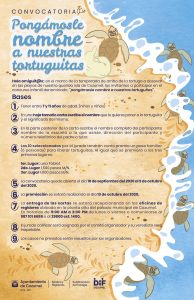 Island children between the ages of 7 – 11 years are being encouraged to participate in a fun contest called "Let's name our turtle hatchlings."  The contest is being sponsored by Municipal Officials and the DIF offices.
Children from 7 – 11 years old are encouraged to write, on a letter-sized page the name they would select for a turtle hatching, and explain why that particular name has an important significance.
Ten letters will be selected by a panel of judges,  the top 5 canidates will be invited to a special liberation of turtle hatchlings and additionally, there are prizes for 1st, 2nd and 3rd place.
On the back of the child's letter, the child's full name, school, address, and telephone number must be clearly written.  Letters must be dropped off in the Alderman's office located in the Palacio Municipal.
The contest will run from September 10 to October 9, 2020.  The winners will be announced on October 13th.
Check the guidelines here https://bit.ly/2FAd4du
Se anuncia el concurso para los niños de la Isla para poner nombre a las tortuguitas 
Se invita a chicos de la Isla entre 7 y 11 años para que participen en un divertido concurso llamado "Pongámosles nombre a nuestras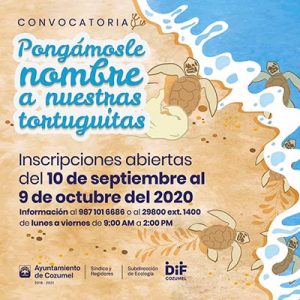 tortuguitas" que patrocina el ayuntamiento de Cozumel y la oficina del DIF.
Se anima a los niños de 7 a 11 años que en una hoja tamaño carta escriban el nombre que elegirán para una tortuguita recién nacida y que expliquen por qué ese nombre en particular tiene un significado importante.
Los jueces elegirán diez cartas. Los 5 mejores candidatos serán invitados a una liberación especial de tortuguitas. Además, habrá premios para el 1º, 2º y 3er. lugares.
De manera clara, al reverso de la carta deben escribirse el nombre completo del menor, la escuela, su domicilio y el número de teléfono. Las cartas deben entregarse en la oficina de regidores en el Palacio Municipal.
El concurso tendrá ligar del 10 de septiembre al 9 de octubre, 2020. El 13 de octubre se darán a conocer los nombres de los ganadores.
Consulta las bases de la convocatoria aquí   https://bit.ly/2FAd4dU
Latest posts by Laura Wilkinson
(see all)