Highlights of Cozumel's 10th Annual Ironman Competition
Last Weekend's Triathlon Marks the 10th Year….
 Last Sunday, November 18th, Cozumel hosted the  10th Ironman Cozumel, which is considered to be one of  the island's most important sporting events.  The sold-out event brought 2,500 competitors and their fans to Cozumel.
Although the weather looked ideal, most competitors commented on the strong winds during the bicycle portion of the course, and swim practice was canceled the day prior to the event due to choppy seas.
The Ironman was sentimental for many participants and residents for a variety of reasons.   Not only was it the 10th year
of the event, but Cozumel's own, Alan Carillo Avila came in 9th place. Only 24 years old, Alan broke the Mexican ironman record with a great show.
The elite men's competition was won by Michael Weiss  who was actually the 2013 Ironman World Champion, and winner of this years 70.3 Ironman
 Kudos to the 8th Annual Panties & Pijama Run:
Dailene Erikson has been organizing the Cozumel Panties & Pijama run run for 8 years
now.  Fun runs, such as these are quite common just prior to Ironman events, and are open to anyone, and silly costumes are encouraged.  This years event was a big hit – with 77,000 pesos raised  – for 2 very worthy Cozumel causes – and over 250 runners turned out.
For a complete list of race results please check out this link.
Lo más destacado de la 10ª Competencia Anual Ironman de Cozumel
El triatlón del fin de semana pasado marca el 10º año del evento. . .
El domingo 18 de noviembre la Isla de Cozumel fue anfitriona del 10º Ironman Cozumel, considerado uno de los eventos deportivos más importantes de la Isla. El evento, totalmente vendido, trajo a Cozumel a 2,500 competidores y a sus fanáticos.
 A pesar de que el clima parecía ser ideal, la mayoría de los competidores comentaron la presencia de vientos fuertes durante la porción en bicicleta, y el día anterior se canceló la práctica de natación debido a que la mar estaba picada.
Por diversos motivos, este fue un Ironman lleno de sentimiento para muchos de los participantes y habitantes. No sólo se cumplieron 10 años de la celebración del evento, sino que Alan Carillo Ávila, de Cozumel, llegó en 91 lugar. Con tan solo 24 años, Alan rompió el récord Ironman mexicano con un gran espectáculo.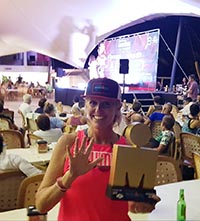 La competencia varonil élite la ganó Michael Weiss quien ya fue Campeón Mundial Ironman en el año 2013, y también ganador de Ironman 70.3 este año.
Felicitaciones a la 8ª Carrera Anual "Panties y Pijamas":
Durante 8 años Dailene Erikson ha sido la organizadora de la Carrera "Panties y Pijamas". Es muy común que carreras tan divertidas como ésta se realicen antes de los eventos Ironman, abiertas para que participe cualquier persona; y se anima a la gente para que utilicen disfraces chuscos. El evento de este año tuvo gran éxito pues se recaudaron 77,000
pesos para 2 causas benéficas en Cozumel, y participaron 250 competidores.
Para ver una lista completa de los resultados de la competencia, echen un vistazo a este enlace
Latest posts by Laura Wilkinson
(see all)