DAN Diver Seminars
DAN to Host Diver's Day Seminars

Free educational diving seminars……
This year's annual DAN (Divers Alert Network)  Diver's Day seminars in Cozumel will be held the evening of Oct 24th.  All level divers are welcome to attend this event focused on learning more about dive safety.  DAN is Divers Alert Network, the diving industry's largest association dedicated to scuba diving safety. Serving scuba divers for more than 30 years, DAN provides emergency assistance, medical information resources, educational opportunities and more.  Each October in Cozumel, DAN invites the local diving community to attend this free seminar event and learn how to both prevent diving accidents as well as better understand how to be prepared when an incident does occur.
This year's event will be held at 6:30 pm on the evening of Oct 24th in the Auditorium of the Cozumel Island Museum.  Highlights include 3 international speakers from the DAN Research Department.  Also, this year, 2 of the 3 talks will be held in English, and one in Spanish.   Topics include: "Risk Assessment & Mitigation for Dive Professionals", "Pre-Hospital Management of Diving Injuries", and "Have You Ever Had Skin DCS?"  Coffee break and raffle prizes are also included.   The seminars are free and open to the diving public, but are especially relevant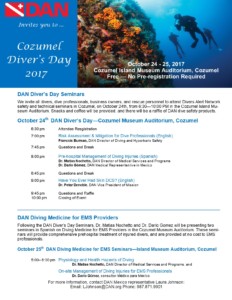 to anyone working in the scuba diving industry.
Following DAN Diver's Day seminars, there will be an additional evening of seminars on Oct 25 held specifically for emergency medical personnel.  This evening will include two talks to help EMS workers better understand how to provide appropriate level of care when called to assist an injured diver.  Both of these talks will be in Spanish and are free to all EMS personnel in the region.  Topics include "Physiology and Health Hazards of Diving" and "On-site Management of Diving Injuries for EMS Professionals".
Pre-registration is not required for either evening, but if you have any questions please contact your local DAN Representative Laura Johnson at ljohnson@dan.org
DAN organiza los Seminarios del Día de Buzo
Seminarios gratuitos educativos sobre buceo . . .
Este año los seminarios anuales del  Día del Buzo de DAN (Divers Alert Network) tendrán ligar en Cozumel por la noche de Octubre 24. Son bienvenidos buzos de todos niveles a este evento enfocado a la seguridad en el buceo. DAN  es Divers Alert Network, la asociación de buceo más grande  dedicada a la seguridad en el buceo. DAN está al servicio de los buzos desde hace más de 30 años, ofreciendo asistencia en emergencias, recursos de información médica, oportunidades educativas y más.  Cada Octubre en Cozumel, DAN invita a la comunidad local de buceo para que asistan al evento de seminarios gratuitos y conozcan cómo prevenir los accidentes de buceo y para comprender aún más la manera de estar preparados al momento que ocurre un incidente.
Este año el evento se realizará a partir de las 6:30 pm del 24 de octubre en el Auditorio del Museo de la Isla de Cozumel. Los aspectos más destacados son 3 ponentes del Departamento de Investigaciones DAN. Este año 2 de las
3 pláticas se realizaran en inglés y una en español. Los temas incluyen la "Evaluación y Mitigación del Riego para Profesionales en el Buceo", "Manejo Prehospitalario de Lesiones de Buceo" y " ¿Alguna ocasión ha padecido enfermedad cutánea por descompresión?" Esto también incluye receso para café y premios en una rifa. Los seminarios son gratuitos y abiertos al publico dedicado al buceo, pero sobre todo son relevantes para toda persona que labore en la industria del buceo.
A los seminarios DAN del Día del Buzo siguen seminarios por la noche de Octubre 25 expresamente para personal dedicado a emergencias médicas. Esta noche incluirá dos pláticas que ayudaran a los trabajadores en urgencias medicas a entender cómo deben proporcionar el nivel adecuado de cuidados cuando se les solicite ayudar a un buzo lesionado  Ambas pláticas se realizarán en español y son gratuitas para todo personal dedicado a urgencias en la región. Los temas incluyen "Fisiología y Peligros del Buceo en la Salud" y "Manejo de Lesiones de Buceo en el Sitio para Profesionales en Urgencias Médicas".
No se requiere el pre-registro para alguna de las dos noches, pero si tiene dudas, por favor póngase en contacto con Laura Johnson, su representante local de DAN, a través de  ljohnson@dan.org
Latest posts by Laura Wilkinson
(see all)