Saturday Feb 9 4 – 9 pm ….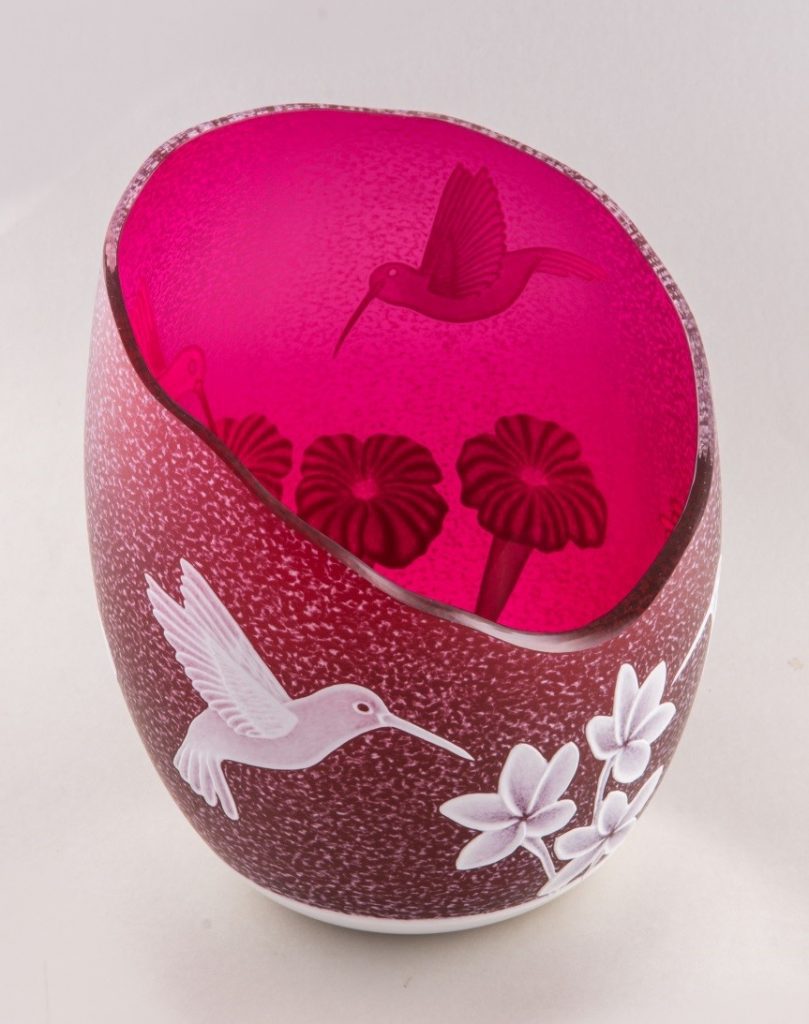 Galeria Azul Celebrates "Dualities" With Open House
Introducing a new series of work…DUALITIES
Many of you in Cozumel have visited my gallery, Galeria Azul, and have known my artwork for many years now and have seen the subtle changes and evolutions of the work. For the last three years I have been working on a new series of cameo engraved vessels. I have named the series of work "DUALITIES". The main idea with this work is that I engrave both the front and the back of the vessel and then when illuminated from behind, you are seeing the front as well as the back of the vessel. To accentuate this dual vision, I have shaped the pieces so that the front side is shorter that the back so that you can't help but see both sides simultaneously. In addition to the new shapes and techniques I am also experimenting with engraving into white glass as well as transparent colored glass layers.
I would like to take this opportunity to invite everyone to come by the gallery to view these pieces in person. I am planning an OPEN HOUSE on Saturday, February 9th, from 4pm – 7pm. There will be discounted prices on select works.
The address is:
Galeria Azul
15th avenue North between 8th and 10th streets
Colonia Centro
I hope to see you then,
Greg Dietrich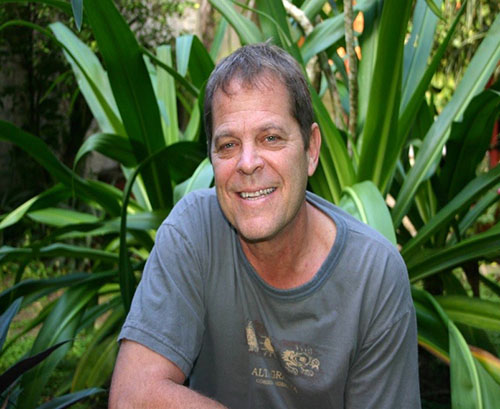 Greg Dietrich started blowing glass in 1990 and one year later was introduced to engraving and he has been doing both ever since. While living in Seattle in the 90's he had a coldworking business that used up much of his creative efforts, working mostly for other artists as opposed to his own engraving.
However, in 1998, while on vacation in Cozumel, Mexico, he met his wife Liliana. After a few trips to visit her, he decided to move to the Caribbean island and dedicate his time to his own artwork.
He opened his engraving studio and gallery, named Galeria Azul, in the downstairs of his Cozumel home in the year 2000. Still open to this day, it is a place you can visit and see him creating his artwork. He is one of the very few people worldwide who has dedicated his time to the art of cameo engraving. Cameo engraving is described as "engraving into layers of contrasting colors". He blows the glass with these layers of colors and then patiently engraves away at the layers with diamond wheels to produce the imagery.
The gallery is located on 15th Avenue North, between 8th and 10th Streets and is open Monday-Friday, 11am – 7pm, or any other time by calling 869-0963.
Galería Azul celebra "Dualities" con un evento abierto al público
Sábado 9 de febrero de 4 a 9 pm. . .
Presentando una nueva serie de obras. . . DUALITIES [Dualidades]
Muchos de ustedes ya han visitado mi galería: Galería Azul, y desde hace años conocen mis obras y se han percatado de los cambios sutiles y evolución en la obra. Durante los últimos tres años he estado trabajando en una nueva serie con grabados de embarcaciones como camafeos. La serie de esta obra la he llamado "DUALITIES". La idea principal es la de grabar tanto el frente como la parte posterior de una embarcación, y cuando se ilumina desde atrás, usted observa el frente tanto como la parte posterior. Para acentuar esta visión dual, he modelado las piezas de manera que el frente es de menor tamaño que la parte trasera por lo que no puede evitar ver ambos lados de manera simultánea. Aparte de las nuevas formas y técnicas he estado experimentando con el grabado en capas de vidrios transparentes de color.
Quiero aprovechar esta oportunidad para invitar a todos para que visiten la galería y vean estas piezas personalmente. Tengo planeado un evento ABIERTO AL PÚBLICO el sábado 9 de febrero de 4 pm a 7 pm.
El domicilio es:
Galería Azul
15 Avenida Norte entre Calles 8 y 10
Colonia Centro
Espero verlos ahí.
Greg Dietrich
Greg Dietrich comenzó con vidrio soplado en 1990 y un año después fue introducido al grabado, y desde entonces ha estado trabajando con ambos. Durante el tiempo que vivió en Seattle en la década de los años 90, tuvo un negocio de forjado de vidrio en frío que consumió gran parte de sus esfuerzos creativos; trabajando más que nada para otros artistas en lugar de hacer sus propios grabados.
En 1998, mientras se encontraba de vacaciones en Cozumel, México, conoció a su esposa Liliana. Después de hacer varios viajes para visitarla, decidió mudarse a la isla caribeña y dedicar su tiempo para crear sus propias obras. Él es una de las pocas personas en el mundo que ha dedicado su tiempo al arte de grabado de camafeos. El grabado de camafeos se describe como "grabado en capas de colores contrastantes". Sopla el vidrio con estas capas de colores y pacientemente va grabando las capas con ruedas de diamante para producir las imágenes.
La galería se ubica en la 15 Avenida Norte, entre las Calles 8 y 10, y está abierta de lunes a viernes de 11 am a 7 pm, o en cualquier otro momento al llamar 869-0963.
Latest posts by Laura Wilkinson
(see all)