Humane Cozumel 2017 Summary
Another Successful Year for the Humane Society of Cozumel Island
2017 summarized & plans for 2018 in motion……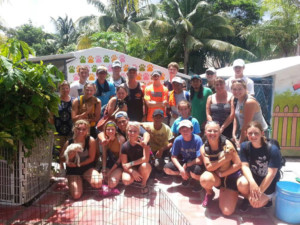 Season's Greetings and Happy Holidays to all our   Dear Friends of the Cozumel Humane Society,
We would like to wish our supporters a Happy Holiday Season and share with you our many accomplishments that were made possible due in most part to your end of year donations made in 2016.  We continue to strive for a better future for Cozumel's companion animal population.  In 2017 we have sterilized 3094 dogs and cats, also rescued off the streets 277 dogs that we vetted and adopted. We assisted in an additional 60 independent rescues where we vetted & sterilized dogs and cats for volunteers who fostered because of overpopulation at our facility.   Our in-house veterinarians attended 3612 pets in consultations where we administered over 3000 vaccines, treated animals for worms, mange and a myriad of other diseases and illnesses.  Our outreached programs have penetrated the hardest to reach areas of the island. We spent 3 solid months in the area known as ¨Fincas¨, a neighborhood where dogs & cats live in deplorable conditions. We went door to door to sterilize and vaccinate every dog and cat while spending time with the inhabitants of this area learning more on how we can effectively reach people in similar areas. All of this was made possible through the generosity of our donors and the tireless efforts of our staff and volunteers.  We are still striving to raise funds for a mobile clinic to access the farthest to reach areas. This is one way we know we can end the suffering of the dogs in the most remote areas of the island.
We are also very happy to see our volunteer base grow to more than 40 persons a month.  Our efforts of visiting schools for the last 10 years have paid off with a new generation of young people stopping by regularly to lend a hand.  We have made education and outreach a vital tool in our work and children are our focal point. We have seen an amazing difference in the attitudes of our Cozumel youth when it comes to animal care and welfare.  We will be doubling our efforts in education and outreach in 2018.
Your end-of-year donations made through our 501c3 is the only way we are able to keep our doors open.  It takes a staff of 3 veterinarians, one vet tech, a director, secretary and 7 kennel workers to maintain our facility.  Not to mention a volunteer Board of Directors who work tirelessly to keep the wheels in motion.  Please help us to keep moving forward with our efforts to end the street dog population in Cozumel.  Your generous past contributions have made a positive difference in Cozumel, saved countless lives, and avoided the suffering of thousands of animals through our free spay & neuter program.
Please
Make your donation today and be sure to post date any checks before the 31st of December to receive your tax deduction for 2017.
Make check payable to: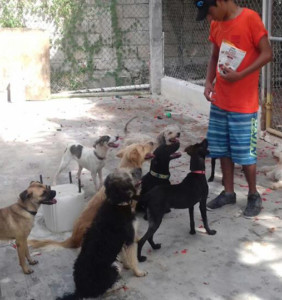 Friends of the Cozumel Humane Society
2169 Winding Creek Dr S.
Grapevine Texas
76051
Paypal (tax deductible)
Wells Fargo Bank 501c3 tax deductible
Direct Deposit
Acct#7937808306
Routing #111900659
Email us at:   pets@humanecozumel.org
We hope we can once again count on your contribution.   We will insure that you receive your 501c3 receipt promptly.  Visit our website at
http://www.humanecozumel.org/friends-of-the-cozumel-humane-society/
Happiest of Holidays to all
sincerely,
The Humane Society of Cozumel Island
Board of Directors and Trustees
Lisa Anne Ramirez, Laura Alcala, Barbara Andrade, Ernesto Alvarez, Ivan Aguilar, Robert P. Ramirez, Gary Gomola,, Laura Wilkinson,Andrea Sekula. Laurita de la Fuente
Otro año de éxitos para la Sociedad Humanitaria de la Isla de Cozumel
Resumen del 2017 y los planes que ya se encuentran en marcha para el 2018. . . .
Felices Fiestas a todos nuestros Queridos Amigos de la Sociedad Humanitaria de Cozumel.
Queremos desear una feliz temporada decembrina a nuestros colaboradores y compartir con ustedes lo que logramos y que en gran parte se debió a los donativos que ustedes hicieron a fin del año 2016. Continuamos esforzándonos para lograr un mejor futuro para la población de animales de compañía de Cozumel. En el 2017 esterilizamos 3094 perros y gatos; también rescatamos a 277 perros de las calles que supervisamos y que fueron adoptados. Brindamos apoyo a 60 rescates adicionales donde supervisamos y esterilizamos gatos y perros para aquellos voluntarios con hogares temporales para los animales debido a la sobrepoblación en nuestras instalaciones.  Nuestros propios veterinarios atendieron a 3612 mascotas en consultas en las cuales administramos más de 3000 vacunas, tratamos animales por gusano de corazón, sarna e innumerables padecimientos y enfermedades. Nuestros programas de ayuda han penetrado a zonas muy difíciles de la Isla. Pasamos 3 meses completos en el área conocida como Las Fincas; una colonia donde los perros y gastos viven en condiciones deplorables. Visitamos casa por casa para esterilizar a todo perro y gato, y pasamos tiempo con los habitantes de esa área aprendiendo la forma más eficaz de cómo tener un acercamiento con otras personas que habitan en  zonas similares. Fue posible lograr todo esto gracias a la generosidad de nuestros donantes y de los incansables esfuerzos de nuestro personal y de los voluntarios. Continuamos haciendo los mayores esfuerzos para tener una clínica móvil y con así poder llegar a los sitios más lejanos. Esta es una forma a través de la cual podemos dar fin al sufrimiento de los perros que habitan en las zonas más remotas de la Isla.
Nos complace ver que nuestra base de voluntarios ha crecido a más de 40 personas al mes. Los esfuerzos hechos al visitar las escuelas durante los últimos 10 años, han rendido frutos con una nueva generación de jóvenes que a menudo vienen a echarnos una mano. Una herramienta esencial en nuestro trabajo han sido la educación y sensibilización, siendo los niños son el objetivo principal de éstos.  Hemos visto una increíble diferencia en la actitud de nuestra juventud cozumeleña cuando se trata del cuidado y bienestar de los animales. Para el 2018, doblaremos esfuerzos en la educación y sensibilización
Sus donativos de cierre de año nos permitieron lograr la condición 501(c)3 lo que permite que mantengamos nuestras puertas abiertas. Para mantener la instalaciones requerimos una plantilla de personal formada por 3 veterinarios, un técnico veterinario, un director, una secretaria y 7 trabajadores de jaulas. Sin mencionar un Consejo Directivo voluntario que labora incansablemente para mantener todo en marcha. Por favor apóyennos para continuar avanzando en nuestros esfuerzos para erradicar la población de perros callejeros en Cozumel. Sus generosas aportaciones anteriores han  marcado una diferencia positiva en Cozumel, salvado incontables vidas y evitado el sufrimiento de miles de animales a través de nuestro programa de esterilización.
Por favor envíe su donativo hoy mismo y asegúrese de escribir la fecha antes del 31 de diciembre para recibir su deducción fiscal para el 2017.
Expida el cheque a nombre de Amigos de
Friends of the Cozumel Humane Society
2169 Winding Creek Dr. S.
Grapevine, Texas 76051
Paypal (deducible de impuestos) friendshsci@gmail.com
Banco Wells Fargo formato 501c3 deducible de impuestos
Depósito Directo
Cta #793780306
Número ABA: 111900659
Escríbanos al correo electrónico: pets@humanecozumel.org
Esperamos contar nuevamente con su aportación. Nos aseguraremos que reciba su recibo 501c3 en breve. Visite nuestra página web http://www.humanecozumel.org/friends-of-the-cozumel-humane-society/
Deseamos las más felices fiestas a todos.
Atentamente,
La Sociedad Humanitaria de la Isla de Cozumel
Consejo Directivo y de Administración
Lisa Anne Ramírez, Laura Alcalá, Barbara Andrade, Ernesto Alvarez, Iván Aguilar, Robert P. Ramírez, Gary Gomola, Laura Wilkinson, Andrea Sekula, Laurita de la Fuente
Latest posts by Laura Wilkinson
(see all)