Mexican Immigration Visitors Need Documents
Immigration Documents:  Visitors Need to Keep them in Hand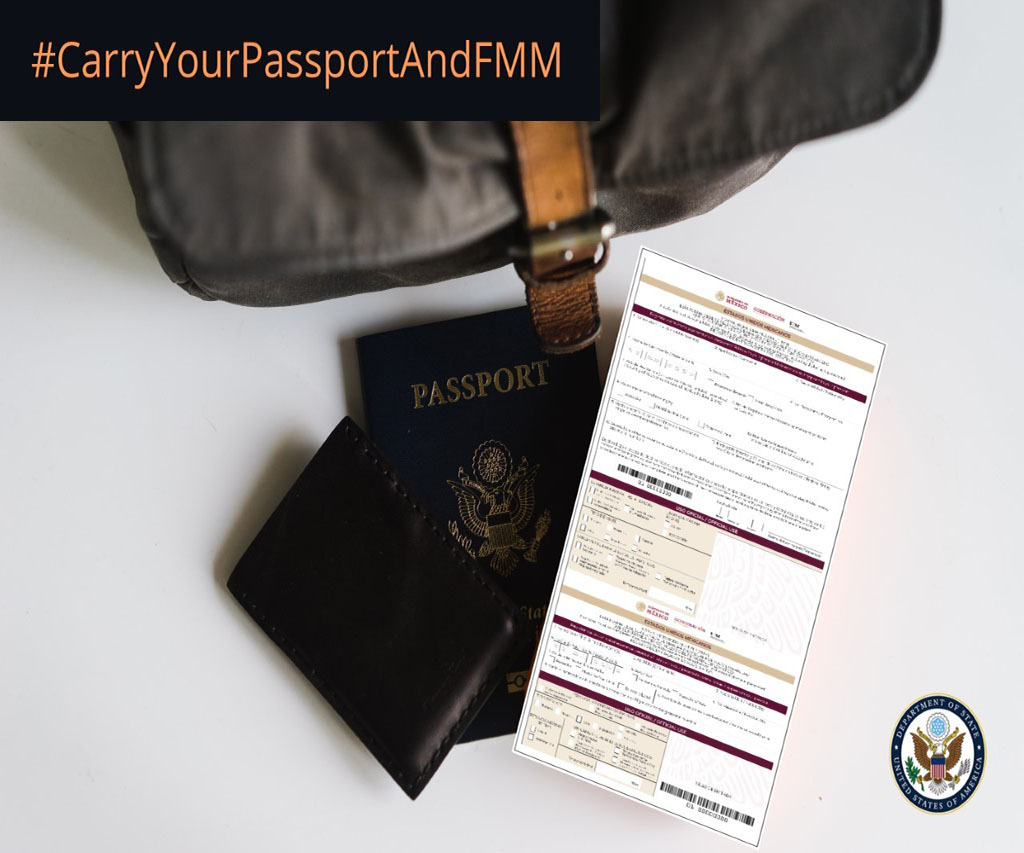 Recently immigration officials in Mexico have increased checkpoints in the country, especially Quintana Roo, to check and ensure that visitors are legal, have a current visa, and possess correct documentation.  It's not uncommon for INM officials in conjunction with the National Guard, to stop buses, airport visitors and other individuals to ask for documentation.
This is a direct response to the extraordinary situation of the flow of migrants currently crossing the country.
For visitor from the US and Canada, INM authorities will be asking for passports and tourist visas or FMM (the card handed out at the airport)    Copies, and photos are not considered acceptable.
For temporary and permanent residents, an original INM card is required.  In fact, it's recently come to light that a laminated color copy of a residence card, is, in fact considered a fraudulent document.
If you are  not in possession of  these documents, immigration authorities may lawfully detain you for up to 60 days while they review your immigration status.
Buses Require Documentation to Purchase Tickets
Many of Mexico's bus companies, including the national conglomerate Autobuses de Oriente (ADO) have announced that in accordance with new protocol, documentation will be required to board their buses.
Other companies that will require immigration documents include Autobuses TAP, Enlaces Terrestres Nacionales (ETN) and Grupo Flecha Amarilla, which includes Primera Plus and Coordinados. Some companies specified that they would also require an official form of identification from Mexican customers.
The announcement followed a request by President López Obrador, who asked transportation companies not to serve undocumented migrants.   "We are asking them to help us. We are talking about Mexico's national transportation companies," stated Lopez Obrador
It also recommended that anyone with questions about acceptable documentation contact the INM, or their bus company of choice.
Message From the US Consulate:  Carry Your Documents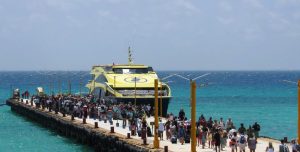 "U.S. citizens are reminded that if you enter Mexico by land and plan to travel beyond the immediate border area you must stop at a National Migration Institute (INM) office to obtain an entry permit (Forma Migratoria Multiple, or FMM), even if not explicitly directed to do so by Mexican officials.
When traveling in Mexico, the law requires that foreign visitors carry a passport and entry permit. You may be asked to present these documents at any point. If you do not present these documents, immigration authorities may lawfully detain you for up to 60 days while they review your immigration status.
Immigration check points are common in the interior of Mexico, including in popular tourist areas far from the border.
U.S. Citizens resident in Mexico should carry their resident identification cards at all times.
Actions to Take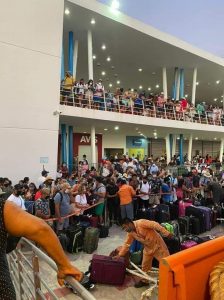 Obtain entry permit (FMM) at INM office if entering Mexico through a land border and traveling beyond the immediate border area.
Carry your passport and entry permit (FMM) with you.
For U.S. citizens who reside in Mexico, carry your resident identification card.
Learn More
Mexperience has a quick article regarding your FMM (travel visa)  It's a great source of information.
The US State Department has a webpage regarding current Mexico travel information
Documentos migratorios. Es necesario que los visitantes los tengan a la mano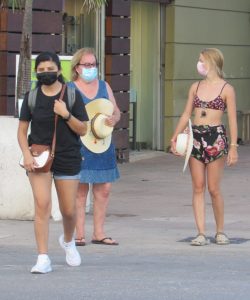 En fechas recientes las autoridades migratorias en México aumentaron los puntos de revisión en el país, especialmente en Quintana Roo, con el objeto de verificar y asegurarse de que los visitantes se encuentren legalmente en el país, que tengan visa vigente y que cuenten con la documentación correcta. No es de extrañar que las autoridades del INM en colaboración con la Guardia Nacional detengan autobuses, a los visitantes en el aeropuerto y a otras personas para solicitarles la documentación.
Lo anterior en respuesta directa a la situación extraordinaria del flujo de migrantes que actualmente atraviesa el país.
Para los visitantes provenientes de los Estados Unidos y de Canadá las autoridades migratorias pedirán pasaportes y visas de turistas o FMM (la tarjeta que le entregan en el aeropuerto). No se aceptan copias y fotografías.
En el caso de los residentes temporales y los permanentes, es necesario presentar una credencial original expedida por el INM: De hecho, no hace mucho, se supo que una copia en color y laminada de la credencial de residencia, es considerada documento fraudulento.
Si estos documentos no están en su posesión, las autoridades migratorias legalmente pueden detenerle hasta por un periodo de 60 días en tanto revisan su situación migratoria.
Para adquirir un boleto, los autobuses exigen la presentación de documentos 
Muchas de las empresas de autobuses de México, incluyendo el conglomerado nacional Autobuses de Oriente (ADO), han informado que, de conformidad con los nuevos protocolos, se exigirá la documentación pertinente para abordar los autobuses.
Otras empresas de autobuses que requieren documentación son Autobuses TAP, Enlaces Terrestres Nacionales (ETN) y Grupo Flecha Amarilla, que incluyen Primera Plus y Coordinados. Algunas empresas especificaron que también requerirán una identificación oficial a los clientes mexicanos.
El anuncio de lo anterior se produjo tras la petición del presidente López Obrador quien pidió a las empresas que no presente servicio a los indocumentados. "Les estamos pidiendo que nos ayuden. Estamos hablando de las empresas de transporte nacional en México", declaró López Obrador. También recomendó que toda persona que tenga dudas sobre la documentación que se acepta, se ponga en contacto con el INM o con la empresa de autobuses de su elección.
Mensaje del Consulado de los Estados Unidos: lleve sus documentos consigo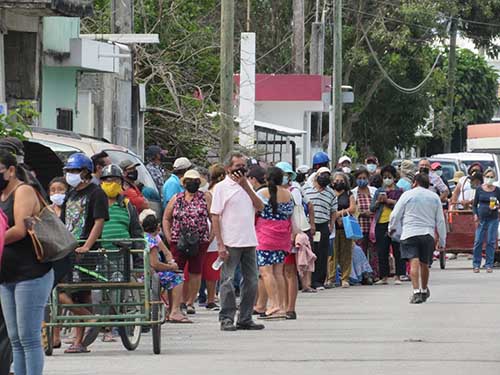 "Se recuerda a los ciudadanos estadounidenses que si ingresan a México por tierra y panean viajar más allá de la franja fronteriza es necesario que se detengan en una oficina del Instituto Nacional de Migración (INM) para obtener su permiso de entrada (FMM o Forma Migratoria Múltiple), incluso si las autoridades mexicanas no se lo han indicado expresamente.
Al viajar por México, las leyes exigen que los extranjeros lleven consigo un pasaporte y un permiso de entrada. Es posible que en cualquier momento le pidan presentar estos documentos. En caso de no presentarlos, las autoridades migratorias pueden detenerlo legalmente hasta por un periodo de 60 días en lo que revisan su situación migratoria.
Es común encontrar puntos de control migratorio en el interior del país, incluso en zonas turísticas populares alejadas de la frontera.
Los ciudadanos estadounidenses que residen en México, en todo momento deben llevar c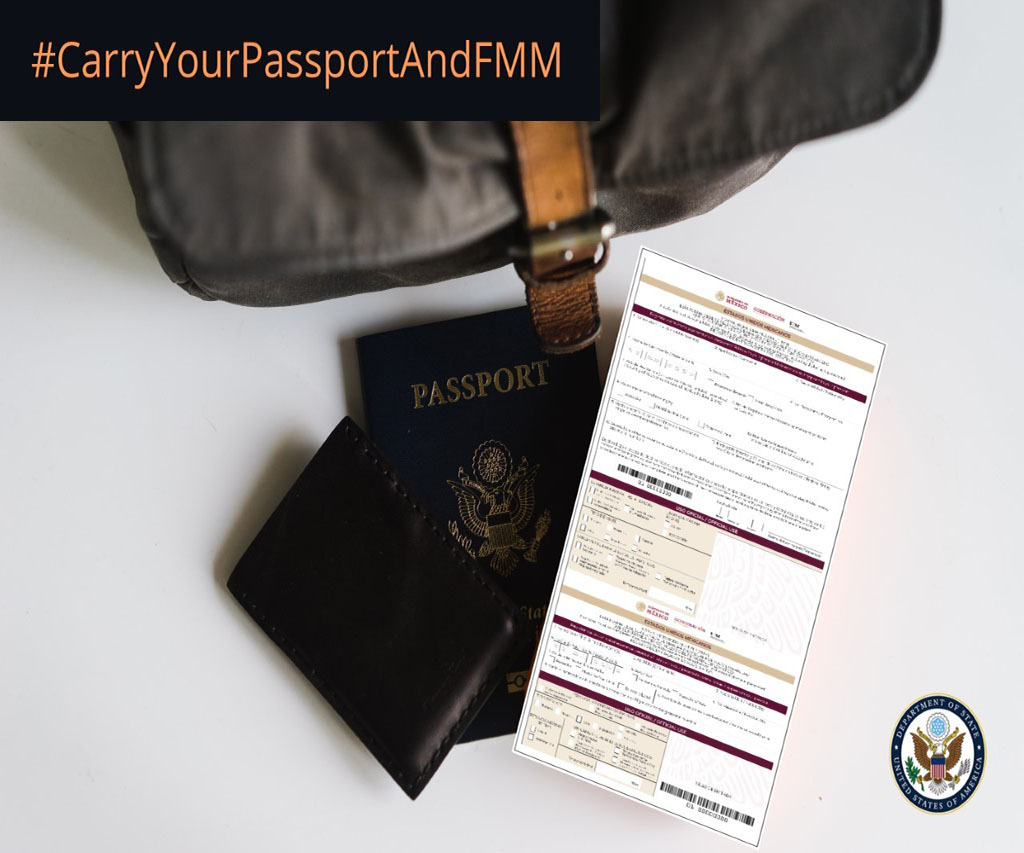 onsigo sus credenciales de identificación de residentes.
Pasos por seguir
Si ingresa a México a través de la frontera y por vía terrestre, y viajará más allá de la zona fronteriza inmediata, obtenga su permiso de entrada (FMM) en la oficina del INM.
Lleve consigo su pasaporte y el permiso de entrada (FMM).
Para los ciudadanos estadounidenses residentes en México, lleven consigo su credencial de residentes.
Para más información
Mexperience, que tiene un artículo de rápida lectura respecto a su FMM (formato de viaje), es una gran fuente de información.
El Departamento de Estado de los EUA, tiene una página web con información actualizada para viajar a México.
Latest posts by Laura Wilkinson
(see all)